Route 66 doesn't exist in its entirety anymore having been decommissioned in 1985 and replaced by a series of massive interstate highways.
However, Australian company Route 66 Tours has pieced together the highlights of the famous highway for their tours.
Lead guide Dan Azzopardi says they have spent several years researching and talking to the locals about the road to piece together their tours.
"All eight states it runs through have started up associations to get it recognised as an historic road," he says. "It's a mixture of both middle America and well-known locations such as the Grand Canyon."
The company runs tours in April, July and October and a Sturgis tour in July/August. Tour groups range from 20 to 50 people riding Harleys, BMWs, Triumphs, trikes and Gold Wings from EagleRider Motorcycle Rentals, staying in quality hotel accommodation.
The Sturgis trip passes through nine national parks with stunning scenery such as Monument Valley and some high elevation passes such as Beartooth Pass to Yellowstone, which is voted one of the best two roads in America along with Tale of the Dragon.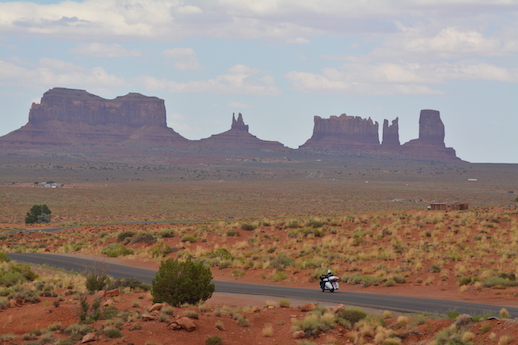 However, Dan says Route 66 is a major attraction and was the impetus for company founder Dale Butel to start the company in 2004.
"It was a passion of his to do Route 66 and he and his wife, Kristi-Anne, did it on their honeymoon and then decided to do tours.
"Dale was researching for 18 months before their honeymoon and when he got there he ended up buying a '65 Mustang.
"I went in 2009 with my wife and three-month-old baby in a Mustang – he didn't have bikes then. I talked to him about bikes as well and said if he had enough bikes I'd go and help him do the tours.
"I was at the right place at the right time. It's the dream job, that's for sure."
Dan says Route 66 is the most famous highway in the world.
"It was created in 1926 and was used later used to deliver people escaping the dust bowl for California, the land of milk and honey, and a way to get to the Grand Canyon," he said.
"It's about how America was in the '50s and '60s. The real America. It's a nostalgia thing. I'm a bit younger than a baby boomer, but it's what they saw on TV growing up.
"It's the main street of America because it went through all the main streets of the towns.
"The Lincoln Highway further north was the actually the first across America, but it would get snowed out in winter. Route 66 was created as an all-weather road."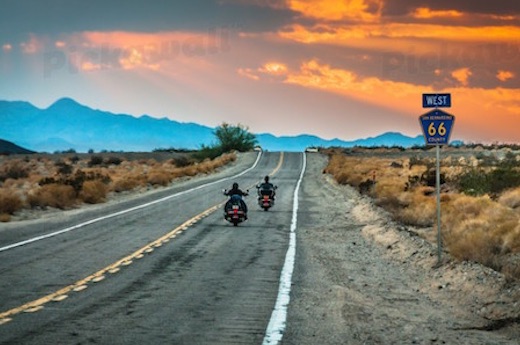 Brisbane couple Rod and Debra McDonald did the Sturgis tour last year with Route 66 Tours including many parts of the old Route 66.
It was Rod and Deb's first organised motorcycle tour and they said they'd do it again. "That's the way to travel," said Rod.
"It was so well organised. The support vehicles were great. They were always there and on time and in the deserts they'd be there with the doors open and handing out ice-cold water."
Deb also liked the fact that the support vehicles carried their luggage so she didn't have to monitor how many cowgirl boots she bought. In fact, they had to buy an extra suitcase by the end of the trip.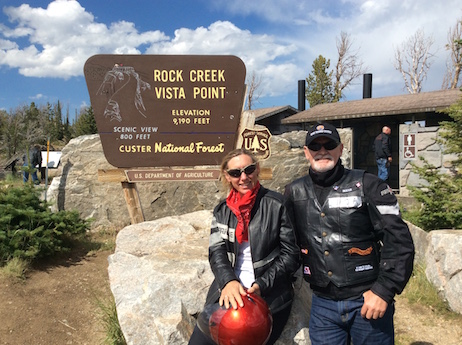 Rod said the tour consisted of 50 bikes split into A and B groups starting at different times each day so they were more manageable sizes, each with their own leader and tail-end Charley
"The stops were realistic and we didn't have to do overly long stints," Rod said.
The Kawasaki Vulcan 1500 owner said he opted to ride a trike on the tour to give his wife plenty of comfort.
"I'd never ridden a trike before and people tried to talk me out of it," he said. "It was a bit of a pain at first and it took me four good days to realise you had to drive it, not ride it.
"After a while we were keeping up with the best of them."
However, Rod said he usually started the day at the back of the pack of 25.
"When you are riding with 25 bikes with Aussie flags flying you think this is pretty good and everyone you meet wants to say hello," he said. 
"It's the best holiday we've ever done. It caters for all people no matter if you are a bike nut or not. It was an absolute fantastic experience with a wonderful bunch of people and a real blast that we would do again in a heartbeat."