Multi-world champions Valentino Rossi and Lewis Hamilton will temporarily swap vehicles on Monday (9 December 2019) when they take part in a promotional race at Valencia's Circuit Ricardo Tormo.
But could the swap be longer term?
Rossi has long wanted to get into four-wheeled racing, especially rallying where he has already had some success.
And Hamilton is a longtime fan of motorcycles, particularly MV Agusta for which he is a brand ambassador and has put his name to four limited-edition models.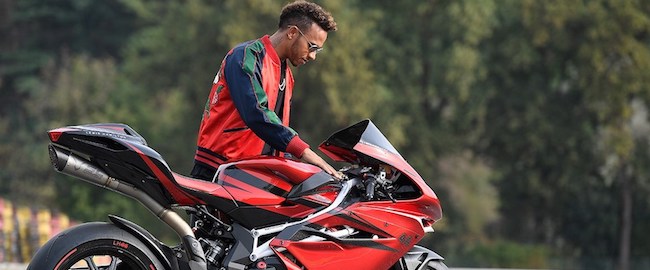 After winning nine world titles, Rossi has little to prove on two wheels and likewise six-time F1 champion Lewis has little to prove on four.
While Rossi is contracted to MotoGP for another year, he had a poor 2019 season.
Last month Rossi tested the Ferrari 488 GT3 he will race in the Gulf 12 hour endurance race on 14 December 2019 at Abu Dhabi.
He's pretty talented on four wheels and has won rallies before.
In 2006, he tested for Ferrari and was just 0.7 seconds off the times set by Michael Schumacher who also tried his hand at motorcycle racing after his first F1 retirement.
Meanwhile, Hamilton is doing a swap of his own switching from Mercedes to Ferrari in 2021.
He's long shown interest in motorcycle racing and crashed last Saturday at Jerez preparing for the duel with Rossi.
Their "race" has been made possible by their shared sponsor, Monster Energy.
We can't wait to see the video next week!
As for who will win, it is interesting to check the lap times at the Valencia circuit.
The lap record is held by Jorge Lorenzo with 1:29.40 minutes in 216, while Rossi is the fourth fastest with 1:30.13.
F1 doesn't race at the track, but has tested there.
The unofficial F1 lap record is held by Anthony Davidson, set in 2006 in a Honda RA106, with a time of 1:08.54, more than 20 seconds faster than the MotoGP bikes.
So that seems to suggest that Vale has the upper hand in the F1 car!