Once again, shoddy roadworks has caused several motorcycle and cycle crashes and the authorities don't seem to want to shoulder the blame.
We've reported on roadworks that have caused crashes, injuries and even death around Australia. (Read some of the articles listed below.)
This time it's "tar snakes" on the popular motorcycle and cycling road on the southern side of Mt Tamborine, called the Goat Track, maintained by the Queensland Transport and Main Roads Department.
The narrow road winds steeply down the mountain with a short one-way section governed by a red light.
However, recent roadworks to repair cracking left large and wiggly lines of slippery "tar snakes" which are lethal to two-wheeled vehicles.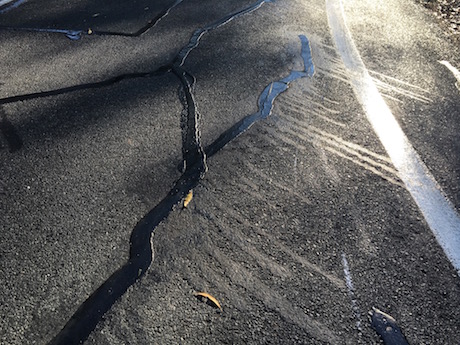 Consequently several riders of motorcycles and bicycles crashed last weekend.
Rider Lex Bowden was one of the riders who crashed when he low sided his Hayabusa and slid over the edge of the mountain at one of the sharpest bends in the road.
In the space of one hour, he says two other motorcycles and a cyclist low-sided on the bend and he has since heard via social media of other motorcycle and bicycle crashes.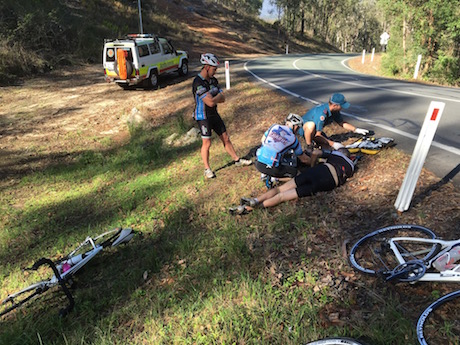 "The cyclist ended up with a suspected broken hip and pelvis and a fair bit of gravel rash," he says.
"The bend is very sharp and so the speed was thankfully pretty slow so not lots of injury for me, but the bike and the riding gear took a fair hit.
"The bike and I went over the embankment and down a steep slope/cliff on to boulders."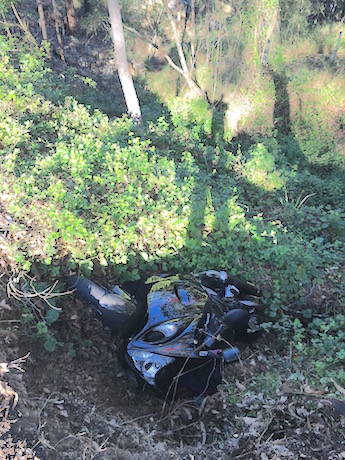 He suffered bruises and a concussion as did the other riders who shot off the sharp bend.
"It's lucky that no cars were coming the other way or it would most likely have been fatal."
Lex says he wants the road fixed and wants TMR to be "far more conscious about bike riders when they are doing future repairs".
A TMR spokesman says "crack sealing is commonly used on roads across Australia" and is placed on a corner of the Goat Track with 20km/h advisory signs on both traffic lanes.
"The corner is almost a U-turn, hence the advisory speed," he says. "It's important for all road users to travel to conditions and adhere to the advisory speed at this location."
So, no apology to the injured cyclists and motorcyclists, no reparations for their damaged vehicles, no roadworks caution signs, no change to the road surface for the heavy two-wheeled traffic expected this weekend and certainly no recognition that tar snakes are dangerous to two-wheeled vehicles!
The recent Austroads report "Infrastructure Improvements to Reduce Motorcycle Casualties" identified crack sealant as a bigger danger to motorcycles than the cracks: "Crack sealant has low skid resistance and can present a problem. Rolling aggregates into the surface using specialised high skid resistance crack sealant is a recommendation for fixing it; however, if that is not possible, cracks by themselves do not represent an issue to motorcycles."
It also states: "A motorcycle's traction can be seriously compromised by 'tar snakes' – excess asphalt or other sealants used for crack repair."
Lex says his crash never should have happened, but will end up costing him several thousand dollars. He is considering legal action.
"I can't image that anyone could look at these pics and conclude that they have left the road in anything but an extremely dangerous condition," he says.
"It was only luck that someone wasn't killed. It seems to show a fundamental lack of awareness or total lack of care for the safety of motorcyclists and bicycle riders.
"No one could do those repairs and walk away thinking they have left them safe for motorcycle riders."
If you see these "tar snakes", avoid them. They are very slippery and also cause tank slappers.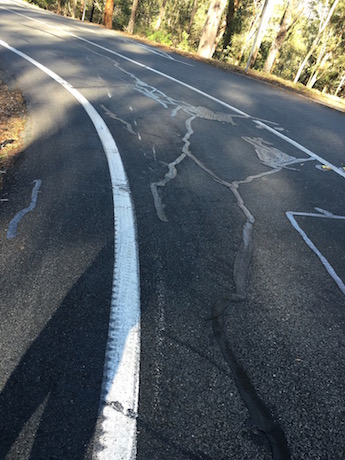 Les says all road repair crews should have an "end of job" checklist that considers the conditions of the road surface for all vehicles.
In fact, they already do have a checklist and standards to maintain for all road users, yet many of the maverick roadwork crews around the country seem to ignore the standards as we have pointed out in several other articles.
Meanwhile, the TMR points out they recently launched a new motorcycle safety campaign in which Mick Doohan preaches his 'sixth sense' rules. Read all about it here and watch the videos.