XCaliber Jacket Review Summary
XCaliber Jacket Image Gallery
The Roadgear XCaliber jacket is very comfortable, including the collar lining.
It has the new Schoeller Keprotec retro-reflective reinforcement material.
It also includes plenty of features and pockets.
CE-approved protectors are included.
It also has a warm lining that seems to breathe better than other jackets.
It's also available in both men's and women's sizing.
Flamesuits are on!
I just know we'll get a bunch of emails from Aerostich Darien (review) owners saying this is wrong, wrong, wrong.
Because guess what? I like the Roadgear XCaliber jacket better than the Darien.
The XCaliber has become my favorite, all-around riding jacket, especially in the cool, crisp, Mid-Atlantic fall.
I'm well-versed in Aerostich products.
I've owned a Darien for about 3 years, and up to now it's been my #1 choice for riding.
But to be honest, I've never really taken a fancy to it; the Darien's fabric feels like it was made out of some canvas sailcloth from the Bounty, and hasn't gotten any less stiff over time.
And the styling…well, let's face it, the styling is by Captain Bligh.
Don't get me wrong — it's a wonderful product, and zillions of BMW owners can't be wrong, but it just hasn't done it for me.
It's just too…functional!  It also has a bit of that snob appeal factor, and anyone who knows webBikeWorld knows that we're always on the lookout for "trend challenging" products.
The Roadgear XCaliber Jacket
The XCaliber jacket has some unique features that are quite persuasive.
First of all, it provides a comfort I never thought would be available in this style jacket.
My feeling is that if an article of clothing makes you feel comfortable and looks good, you're much more likely to wear it and get maximum utility from it over its lifetime.
The XCaliber's material has a softness and pliability that is much more comfortable than its competitors, and it's loaded with practical details that make it a great all-around choice.
Now I'll caveat that by saying that I haven't tried the XCaliber in the summer yet.
But when the the thermometer rises, I ditch the "parka" style jacket anyway, and as the heat index climbs, I go from leathers to perforated leathers to ventilated clothing in that order.
Lining(s)
Another nice feature of the XCaliber is its Reissa textile lining.
My experience with these textiles that "breathe" has been that Reissa seems to work better than its competitor, Gore-Tex.
Wearing the Darien means I end up having to open all its vents to lose the moisture, and that doesn't help to keep the warmth in.
I don't know much about the Reissa textile that's used in the XCaliber.
But not only does it provide a much softer hand to the jacket, it also doesn't seem to keep the moisture locked in. I don't get that that "sweatsuit" feeling I get with Gore-Tex lined clothing.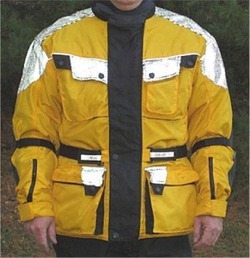 Visibility
The XCaliber is more visible than most of its competitors.
It's now available in a vibrant yellow that I believe shows up better than other "Hi Viz" yellow jackets that tend to wash out in bright sunlight. It also has tons of reflective panels.
There are 3M Scotchlite bars across the front and back of the jacket and the shoulder area includes something new by Schoeller, the Swiss Kevlar folks.
This is their "Reflex" textile product, which is Keprotec with Kevlar and 3M Scotchlite fabric woven throughout.
I was amazed when I first realized the jacket lights up with an outside source of light, in this case, the flashbulb from the camera!
The photos above illustrate the reflectivity of the Schoeller Reflex fabric.
The only difference between these photos and the rest of the photos on this page was that the camera's flash was engaged on fill flash for these two photos.
It's amazing how much of this jacket reflects direct light.
The shoulders and upper body have the most reflectivity, which is good, because these are the highest areas on the jacket and offer the most visibility to other vehicles.
Comfort Factor
There's one other small difference in design that ends up meaning a lot to me.
I noticed it right away with the XCaliber — the collar has a nice, soft, "ultrasuede" type lining that doesn't chafe.
As you can see from these photos, I have a habit of not shaving on the weekends.
The Darien has always been a constant annoyance to me because its collar grabs and pinches my stubble, and it hurts!
One of my ironclad rules is that one shouldn't have to shave on weekends or before one goes for a ride!
Styling
Now, I know that styling is a very personal thing.
But I really like the styling of the XCaliber. Every time I've worn this jacket, someone has mentioned how nice it looks. That's never happened with the Darien!
The XCaliber has that kind of Euro/long distance/Paris-Dakar appeal.
It also has a nice fit with a bit of a taper in the body, and can be easily adjusted with the elastic belts that come around the front.
Sleeve Adjusters
Another nice feature of the XCaliber are the sleeve straps.
These allow you to cinch down the sleeves, which helps prevent the sleeves from billowing and slapping around in the wind.
This was a real problem when wearing my Darien — the sleeves would flap violently as I was riding, forcing my arms to feed inputs into the handlebar.
I found that this caused fatigue; at the end of the ride, I'd be complaining that it felt like I went 10 rounds with Mike Tyson.
I do wish the cinch straps were about an inch or two longer though — I found that they were kind of tight on really cold days when I had on a sweater and heavy shirt underneath.
The back of the XCaliber is shaped to accommodate both sport-touring and straight-up postures.
You can adjust the action of the back of the jacket by using the two snaps to gather up material.
Other Features
It also has "action back" shoulders with a short section of extra material that's bunched up in a sort of "accordion" style.
This material makes it much easier to ride in a forward lean without having the sleeves ride up your arms.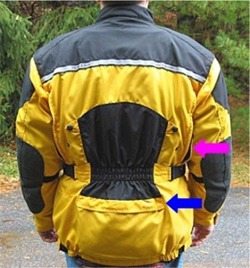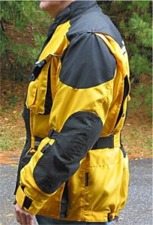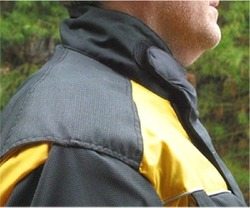 Collar Issues
(Photo Above): The collar of the XCaliber is nice and high.
The only complaint I have is that the flap isn't as long as I'd like, because I have to pull the collar tighter than I'd like so that I can fit it around my neck.
If the collar flap were about 1.5″ longer, or the base portion of the Velcro reached closer around the front of the jacket, this problem would be solved.
This is especially noticeable if I'm wearing (which I frequently do) a turtleneck or sweater.
Pockets
The XCaliber also has a couple of cool "secret" pockets.
You can see the flap (blue arrow, photo left) that covers a zippered rear cargo area that measures about 8″ wide by 7″ deep.
This one is very handy for holding an extra pair of gloves, helmet liner or even a water bottle or two.
There's another secret pocket in the front, on the inside left chest area, that's big enough for a fat wallet (I wouldn't know, of course!) or personals.
It measures about 6″ by 6″. The liner also has a built-in slit for access to this pocket.
And there's one more secret pocket just inside the central flap with its own short zipper; this one can be used to store a map and it measures about 5″ wide and goes about 7″ deep on the diagonal.
Protection
The XCaliber offers plenty of protection in case of a get-off.
The jacket is made from the ubiquitous DuPont Cordura Plus, with panels of Schoeller Keprotec with Kevlar that cover a long and wide section of the elbow area and the shoulders.
Protection is enhanced by CE-rated removable armor in the elbow and shoulder areas.
And the XCaliber also comes with a removable, contoured spine guard that is very comfortable and doesn't get in the way of riding, whether you're leaned over or sitting upright.
The jacket comes with an "official" CE approval tag and this is the first time I've ever actually encountered a garment with the official CE stamp of approval. But is it for real? Who knows…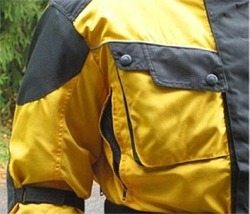 More Features
The XCaliber has 4 bellowed pockets on the front (Photos B and C, left); two up top and two down below. The two pockets on top use a two-button closure.
There's an extra flap of material that folds under the outer flap that helps keep the pockets' contents from getting wet.
Each top pocket measures about 6″ wide and about 7.5″ deep.
The top left front pocket is actually two pockets; there's a smaller, narrower (about 3.5″ wide by 7″ deep) pocket attached to the front of the main pocket that's ideal for holding a cell phone.
Just make sure you pull over before you talk!
The lower bellows pockets are about 7″ wide by 7.5″ deep. They are secured by both full-width Velcro (yep, the real thing, not imitation "hook and loop"!) and a button.
By the way, all of the buttons on the XCaliber have a neat "soft" feel to them — it must be some type of rubberized coating.
This is a nice feature that will help protect your bike from scratches.
Ventilation
There are 4 vertical vents on the XCaliber; two live in the front, outboard of each top pocket.
The other two are directly opposite, on the back of the jacket.
They are positioned in such a way that water intrusion should be minimized, but I haven't yet tried the jacket in the pouring rain, so I can't tell how waterproof they'll be.
Zippers
The main zipper in the front of the jacket is protected by not one, but two wide Cordura flaps, and is secured with both full-width Velcro tape and two rubberized buttons.
Again, I haven't tried the XCaliber in the rain, but I'd find it hard to believe that any water can get past these two formidable barriers.
The jacket also has adjustable sleeve wrist openings.
There are zippers running up about 7.5″ from the bottom of each sleeve, and a wrist flap, again with Velcro to adjust the sleeve diameter.
The sleeves fit me very comfortably and I can cinch them down small enough to fit into the tightest glove gauntlet in my arsenal.
Insulation
The XCaliber comes with a full DuPont Thermolite quilted liner.
The liner has knitted cuffs with elastic, which prevent cold air from finding its way up the sleeve. This is yet another neat feature.
The liner sleeves are anchored at the bottom by two D-rings for each sleeve, with a short strap that slips through the D-rings and uses metal snaps to close.
The liner zips into the jacket with a full zipper that goes up each side and around the neck. The liner also adds to the comfort of the jacket without overly increasing its bulk.
Remove the thermal liner and you'll find that the XCaliber shell has a thin internal liner that has a nice, silky feel to it and is comfortable next to the skin.
Conclusion
I really like this jacket, and now that the fall is here, it's become my favorite. I'm hoping to be able to vouch for its performance in the rain and in warmer weather in the months ahead.
I believe the XCaliber offers unique value for this style jacket.
It has comfort and a strong array of features for the price. It feels comfortable both on and off the bike, and doesn't feel as bulky, stiff or "armor bound" as its competitors.
Roadgear offers some high quality apparel, all designed by Mansoor Shafi, Roadgear's CEO.
Mansoor is a motorcyclist and he knows what's important to us and has worked hard to continuously update Roadgear products.
Part 2: Roadgear Euro-Tec Pants Review
Master Listing of All wBW Motorcycle Product Reviews
w

BW

 Review: Roadgear XCaliber Jacket
Manufacturer: Roadgear
List Price (2004?): $439.90
Colors: Black with yellow or red
Made In: Pakistan
Review Date: 2004?
Note: Item provided by a retailer, distributor or manufacturer with these Terms and Conditions.
Note:
 For informational use only. All material and photographs are Copyright © webWorld International, LLC since 2000. All rights reserved. See the webBikeWorld® 
Site Info page
. Product specifications, features and details may change or differ from our descriptions. Always check before purchasing. Read the
Terms and Conditions
!
Owner Comments and Feedback
---
From "J.S." (4/09):  "Your review of the items was spot-on.
I first tried out the jacket on Friday which was sunny and warm, and found it to be truly comfortable- the first jacket with armor I've worn that "sat" right.
I did notice that in the afternoon when the temps got up around 76 degrees that the vents are not as effective as they might be.
Although I do have a windshield on the bike which may have decreased the vents' effectiveness.
It's Sunday and I just got back from a 60+ mile ride in the pouring rain.
The temps are around 55 degrees, so I figured I'd keep the liner out and I'd try the pants as well. I wore a t-shirt and shorts under the suit and have to tell you that I stayed warm and dry the entire time.
There were a couple places on the upper arm that I thought may have seeped.
But they were bone-dry when I got home; there must've been a cool spot where the material laid right against the skin.
All the stuff in the exterior pockets stayed dry as well.
The only place that got wet was the sleeve cuffs, but that was because my over gloves proved to be worse than having none (water went right through and pooled at the elastic around the cuff).
In other words, it's not the fault of the jacket.
The pants performed as well as the jacket. It would be good if there were a pocket or two on the pants, but it's definitely not a show-stopper. Thanks again."
---
From "T.U.": "The Jacket is constructed of high quality material and parts. I like the flaps covering each pocket making them water tight.
This was tested recently in a long ride in pouring rain and snow and not a drop entered the pockets.
I also like the pocket snaps. They are very easy to open and close, even with a gloved hand.
The flap covering the main zipper, that is retained by full length of Velcro tape, also does its job in the rain. Not a drop entered the suit.
The full-length Velcro can be a problem in the summer heat though. It's hard to leave the jacket unzipped a little to improve on airflow.
The ventilation system doesn't seem to work well on a fully faired touring bike with temperatures above 70 degrees.
On a bike without a fairing, it works, but poorly. The two vertical front, and 2 vertical rear vent openings are just too small. (A better idea is the Joe Rocket Ballistic rear vent across the back of the jacket).
Unlike the recent XCaliber jackets, my jacket's sleeves have a knitted cuff sewed to the jackets internal liner.
This really is a big bother in the summer heat. If I could remove the knitted cuff without damaging the sleeve, I would.
(Ed. Note: Roadgear has since improved the design so that the cuff is attached to the removable liner.)
There is a belt around the elbow, and for the life of me I can't understand why its there. It bothers your arms after a short distance, and in the cold makes a cold spot around your arms.
I too think the belt is too short. I've taken the belt and looped it to the inside, upon itself and now the cold spot and bother are gone.
I would like to cut these belts off. They serve no purpose that I can detect. (Ed. Note:  As noted in the review above, the belts are for keeping the loose material on the arms from flapping.)
Unlike you, I've never experienced the wind buffeting on the sleeves behind my Gold Wing's fairing.
Basically this is a cold weather-riding jacket and riding in the summer is uncomfortable. The bulk also makes it hard to pack.
The CE armor doesn't fold very well, although it is removable. For a trip this summer, I used it only on cool days, removed the armor and left it at home, so I could pack it."
I also purchased the XCaliber over-pants. They are made of the same high-grade materials.
There are 2 small pockets in the front of the pants, but they are all but useless due to their small zippered opening.
There is a full-length zipper on both legs sealed with Velcro. It only zips from the bottom, up. This is a big problem for a rider trying to put on his boots with the over pants on. (Very hard for us fat, old guys).
The full-length liner is held in place by a zipper around your waist and just a few oddly placed Velcro strips down the pant legs. No zipper is uses to retain the liner in the legs.
This is a problem when your trying to zip the pant leg closed. The open side of the liner repeatedly gets caught in the zipper.
Very frustrating and not well thought out. Two LARGE pillows of Keprotec by Schoeller protect your knees.
This single feature is what I dislike most about the over pants.
The material is coarse and scratched the plastic side panels on my Goldwing. They are large and uncomfortable. I wish I could remove them completely.
Unfortunately they are sewed into place and can't be removed. I did a temporary fix by stitching a pair of exercise knee protectors in place. It isn't pretty, but it works."
The complete riding suit is very watertight.
My first experience was a 3 hour ride in a driving summer rainstorm. I didn't get wet at all.
This is the first time I rode in a weather suit that didn't get my crotch wet.
Unfortunately the suit was so hot in this storm, (temperature was in the 80's), I sweated very badly.
My Belstaff rain suit is a far better, and more comfortable solution for wet weather riding in the summer months.
My second experience was in late fall.
Temperature in the 30's and there was a snow/rain mix. The suit performed flawlessly. No water seepage, and I was very comfortable.
All in all, I'm pleased with this suit.
It is heavy, (15 pounds for both pants and jacket), and bulky.
Keeping in mind that I feel this is a cold weather riding suit, I rate it 8 out of 10. The Jacket alone is good for a 9 out of 10. The over pants alone are a 7 out of 10.
If you're looking for a all year riding suit, this one isn't it. Its just too hot when the temperature climes over 70 degrees."
Follow-Up: "I just got back from a ride and have to update you on the Roadgear XCaliber riding suit from the great winter wonderland of Michigan.
This morning when I left it was 21 degrees with bright sunshine. There is a 2 to 4 inch covering of snow on the ground.
There is also stiff wind of around 20 MPH from the North. The radio says there is a cold front moving down from Canada.
I left around 09:00 for a ride to a friends house in Marysville. 28 miles away. He lives in a home right on M-29 overlooking the St. Clair River.
(This is the river that connects Lake Huron to Lake St. Clair).
My route was along the rivers coast, on M-29, from New Baltimore to Maysville. The roads were salt covered and dry today. (Makes the cars and trucks through up a salty dust if you follow too close).
My gear consisted of the XCaliber pants and jacket, Cruiserworks Classic boots, Shoei RF900 helmet, and a pair of Roadgear Ultra gloves.
Underneath this I was wearing a cotton long sleeve shirt, t-shirt, blue jeans, cotton knee high socks and cotton briefs. (No long johns).
I was riding my Goldwing, with all the vents closed. To say I was comfortable is an understatement. Not once did I feel cold.
I was as comfortable when I arrived as I had been when I had left. The only place that felt cool was my fingers.
I just can't say enough about the cold weather comfort that this suit gives me.
The last winter suit I had was a old Tour Rider suit I purchased from Sears in the 80's. This thing is light years ahead of that one. On the way back I slipped on my Areostich triple digit rain covers.
This blocked the cold and my hand stayed toasty warm all the way home. (Of course I had a good tail wind coming home, instead of a stiff head wind like I had going up).
I really like this outfit now since it has extended my riding season. I would not have tried this run with my old Tour Rider. Even with the Eclipse heated vest I have. Ride Safe!"