The last thing you should be wondering about when you're leaned over in a fast corner is whether or not the tires are inflated properly.
It happens to me on occasion — out of nowhere, all of a sudden I catch myself wondering why the tires aren't simply sliding out from under me.
Not that I'm anywhere near Boy Racer or anything. But motorcycle tire dynamics are a wonderful and amazing thing…
Even more amazing when you watch the likes of Rossi, Bayliss, Edwards, and the rest of the MotoGP and Superbike crew leaned over at elbow-dragging lean angles!  How do those tires do that??
I do think about tires quite a bit. After all, those little tiny contact patches are all that stands between your 85+ horsepower and the asphalt.
So I figure the one thing I can do is make absolutely sure my tires have the right amount of air pressure before each and every ride.
I definitely have gotten into the habit of checking tire pressure as soon as I unplug the bike from the Battery Tender and roll it out for another ride.
What's interesting is that different bikes, tires and wheels seem to lose air at different rates.
I had a BMW K75 with cast wheels and tubeless Dunlops that seemed to keep a steady pressure for weeks.
They would just need a pound or two and they were ready to roll. My BMW R65 has the same cast wheels, but with Bridgestone tires.
The pressure only remains the same for maybe a week or less.
And my latest acquisition, a Triumph Thunderbird Sport, has spoked wheels and radial Avons with tubes, but needs air about every two days.
Tires and Pressure
Why is tire pressure so important?
Motorcycle tires are very sensitive about correct tire pressures, partly because there is a correlation between the contact patch and the tire's pressure.
Other reasons involve the way the tire's internal reinforcement will cause heating and cooling cycles that may be affected by internal pressures.
The bottom line is that changes in tire pressure can have dramatic effects on handling, braking and traction.
Improper tire pressures can also affect tire wear.
The Roadgear website has some numbers that indicate a 30% reduction in tire pressure can reduce tire life by 48%.
Although a 30% reduction is pretty dramatic, and I would guess that webBIkeWorld visitors would never ride their bikes with such under-inflated rubber, the point is still valid, especially considering the cost of motorcycle tires.
Even a few PSI less than required can change the wear characteristics of tires.
The lesson here is that it's really important to check your bike's tire pressures before every ride.
Now some wheels are fairly easy to check, although motorcycle tires are harder to check than car tires, mostly because of the orientation of the tire valve.
Different Gauges
It seems as if some unique contortions are necessary to get most tire pressure gauges to fit between the spokes or the cast wheel braces and/or the brake disks.
The TBird Sport seems especially hard to check.
It has a nice pair of big front disks, which have caused some trouble in fitting a selection of tire pressure gauges between the disk and the tire valve with enough clearance to take a pressure reading without inadvertently dumping 2-3 pounds of air out of the tire.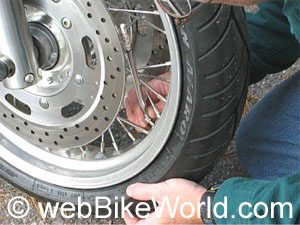 (Photo Above) A pencil-style gauge is hard to use on this tire/wheel combination.
Not sure if you can see it, but the pop-up rod with the pressure readings hits the disk, while the spokes interfere with the opposite side of the gauge, which makes it hard to get an accurate reading.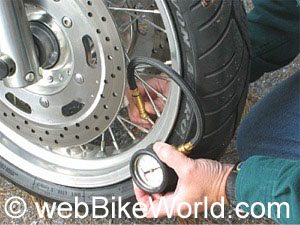 (Photo Above) It takes some work to get an accurate reading with the  Accu-Gage on the same wheel. It's a two-fisted operation and it takes 2-3 tries to get the gauge head correctly fitted on the valve.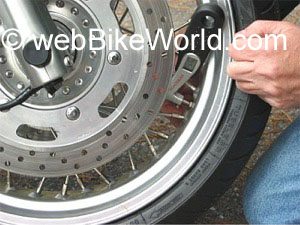 (Photo Above) The curved shape of the Roadgear gauge makes for an easy fit between the front disks and the Akront rim of this bike. It's a one-handed operation with a positive connection.
Tire Pressure Gauge Types
My experience has been that the classic "pencil" style gauges don't seem to work very well with many motorcycle tires.
The head isn't offset at a wide enough angle to fit on the valve without causing and interference problem somewhere on the wheel or disk with the numbered rod that pops out the back.
I'm also not convinced that the pencil-type gauges are accurate, especially when held upside-down, which so often happens when checking motorcycle tire pressures.
I bought an "Accu-Gage" tire pressure gauge a while back, thinking that the flexible hose and offset head would make it easier to get it clamped on to the valve stem without leakage.
Although the But it seems like you have to be a contortionist to hold the gauge, bend the hose, and fit the head on to the valve stem to get a good reading.
That led me to the Roadgear "Hi-Tec" tire pressure gauge.
I've seen this item advertised in the back of the print motorcycle magazines, and I've also read the short reviews that appear now and then.
The Roadgear gauge always seems to get glowing reviews.
For example, Motorcycle Consumer News recently gave it the "Innovation of the Month" award.
And American Motorcyclist, Motorcycle Tour & Cruiser and Motorcycle Cruiser magazines also recently had reviews of the Roadgear gauge and they all really liked it and found it to be very accurate, even when compared to the Dunlop Tire pressure gauge tester.
The Roadgear gauge has a uniquely shaped head that allows it to fit very easily on most tires. The end is curved so that it fits under a disk or spokes, and the head is offset at a 90-degree angle, unlike most other pressure gauges, which usually have a shallower angle.
This makes it much easier to press down on a motorcycle tire's valve to get a successful reading without a lot of contortions.
It is the only gauge that is comfortable for me to use on the Triumph and that fits handily between the bike's big front disks and the valve.
What's also nice about it is that it has a sort of positive reading feature — you either get a reading or not.
On a pencil-type gauge, for example, it's possible to get a false reading if you don't have the head precisely on the valve.
The little rod that pops out with the pressure numbers on it can come out only part way, or most of the way, but it seems like you have to take two readings to make sure you've got it right.
The Roadgear gauge either fits on the valve or it doesn't. If you don't get a good reading, it will tell you by indicating "00.00".
Roadgear claims its accurate within ± 1%.
The gauge measures half-pound increments from 5.0 to 99.5 PSI, so it would also be good for some of those high-pressure bicycle tires.
Conclusion
This gauge fits very neatly to hand — it feels like it's feather light, weighing only 46 grams.
Almost everyone who has handled it is amazed at how light it feels.
I'm not sure how they got the electronics and battery in there, but they did! It also has a lifetime lithium battery and a five-year warranty, which is not only unbelievably great, but probably beats any other tire pressure gauge on the market by miles.
The Hi-Tec gauge is definitely my favorite.
The electronic design of the gauge doesn't permit a bleed valve because each reading is taken individually. But it would be nice to have a little nipple on one side of the gauge, which would make it handy to bleed out any excess air. But that's a pretty minor complaint.
It's actually kind of fun to use the Roadgear gauge. The only thing better would be if tires didn't lose any air pressure at all!
w

BW

 Review: Roadgear "Hi-Tec" Tire Pressure Gauge
List Price (2004): $23.90
Made In: China
Colors: Silver/Black
Sizes: N/A
Review Date: July 2004
Note:
 For informational use only. All material and photographs are Copyright © webWorld International, LLC since 2000. All rights reserved. See the webBikeWorld® 
Site Info page
. Product specifications, features and details may change or differ from our descriptions. Always check before purchasing. Read the
Terms and Conditions
!
Owner Comments and Feedback
---
From "O.W.": "After reading the review on your site I went out and bought one of these gauges and it is a relief to finally check tire pressures without becoming a contortionist.
I compared this gauge with another digital gauge I own for my truck and the pressure readings are identical so both are either very accurate or equally not so.
I like to think positive though. Anyway keep up the good work as I frequently look at your site and turned some of my friends onto WBW readers."
---
From "T.W.": "I bought the Roadgear High Tec digital tire pressure gauge after reading the review on your website.
(Actually, I also read a positive review in Rider magazine, but your review was also very helpful and informative.)
I am very pleased with the product and found that it makes a huge difference in making a routine task much easier to do with greater accuracy.
Thanks for the review, and I enjoy your website, in general, for the interesting and informative articles and reviews."