del Fuego Pants Image Gallery
We're very lucky indeed to have a huge selection of motorcycle jackets, pants, helmets, gloves and other gear lying in wait for the next webBikeWorld review.
But even with all of the various combinations of jackets and pants to choose from, I still seem to gravitate towards one or two of the old standbys when it comes time to suit up for a ride.
I'm not sure why that is — probably something to do with human nature, ingrained habits, comfort and security…who knows?  And what's the process that converts the new and different to the old and familiar?
Maybe it has something to do with first impressions, which seems to have a powerful effect on one's opinion about a product.  Because the first time I pulled on Roadgear's new Tierra del Fuego pants, I had the feeling that a new old standby was in the works.
One thing's for sure — I had forgotten how nice it is to be able to quickly slip a pair of motorcycle pants on over jeans or even dress pants, hop on the bike and go.  I've never owned an Aerostich Roadcrafter one-piece suit, but every owner I've ever met raves about how easy they are to use.  On or off in ten seconds…
This compares to the 10-minute suit-up routine that I have to go through to climb into dedicated motorcycle gear, especially in winter, where layer upon layer makes the job even duller.
Which makes me wonder why we haven't seen any new motorcycle overpants designs being released lately.  I'd almost forgotten that there was such a thing — the last pair that I bought is a major old standby, the Tourmaster Cortech overpants that were the subject of one of the very first webBikeWorld reviews about 6 years ago.  I think they're hidden around here somewhere…
The Tierra del Fuego pants are new to the Roadgear lineup and they're designed to match the Tierra del Fuego jacket that we reviewed a couple of months ago.  The pants are made from a medium weight DuPont Cordura Plus and they're cut like a comfy pair of jeans.  Although Roadgear says they can also be worn by themselves, when they're ordered one size larger than normal they work very nicely as overpants.
The pants will fit over jeans, but I've been wearing mine over an old pair of sweat pants, which makes for a comfortable and pretty warm combination for the cold weather we've been experiencing lately.  Since sweat pants are my all-around lounge uniform in winter, it takes no effort at all to pop on the Tierra del Fuego pants, slip into a jacket and take off.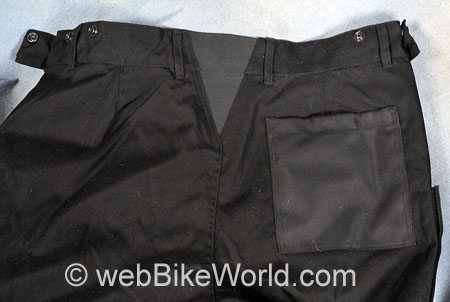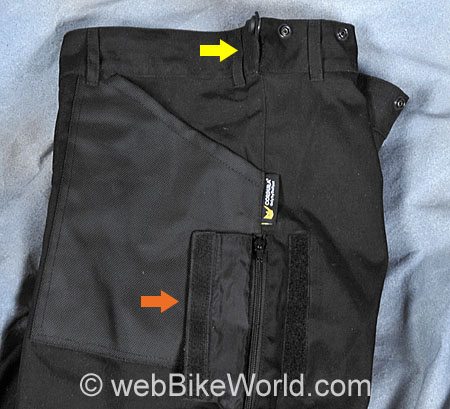 There are a few requirements for a pair of motorcycle pants to be classified as overpants.  They can't be too bulky, the should be slightly oversize and they have to include a full-length zipper on the sides.  The Tierra del Fuego pants meet all of those criteria and more.
The pants have a full-length YKK zipper on each leg seam and they even have a zipper pull at both ends; one down by the ankle and one at the top near the hip.  The top zipper pull makes it really easy to access any pockets in the pants underneath.  The zippers extend to within about 7″ of the waist, making it very easy to climb in and out of the pants.
The entire length of the zipper is covered by a windproof flap that secures with Velcro to the side of the pants.  The top 6″ or so of the flap is wider and has the reflective Roadgear logo stitched on the outside, which adds a nice touch.
The cuffs include a rubberized snap closure and an additional wide reflective Dynatec flap that also acts as an adjustment to tighten up the bottom of the pants if they're going to be slipped inside a pair of motorcycle boots.  There are three Velcro strips running vertically down the ankle along the side of the pants for the various adjustment positions.  I wish there were one or two more for those of us with skinny calves though.
The knees are covered with an extra layer of ballistic Nylon and the pants include CE-approved medium-weight knee armor permanently sewn into a pocket.  These are one of the very few pairs of pants where the knee armor is located exactly right for my legs, which is a treat.  I normally take about a size 36 waist, 30 length street pant and the Tierra del Fuego pants shown here are size 38W and 30L, so one size larger in the waist seems to do the trick as overpants.
The pants have external patch pockets in front made from the same ballistic Nylon and a single patch pocket in the right rear that closes with a strip of Velcro.
The Tierra del Fuego pants are also claimed to be waterproof.  I wouldn't know because any precipitation that has been falling lately has been snow.  The pants have a Reissa waterproof and breathable membrane attached to the inside and the seams are all heat-taped.
A couple of other nice touches are a V-shaped section of elastic sewn into the back of the waist and the waistband has two snap positions for side adjustment.  These allow a semi-customized fit and take up some of the slack when the pants are not being worn as overpants.  The waistband also includes standard 1-5/8″ wide belt loops, just like a pair of jeans.
The fly has a heavier YKK zipper and is covered by a flap with a rubberized button on top.  The fly is also backed by fabric with the Reissa membrane to help keep out any moisture.
The Tierra del Fuego pants are available in waist sizes from 28 through 44, each with a limited inseam choice of 30, 33 or 36 inches.
Conclusion
The combination of the relatively soft Cordura, the waterproof membrane and the feature set have made Roadgear's Tierra del Fuego pants a new old favorite, if you'll pardon the oxymoron.  Sure, they don't provide MotoGP levels of protection, but they're way better than cotton jeans in that regard.
They're extremely versatile and can be worn alone, over something like the Bohn armored underpants, a pair ofmotorcycle jeans or even an old pair of sweat pants for lazy people like me who are reluctant to wear street clothes to anything other than weddings or funeral!
Product Review:  Roadgear Tierra del Fuego Pants

Available From:  Roadgear
Suggested Retail Price:  $189.90
Colors:  Black
Made in:  Pakistan
Comments:  Pants provided by Roadgear for this review (more).  Review Date: January 2007.

Note:  For informational use only.  All material and photographs are Copyright © webWorld International, LLC – 2000-2011.  All rights reserved.  See the webBikeWorld® Site Info page.  NOTE:  Product specifications, features and details may change or differ from our descriptions.  Always check before purchasing.  Read the Terms and Conditions!
Owner Comments and Feedback
Comments are ordered from most recent to oldest.
Not all comments will be published (
details
).  Comments may be edited for clarity prior to publication.
---
I just received a pair of these pants, your review being very helpful. Just one correction: the knee armor in my pants is removable from the outside pocket, not,as your article states " medium-weight knee armor permanently sewn into a pocket."
Thanks for a great (and entertaining) resource!
Alan