Tec Women's Gloves Review Summary
Tec Women's Gloves Image Gallery
webBikeWorld published a review of the men's version of the Roadgear H2O Tec gloves (review) way back in 2008.
In that review, Burn described them as a "basic leather glove that's roomy and comfortable" but not truly waterproof.
We decided it was time for an update with the women's version of these gloves.
During my review of the review of the Icon Reign waterproof boots, I came to the realization that among the dozens of pairs of gloves, I own no true waterproof riding gloves.
In the following weeks I stopped by my favorite local stores looking for some gloves that I could wear from spring through fall.
And since we do most of our traveling in the summer months, I was looking for something I could also wear during a spring shower or August rainstorm.
Apparently, warm-weather waterproof gloves are not in high demand. The only waterproof gloves I could find had a thermal layer that added bulk and would make them too hot for summer riding.
I took my search to the internet but I still wasn't having any luck.
Just as I was about to give up on my quest however, Roadgear happened to send me a coupon and there they were: the H2O Tec gloves — waterproof gloves with no thermal lining for three-season riding. They sounded perfect.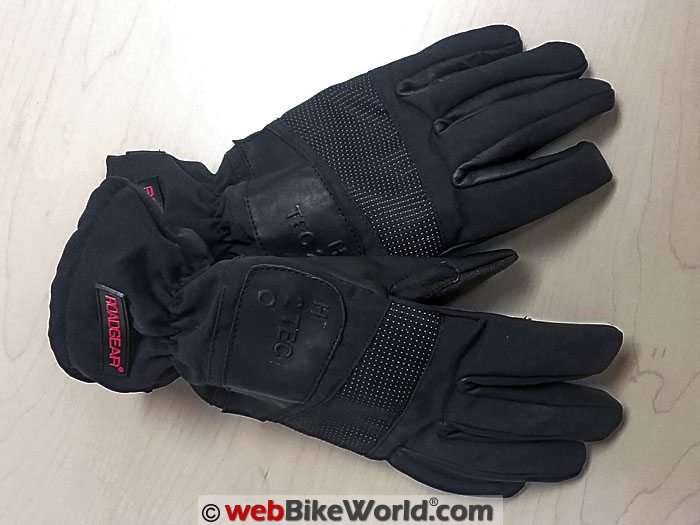 It's been a while since a review of Roadgear products has been published on webBikeWorld, so here's a bit of background.
Roadgear was founded by a motorcycle enthusiast that had a revelation while on a solo cross-country trip on his Ninja 600.
He left his job in banking and started a motorcycle gear company with the goal of offering world-class products at a competitive price.
The company has some really innovative products, although there hasn't been anything new introduced in some time. The gear includes technical wear incorporating the "Adaptive-Tec" technology with Outlast that adapts to your body heat and external conditions.
This is designed to keep you warm when you're cold and cool when you're warm. Real space-age stuff! It works also, as we've seen in several webBikeWorld reviews.
In fact, the Roadgear Adaptive-Tech multi-season and winter gloves (review) are still among the Editor's favorites.
I've long been a fan of the Roadgear Coconut Socks (review) which are unfortunately no longer available. And over the years I've tried a number of their other products and have always had good luck with them.
So I ordered up a pair of the H2O Tec women's gloves and within a few days they were at my door.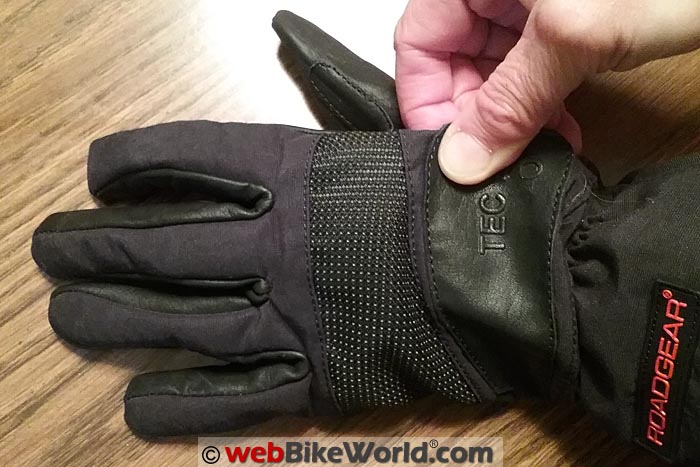 Fit and Sizing
I normally wear a size medium women's glove. I apparently have very average hand dimensions and all my gloves are size medium, so I'm fairly comfortable ordering gloves in that size.
However, I had a sizing issue with Roadgear boots a couple years ago, so I dutifully went to their size chart and measured my hand.
Yep — it fell right in the middle of women's size medium gloves. But when I opened the package I could see right away that these were too large.
Not in a "little roomy" sort of way but rather in "a child trying on their Dad's gloves" kind of way.
I could pinch over an inch of extra room in the palm and my fingers were a good 3/4-inch from the ends. I had my husband (who wears a men's size M-L) try them on and they fit him perfectly, so these were rather seriously over-sized.
I called the company and I must say their customer service was excellent. They said they had recently switched suppliers because of this very issue, were still trying to sell off the old inventory and were more than happy to send me other sizes to try on.
The young lady on the phone even offered to try them on before she sent them in an effort to get the correct fit.
After two tries, we settled on an extra small pair which fit in the fingers but still felt a bit roomy in the palm. So I strongly suspect that these are just men's gloves with a women's label stuck on them, since I would wear an XS in men's gloves.
Unfortunately, this just doesn't work very well for women. Men's hands are more muscular (and hairy) so the body of the glove never fits quite right, which is the case with these gloves.
Also, the thumbs on the H2O Tec gloves seem to be quite long, which makes them feel clumsy when gripping the handlebars.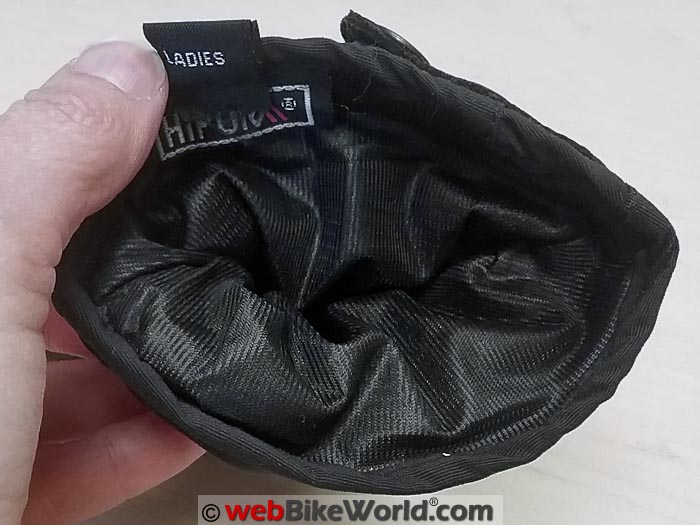 Construction
Well, there's certainly nothing fancy about these gloves — no stylish accents or colored inserts. As Burn noted in the 2008 review, they're just your basic pair of black gloves.
They don't even have much branding on them; just the name Roadgear in red stitching on the cuff. In fact, next to my other gloves they look a bit dowdy.
However, they are solidly constructed with neat even stitches.
Also, the back of the hand has a swath of reflective, abrasion-resistant material they're calling Dynatec. There is also an extra piece of leather material just above the wrist in a roughly triangular shape with the "H2O Tec" name in raised letters on it that would provide some protection to that area.
The body of the glove is made of a light textile material that feels similar to the Cordura on my jackets, while the palm appears to be leather.
The inside of the glove feels like nylon, with tiny ridges in it that feel a little rough to the touch but it's slippery so your hands slide in easily and it's comfortable once on.
Finger construction is the "fourchette" style with the sides going all the way around the tip of the finger, then stitched to the top and bottom. They have internal stitching on them for a cleaner look.
There is also an extra strip of leather on the inside of the index finger for protection against wear.
The nicest part in my view is the large gauntlet with a snap adjustment feature. It has plenty of room to go over top of my jacket sleeves but if you prefer to wear them on the inside of the sleeve cuffs, you can snug them up tighter with the snap.
Another neat feature is on the inside of the thumb. It's covered with a rubberized sticky material that I've seen on some construction gloves that provides good grip on the throttle.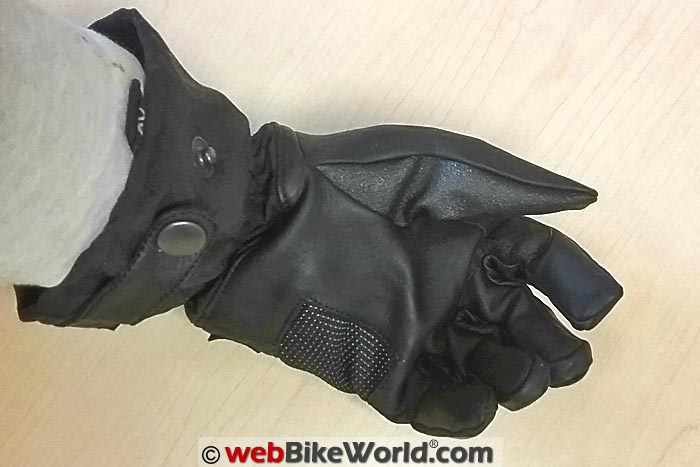 Perhaps I should start with what they don't have. There are no injection molded sliders; no hard knuckle protectors; no extra layers of carbon fiber and no retention strap on the wrist.
The biggest miss of all these is the wrist strap. The body of the glove is already too large for me and with only a piece of elastic around the wrist to hold these on I don't think they would be on my hand long in a crash situation.
The leather palms and the extra materials on the back of the hand would probably prevent abrasions if the gloves stay on, but that's a big "if".
The Dynatek on the back of the glove does provide reflectivity, but like Burn, I couldn't get it to light up for the photos, although when you hit them with a headlight beam you can see them. It's just a little more subdued than the reflective piping you usually see on motorcycle gear.
The Bucket Test
The Roadgear H2O Tec gloves have a Hipora lining that is supposed to render them waterproof while enabling them to breathe.
To test the waterproofing, I filled a utility sink with water and submerged the gloves up to my wrists. Everything was fine…for about a minute.
Just after the one minute mark, I felt some moisture in my right thumb. After the two minute mark, I could feel water sliding down the back of my left hand and by the five minute mark, the gloves were totally saturated and both hands were wet.
The water seemed to be coming in somewhere near the wrist, perhaps where the leather patch is sewn on the back of the hand. Wherever it was coming from, the gloves took on a lot of water and two days later they were still damp.
In the earlier review from 2008, the men's version also failed the bucket test, so there hasn't been much improvement in this area.
I did wear the gloves outside for an impromptu snowball fight and my hands remained dry, so they might be ok on the bike in something less than a heavy rainstorm.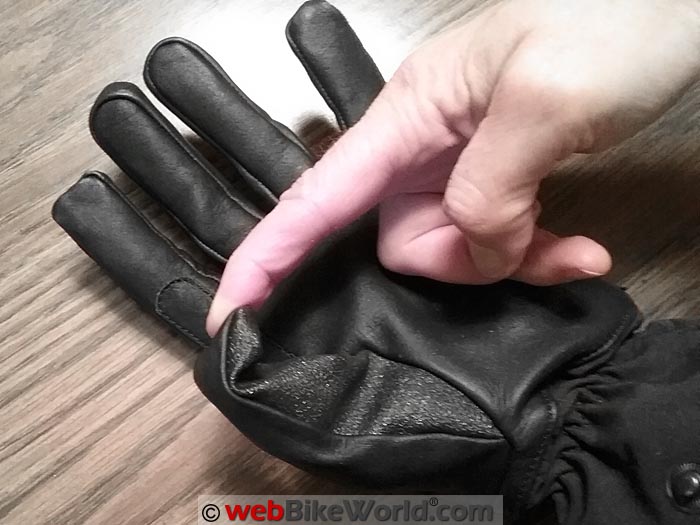 Conclusion
I really can't recommend these gloves for women riders. The poor fit and the lack of a retention strap make me doubt they would stay on in a crash and they don't offer much feel for the controls.
Hopefully, Roadgear will get the sizing issue resolved with the new supplier.
However, if you're a man, these gloves could be just what you're looking for. They fit my husband snugly and they would probably be ok for light rain duty.
But for me, the search goes on…
w

BW

 Review: Roadgear H2O Tec Gloves
List Price (2016): $56.90
Made In: Unknown
Colors: Black
Sizes: XS-3XL
Review Date: February 2016
Note:
 For informational use only. All material and photographs are Copyright © webWorld International, LLC since 2000. All rights reserved. See the webBikeWorld® 
Site Info page
. Product specifications, features and details may change or differ from our descriptions. Always check before purchasing. Read the
Terms and Conditions
!
Owner Comments and Feedback