Motorcycle Backpack Image Gallery
There are pros and cons to using a motorcycle backpack.
But one thing's for sure: if you need a backpack bigger than this Roadgear "Commuter Max" version, buy a trailer!
The recent upswing in fuel prices has created somewhat of a boom in motorcycle commuting.
There are also many new and returning riders taking to the streets, even though the morning rush hour is probably not the best place to learn to ride.
And quite a few of these new motorcycle commuters — and also some with more experience — are wearing backpacks to hold their gear.
There are good reasons for this: I'm pretty certain that a backpack has the best volume-to-cost efficiency ratio than any other type of dedicated motorcycle luggage you can buy.
A backpack is also very handy, because it goes on and off in a flash, and the rider doesn't need to mess with removing and re-installing motorcycle luggage or a paint-scratching tank bag.
And don't forget that a backpack can be worn into the office without the owner looking all that strange.
Oh, and one more: a backpack can serve quite a few other purposes when you're not riding the bike too.
But there are some cons to balance these pros.
For example, it's probably not a good idea to ride for a very long distance with a heavy load on your back.
And you certainly do not want to fall off the bike wearing a backpack loaded with hard and/or sharp objects!
Also, most of the backpacks I've tried, including the Mobil Edge SecurePack I reviewed for webBikeWorld a while ago, have inadequate internal baffles to help balance the load.
The heavy stuff of sinks to the bottom, causing a sometimes uncomfortable balancing issue.
The Roadgear Commuter Max Backpack
I carry a laptop in mine and I usually have various items like clothing (sweater, pants, rain jacket), paperwork and books.
And since I'm a photographer, I always carry a spare camera, just in case I come across a newsworthy photograph during my commute.
But the Roadgear backpack seems a little on the heavy side and it doesn't have the capacity I sometimes need.
It seems like it has a high ratio of material, fabric, padding and empty weight 1.3 kg (3 lbs.) for the amount of load-carrying capacity it offers.
Of course, I didn't realize this until Rick sent me the new Roadgear Commuter Max backpack shown here.
This thing holds an enormous amount of gear — it easily swallows my Dell d60 laptop, along with a camera, clothing, pens, papers…and my on-the-go breakfast and lunch.
It stretches wide enough to hold a full-face helmet, although it really isn't designed for this (and carrying it on my back makes me look like a camel that is fully watered up and ready for a trek across the Sahara).
You can definitely put way more in this pack than you need, which is both a blessing and, if you're a packrat, probably a curse!
The Commuter Max officially measures 53 cm tall x 38 cm wide x 15 cm deep (21" x 15" x 6"), but it's flexible enough that those dimensions are rough at best.
It does have a single huge cavern inside, so you have to be careful how you load it up.
The heavy stuff, like a camera, will gravitate towards the bottom, so I usually place my extra jacket or other soft stuff down there first.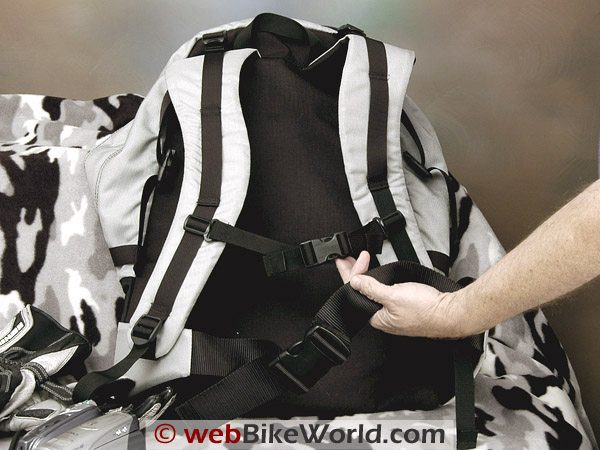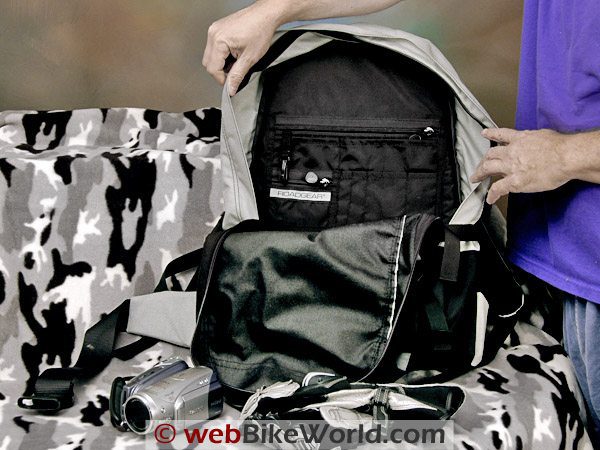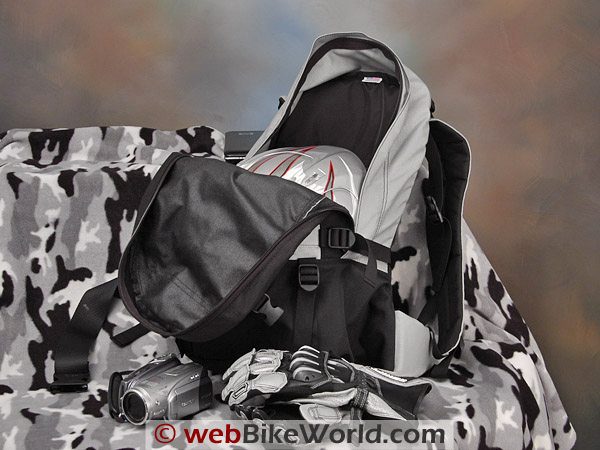 Riding With the Commuter Max
One of the nice features of the Commuter Max is the ease in which it can be put on.
The Mobile Edge backpack seems to take some doing to get secure, where the first thing I noticed about the Roadgear Commuter Max is that I can just basically throw it on, snap the chest and waist straps and I'm ready to go.
The Roadgear backpack has very wide and thick shoulder straps, which, along with the waist strap, help to balance the load.
Even with a full compliment of junk, the backpack stays planted against my body, which makes it feel secure.
All of the straps, including the chest and waist straps, the shoulder straps and the cinch straps on the sides (top and bottom) and the lower part of the backpack can be adjusted. The ends of these straps can flap around in the breeze, but it's not too bad.
When I get to work, I can simply get off the bike and start walking.
Believe me, this is a lot easier than having to stop and mess with removing a set of saddlebags and carrying them in.
And since the pack is on my back, I can use my hands to take off my helmet, get my ID badge ready or even grab a cup of coffee from the vendor while I'm dragging my carcass through the halls for another day at the office.
This large Roadgear motorcycle backpack is also relatively light; it only weighs 907 grams (2 lbs.) empty. It also features a large outside pocket that covers the entire outside cover on the back of the pack.
This pocket has a horizontal zipper across the top (all of the zippers have large zipper pulls) and it's about 33 cm (13″) deep by about 23 cm (9″) wide.
Inside, there are four pen pockets; a zipper-covered pocket I use to hold my keys; two open pockets that can hold papers, a cell phone or ID cards; and a large zippered pocket with two compartments to hold other stuff.
There's also a section of foam sewn in to the back of the pack, the part that rests against the rider's back.
Conclusion
The Roadgear Commuter Max is probably about the largest motorcycle backpack you'd want to carry.
I think it is more efficient than the Mobile Edge backpack because it has a greater load to material ratio — that is, there's more room to carry your gear.
While it doesn't have compartments that might help balance the load, it can hold a huge number of bulky items if desired, including a full-face motorcycle helmet.
And the straps help somewhat to keep things neat and tidy if the pack isn't completely full.
By the way, Roadgear offers a 10-year warranty and a 30-day money back guarantee on this one if it isn't comfortable! And the Commuter Max is made in the U.S.A.
w

BW

 Review: Roadgear Commuter Max Backpack
Manufacturer: Roadgear
List Price (2008): $129.90 plus shipping.
Colors: Red/Black, Yellow/Black, Silver/Black, Blue/Black, Black.
Made In: U.S.A.
Review Date: July 2008
Note:
 For informational use only. All material and photographs are Copyright © webWorld International, LLC since 2000. All rights reserved. See the webBikeWorld® 
Site Info page
. Product specifications, features and details may change or differ from our descriptions. Always check before purchasing. Read the
Terms and Conditions
!
Owner Comments and Feedback