Tech Outlast Jacket Review Summary
Tech Outlast Jacket Image Gallery
The Roadgear Adaptive-Tech vest and jacket are soft, comfortable and stylish.
They can be worn as liners for motorcycle jackets or off the bike for street wear.
Outlast "phase change" material is relatively new to the world of motorcycling.
But, our sport provides an ideal environment to evaluate the benefits that this product has to offer.
Motorcycle riders need protection from the extreme temperatures which can be experienced during a riding season or even a single ride.
I don't profess to understand the technology behind phase change materials.
But like Tang and Teflon, it's my understanding that the technology was first developed for NASA to keep astronauts comfortable in the temperature extremes found in outer space.
In general, phase change materials can either absorb, store and release energy in the form of latent heat.
Excess heat generated by the body is absorbed into the Outlast fabric, and stored heat is released back to the body as needed.
Outlast Technologies owns the Outlast brand name for these temperature regulating textiles, so-called because they interact with our skin temperature to act as a buffer against temperature change.
There's more information on the Outlast Technologies website, including a Flash demo of how it works.
There's a whole lot more technology involved in manufacturing the Outlast fabric, and there are various tests to determine the degree of efficacy of the product.
The bottom line is that this "fabric of the future" is good news for motorcyclists.
Bundling up no longer means that you have to look like M. Bibendum with multiple layers of insulation causing a decrease in feel and reaction time.
I feel certain that one of these days we'll need only a single thin and lightweight outfit that keeps us cool in the summer and warm in the winter. I consider Outlast to be a step in that direction.
The fabric is still being adapted to various types of motorcycle clothing, and it's not all that easy to find just yet, but Roadgear has recently developed an Outlast-based jacket and vest as part of their "Adaptive" line of high-performance motorcycle apparel.
This line of clothing also includes the very nice Outlast-based Roadgear gloves that we reviewed recently and found to be, for all practical purposes, completely waterproof.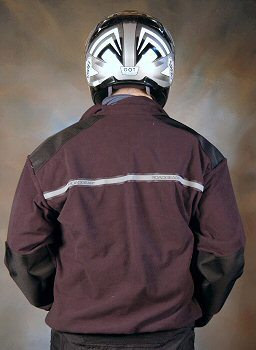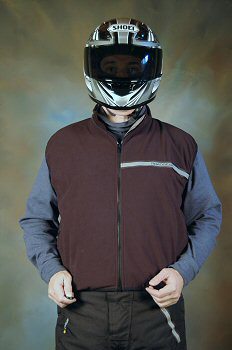 Roadgear Adaptive-Tech Outlast Jacket
The Roadgear Adaptive-Tec jacket and vest are definitely more stylish than the typical industrial-looking motorcycle clothing used as an insulating layer.
The soft jet-black outer fabric definitely helps to make these garments look good enough to be worn on their own once the destination is reached.
And the Outlast temperature regulating effect doesn't only work while riding.
Now that the fall weather is here in the Mid-Atlantic, I've been wearing my Roadgear Adaptive-Tech jacket around the house and on local jaunts and it really does seem to keep both the cool and warm fall temperature extremes comfortably regulated.
We don't profess to have the ability to conduct scientific testing to determine just how much warmer or cooler the Roadgear products are than other types of insulation, so my conclusions are subjective.
But here's an example: The temperatures here have ranged from a windy 42 to 50 degrees Fahrenheit recently, and I deliberately wore only a T-shirt, a cotton turtleneck and the Outlast jacket under a basic Cordura motorcycle jacket shell, and I was perfectly comfortable.
Now granted, this isn't what I would call extreme temperatures for motorcycle riding.
But normally when it gets down around 45-50 degrees, in addition to a pair of thermally lined pants, I'll wear a T-shirt, a thermal underwear top (such as a Duofold crew neck), a cotton turtleneck and some type of thick sweater or polar fleece under a textile jacket outer shell.
At the lower range of these temperatures, I'll probably leave the jacket's liner in place.
I'm not fond of the extra thickness of the sweater or polar fleece because it slows down my reaction time. I find it harder to turn my head quickly to look both ways and the extra bulk makes the jacket feel tighter and more constricting.
I just don't feel like I can move as quickly, which can be dangerous. Riding with the relatively thin Roadgear Adaptive-Tec jacket under the unlined motorcycle jacket shell can make a big difference.
Is Adaptive-Tech Really Adaptive?
I'm not saying that the Outlast fabric in the Adaptive-Tec jacket can completely replace warm clothing for winter.
But it does seem to do a good job at temperature regulation.
Aalthough it is more difficult to determine its effectiveness in keeping out the cold as compared to something like thermal underwear, an insulating jacket liner or a polar fleece sweater.
What is strange is that I can notice a difference in how the Adaptive-Tech jacket or vest can keep me cooler in warmer temperatures, like when I'm wearing it indoors.
This is counterintuitive to me — I assumed that basically any sweater or jacket would make me warmer, but it's hard to believe that wearing a jacket can actually keep me cooler as the temperature rises.
Sizing and Fit
The Adaptive-Tech jacket and vest are available in sizes S to XL. My size large jacket is slightly large; I'd say it fits like a men's U.S. size 44 to 45.
I probably could have gotten away with a medium if I were going to only wear it with a T-shirt underneath and no other shirt or sweater.
The size large vest fits perfectly, so I'm not sure if it's cut slightly different or it's just a matter of the vest not having the arms.
The vest works really well under motorcycle jackets with narrow arms and it helps to regulate the body core temperature.
The jacket's shoulders and elbows are covered with what appears to be material similar to Cordura. This gives the jacket some added style and possibly a touch of extra protection in these sensitive wear areas.
Both the jacket and vest have a nice, big nylon zipper, and the neck can either be zipped all the way up like a mock turtleneck or left open.
The outer material is super-soft, kind of like a cross between a very fine and light weight polar fleece, Chamois and felt.
Lining
The inside feels like Chamois cloth to the touch, but it definitely feels strange when the liner hits the skin.
The lining always feels cold to me at first, like it's made from rubber or similar.
It takes a minute or so for the Outlast material to do its stuff and then the liner feels normal. This is only noticeable when the jacket touches bare skin, like when it's worn over a T-shirt.
Roadgear has included two of the largest pockets in the jacket and vest that I've ever seen. The difference is that the vertical zippers for the pockets are located right at the seam down either side, under the rider's arms.
I'm guessing that they are located to avoid compromising the Outlast material outside of the seam area.
Pockets
The pockets on both the jacket and vest open from top to bottom to 6″ (~150 mm), and the inside stretches all the way to the central jacket zipper.
This makes the internal pocket about 12″ high by 12″ wide (30 by 30 cm), which is big enough to fit anything you'd ever want to carry.
There are no chest pockets inside or outside either garment, and none are needed.
The Roadgear logo, which is printed on a strip of 3M Scotchlite, is located across the left upper chest and across the back.
This gives some reflectivity if the garments are being worn at night, off the motorcycle. Some elastic at the cuffs (arm holes on the vest) and waist complete the design.
Conclusion
The few Outlast-equipped garments we've tried have been impressive.
It's a subtle feeling; the clothing does not make one immediately warm or cool, but they do seem to keep the temperatures in a more comfortable range.
The Roadgear Adaptive-Tec jacket and vest are nicely styled and are probably the first motorcycle insulated clothes I've owned that also use for street wear and feel good doing it.
In effect, these are multi-purpose garments that are useful both on and off the bike, making them a relatively good bargain.
More wBW Heated Clothing Reviews  |  Motorcycle Glove Reviews
w

BW

 Review: Roadgear Adaptive-Tech Outlast Jacket and Vest
Manufacturer: Roadgear
List Price (2005): $169.90 (Jacket); $99.90 (Vest)
Colors: Black
Made In: Unknown
Review Date: October 2005
Note:
 For informational use only. All material and photographs are Copyright © webWorld International, LLC since 2000. All rights reserved. See the webBikeWorld® 
Site Info page
. Product specifications, features and details may change or differ from our descriptions. Always check before purchasing. Read the
Terms and Conditions
!
Owner Comments and Feedback