You will never be alone on a motorcycle in the USA.
It's day one on our 3200km ride on a Victory Cross Roads Tour from LA to the Sturgis Motorcycle Rally and already I can declare that riders will never be alone here. Americans simply make all riders feel very welcome.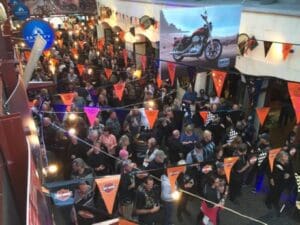 After a short shakedown ride in the entertaining canyon roads north of LA yesterday, our first stop this morning is Santa Monica Pier. This is the ideological end of the famous Route 66 that enticed so many American pioneers to populate the west coast. We park the Victory near a Route 66 sign and begin taking photos – none of which I can show you as the 2015 model is under embargo until July 27 – and immediately we are besieged with friendly Yanks wanting to know about the bike, where we are going and what we are doing. One also volunteers to take a photo of us on my phone.
Perhaps there is something about riding a motorcycle that engenders a spirit of the pioneer which is at the heart of these gregarious folk.
However, their natural ability to talk and make you feel comfortable doesn't quite translate to helpful directions as they are a little over-prescriptive and you simply drown in detail.
Anyhow, it's not difficult to find your way, thanks to well-organised streets and signage. Our target today is only a short ride to Big Bear Lake in the mountains behind San Bernadino, a popular spot for regional riders. With no GPS or maps we simply follow the signs and riders out to San Bernadino, where the mountain range traps the LA smog.
Here we fuel up at a cheap $1 a litre for premium 91RON which is equivalent Australia's standard ULP grade. We ask the attendant for directions and he tells us we've overshot a bit and need to back-track.
We grapple a little with the etiquette at the servo where you have to tell them how much fuel you want to buy before they switch on the pump. It's designed to stop drive-off thefts, but it's a nuisance. Anyway, I estimate we need about $15 worth and I'm bang on. Not sure what you do if you have bought too much!
From here it's an easy find to the Interstate 330 which climbs dramatically through the pines on the smooth and squiggly tar to 7210 feet (2197m). That's not far short of Australia's highest peak, Mt Kosciusko at 2228m.
They ski here in winter, but right now in the middle of summer it's a temperate mid-20s with a cool breeze gently blowing off the lake.
It's a great ride up the range with plenty of overtaking lanes. Today, most of the traffic is coming down the hill, anyway. Bikers of all kind buzz and rumble up the range and through the mountain-top and lake-side villages.
We settle in to the Evergreen Restaurant at Big Bear Lake with its elevated water view for a crispy BLT and chicken salad lunch, along with several other bikers from LA and San Diego way.
A group of naked-bike riders – Noel Portelli, John Petersen, Mark Exworthy and Neil Edelbaum – offer friendly advice on tomorrow's leg to Las Vegas. "You don't want to sit on the Interstate," says John. Bob and Linda Davis arrive on their Honda F6B from Chino and are intrigued and a little jealous of our Sturgis adventure. They also offer good travel advice and invite us to share their table for a chat.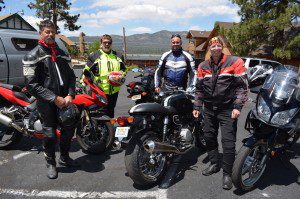 After lunch, we take a leisurely ride on tight, twisty and very grippy asphalt around the northshore, through the idyllic log-cabin township of Fawnskin keeping the pristine and tranquil lake on our left. It's a charming 30-minute ride where you have your left hand off the bars most of the time, saluting or waving at fellow riders going by. Only one trike rider fails to give us a friendly wave.
We're staying overnight at lakefront cabins before an early rise to beat the heat of the Mojave Desert into Las Vegas. Forecast for the next few days is 39-43C!
Keep an eye out for our daily Sturgis travelogue and if you see us along the way, say g'day or howdy. I'm sure you will!