Slower speed limits, more hi-tech speed enforcement and safer, flexible road signs for motorcyclists are among the suggested actions from AustRoads' Review of the National Road Safety Strategy.
We recently criticised AustRoads because their 87-page report outlining the framework for planning road networks totally neglected motorcycle riders.
There is no such case in this 174-page report. Motorcycles are mentioned quite frequently among the "vulnerable road users".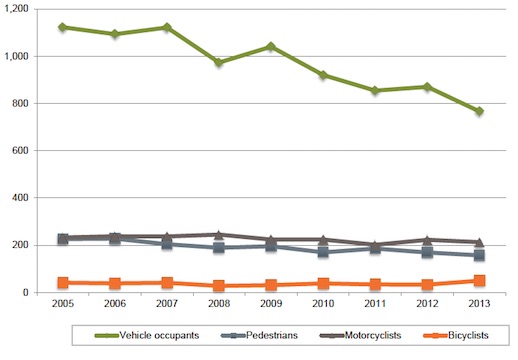 In pointing out the increase in motorcycle crash deaths and injuries, it at least recognises the high rate of take-up in motorcycling and the longer distances travelled compared with other vehicles.
Suggested actions for improving motorcycle safety mainly include building more appropriate roads, improving and maintaining surfaces, leaving roadworks in a safe condition, flexible barriers and signs, and better, higher-tech signage to alert riders to road conditions.
It also recommends using painted cues at the locations of traffic signal detector loops placed under the road, so riders can trigger them more readily when they are the only vehicle stopped at the traffic lights.
These suggestions show a welcome awareness of the tough conditions riders must deal with in their daily ride.
Of more concern to riders and all road users is the inordinate priority given to speed in the report.
"Speed management is a core component of a Safe System and remains the best opportunity for a rapid reduction in road trauma," the report says.
It recommends "further exploration of technological solutions to speed management, including extending the use of ISA (electronic intelligent speed adaptation signs) and improved enforcement using point-to-point technology".
The report also calls for further reducing speed limits on rural arterials and local government roads and in urban areas where road space is shared with vulnerable road users.
It's a long report and bound to be a handy aid for insomniacs. If you would like to read the full report, you can download it here.