Despite what authorities tell us about riders killing themselves in single-vehicle crashes, Australian road death statistics for the past couple of years prove the opposite.
Government statistics show that of the 187 riders and five pillions killed last year, only 40% of crashes were single-vehicle accidents, which is down from 49% the previous year.
Most motorcycle crashes last year involved a car, while 14 were collisions with trucks and two with buses.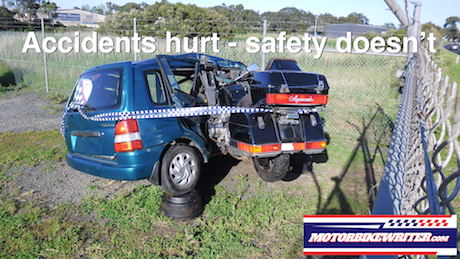 Most fatal motorcycle crashes also occurred around town where bikes are more vulnerable to being hit by other vehicles, not on highways and sparsely populated country areas.
Some 89% or 109 of all bike fatalities occurred in speed zones of 70km/h or below and none occurred on the Northern Territory's 130km/h speed zones. So much for "speed kills".
Clearly, there is more need for education campaigns for motorists to look out for motorcyclists.
As expected, the most lethal days to go riding were over the weekend with Saturday on 42, Sunday (38) and Friday (33), while the safest day was Thursday (18). Similarly, spring and summer months were the most dangerous and April the safest month as there are more riders out on the roads.
Unfortunately, reflecting the growing popularity of riding among women, females represented 10 of the 187 riders who died, compared with 7 of 201 riders last year.
Road deaths 2014
Riders 187 (201 in 2013)
Pillions 5 (12)
Cyclists 45 (49)
Drivers 532 (567)
Passenger 229 (202)
Pedestrians 151 (157)
Bike fatalities by state
ACT 2 (2 in 2013)
NSW 59 (71)
NT 6 (6)
Qld 35 (42)
SA 11 (12)
Tas 3 (10)
Vic 30 (41)
WA 41 (25)