Rigid Industries makes LED and HID lights for the military, police, off-roaders and motorcycle use.
They had on display a very interesting LED light called the "Dually", along with its near-twin, the "Dually D2".
These are heavy-duty aluminum housings that measure approximately 3 inches by 3 inches and have a lifetime warranty.
Rigid Industries has designed some patented reflector and optics features into the Dually and Dually D2 lights.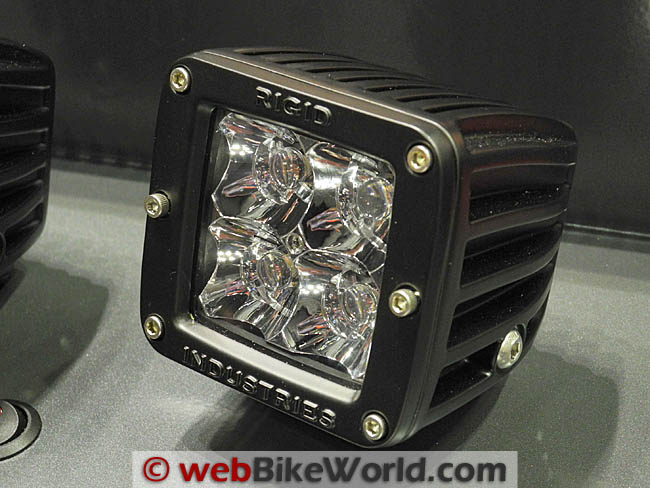 Rigid Industries Dually LED Lights
The Dually D2 is so named because the unique reflector gives it both a 9-degree spot light and 18-degree light in the same case for an effective 30-degree spread, while the Dually combines a 10-degree spot and 20-degree flood pattern.
The reflectors are deep and highly contoured and, of course, the LED lights are "instant on".
The rugged aluminum housing has a Lexan clear cover and the light is IP68 weather rated.
IP68 is nearly the highest rating you can get; it means that the housing has "total dust ingress protection (the 6) and long term immersion to a specified pressure (the 8).
The housings are powder coated with sealed connectors and the lights come with a "plug and play" wiring system.
The Dually draws only 15 Watts for each light — about half of a turn signal — yet it puts out 1300 lumens of light. It's also available as a pure spot or flood pattern.
The Dually D2, with 6 LEDs, draws 28 Watts for each light — about the same as a turn signal — and it puts out 2600 lumens of light. The Dually light is also 100% UV free (not sure about the Dually D2).
I learned something new today; these high-powered LEDs actually run pretty hot, so the aluminum cases are designed to dissipate heat.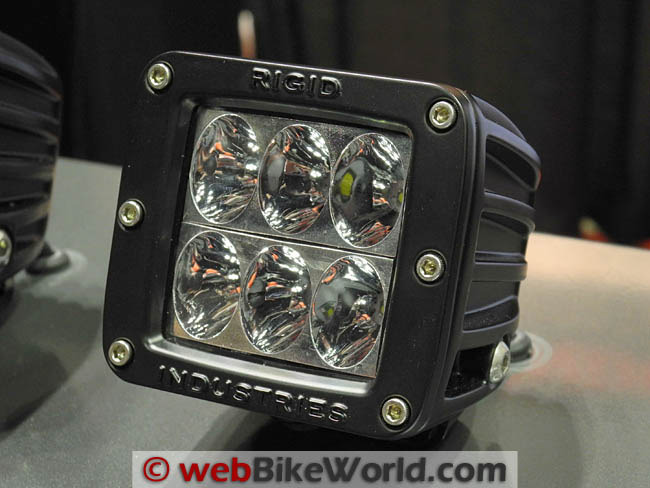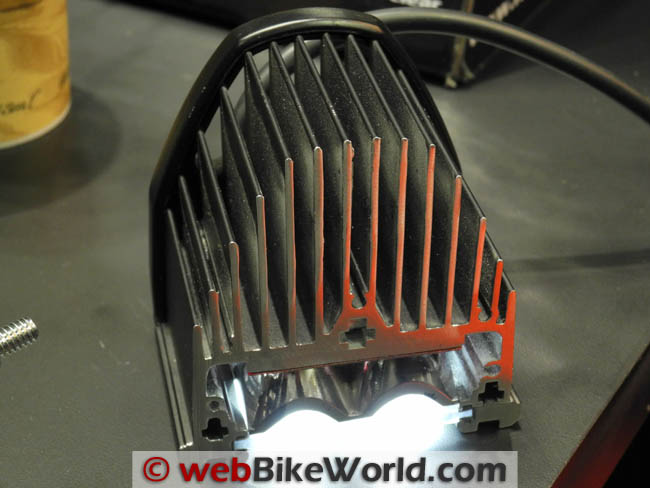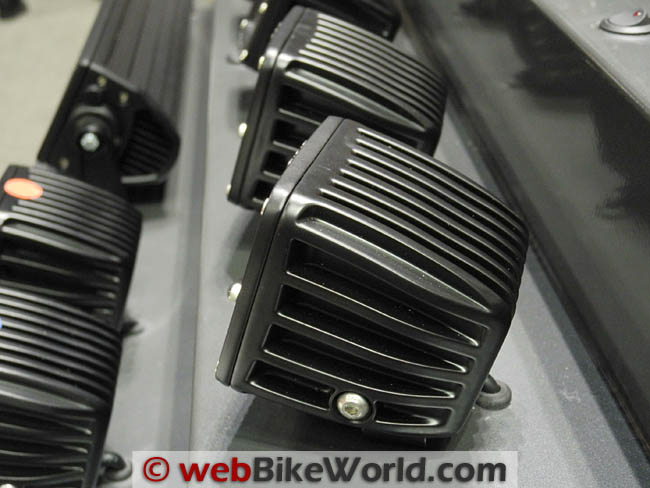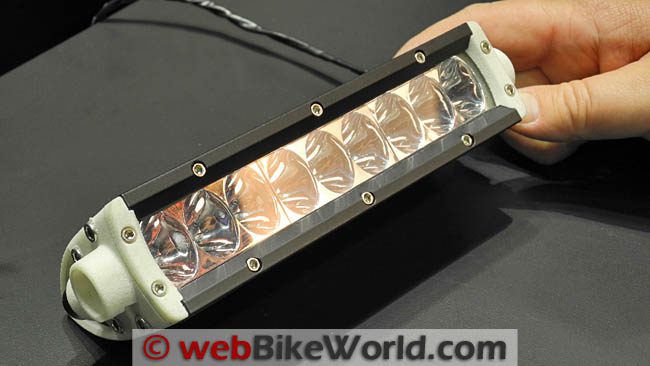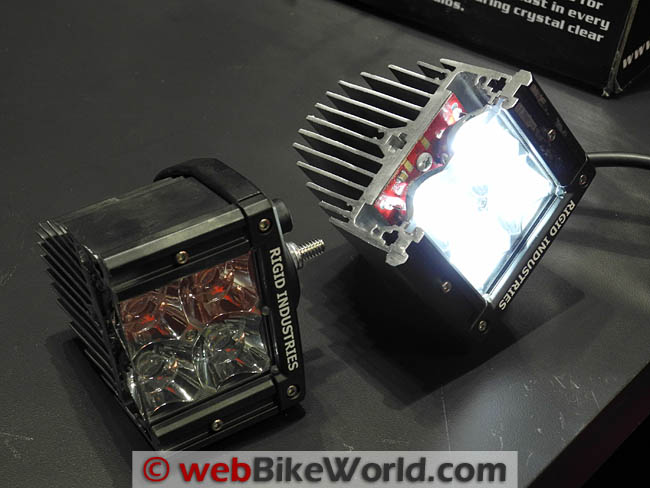 Rigid Industries Dually D2
Also, the Dually D2 has special on-board temperature-sensing circuitry that will reduce power to the light if it gets too hot (like when you're stuck in slow moving traffic in August in New Orleans).
The Dually D2 uses the Cree XP-G LED lights and the light has reverse voltage protection, along with over/under Voltage protection.
Rigid Industries claims the Dually D2 is the brightest compact LED auxiliary light currently available, and I'd believe it. These things are so bright there's no way you can look into the light.
in fact, the staff were very careful about where they were pointing the lights because of the brightness. Even in the well-lit exhibition hall, I could definitely see the power and spread of these lights.
Rigid Industries makes light bars and other types of HID lighting for various uses. They showed me an example of how rugged some of their lights are; one of them was cut in half on a band saw and each half still operates, due to the redundant wiring.
They had a 4′ long light bar that was run over by a truck, shot with a shotgun and various pistol calibers and a .223 military round and about 80% of the LEDs still worked.
The photos below also show that some of the lights are mounted in an extruded aluminum housing, with deep heat dissipation fins. The housing can be made to just about any length and filled with LEDs.
We plan on acquiring a set of the Dually D2 lights for a webBikeWorld review.
Publication Date: February 18, 2011
Note:
 For informational use only. All material and photographs are Copyright © webWorld International, LLC since 2000. All rights reserved. See the webBikeWorld® 
Site Info page
. Product specifications, features and details may change or differ from our descriptions. Always check before purchasing. Read the
Terms and Conditions
!