We may not like riding in the wet, but with weather being such an unpredictable mistress, you are bound to get caught in the rain at some stage.
Some enjoy riding in the rain and say it sharpens their skills.
While it may be dangerous, the odds of a more severe injury crash are actually 19% lower in wet/foggy or snowy weather, according to a Monash University report. That's probably because riders are more cautious in these conditions.
Rather than give you our tips for riding on wet roads, we assembled a panel of experts to get their tips on riding techniques, tyre choice, roadcraft, rider and bike set-ups and the latest electronic wizardry to help us tackle slick roads.
Among them is 2003 World Supersport champion, 10-time World Superbike race winner and MotoGP winner Chris Vermeulen for some expert advice. Chris won the 2007 Le Mans GP in the rain, so he knows what he's talking about.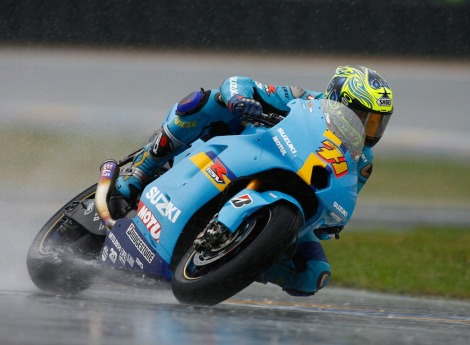 We also spoke with Mark Jackman of Bosch Australia who make ABS and traction control systems; Pirelli Moto technical manager and historic road racer Leo Cash; Craig McMartin a long-time racer who has won nine national road racing titles and is technical advisor at Ducati; Stay Upright instructor development manager Wayne Clarke; Murray Sayle of Kawasaki which has a host of road models with ABS standard; and Miles Davis marketing manager of BMW Motorrad Australia and a proponent of electronic rider aids.
While they don't all agree on every facet of riding in the wet, there are a few things they do agree on, mainly the need for riders to be smooth.
PHYSICS AT PLAY
So what exactly is happening to your bike when the road gets wet?
We won't bore you with all the science – because we don't understand it either – but the coefficient of friction on a dry road is about 0.7 and on a wet road it's 0.4 which, as you may have noticed, is a lot less.
Mark Jackman of Bosch says the physical forces are the same on cars and bikes, but the dynamics and likely behaviours of the two are very different.
"In a car or on a bike, on dry asphalt or slippery surfaces, the main difference is the threshold of traction. The suspension and tyre characteristics and centre of gravity are quite different between a car and bike … A car is also less likely to lift the rear wheels than a bike while braking, for example."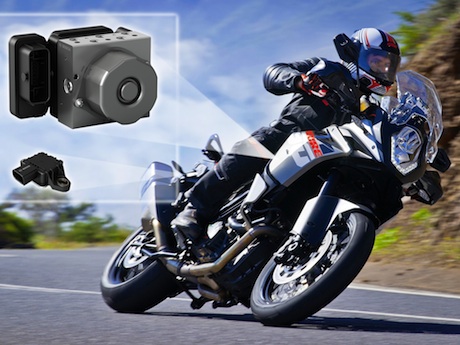 Leo Cash says wet-weather tyres have a different compound and tread.
The compound usually features more silica which is the chemical compound silicone dioxide (SiO2), not to be confused with silicone which goes in your shower recess.
Silica has a chemical reaction that repels water. It also makes the tyre more malleable so that it adheres to every indentation in the road for better traction. It also makes the tyre a little softer, which means it may not last as long.
Tread pattern is important for getting rid of surface water.
A simplistic view of tread is that the grooves pump out water from between the tyre and the road so the bike doesn't aquaplane like a skier on the water.
However, Leo says it's far more complex than that and the tread has to have thick and thin areas for all sorts of reasons including rigidity, wear, grip, etc.
"It's a complex algorithm," says Leo.
Basically a wet weather tyre has more silica and extensive grooving right to the edge of the tyre.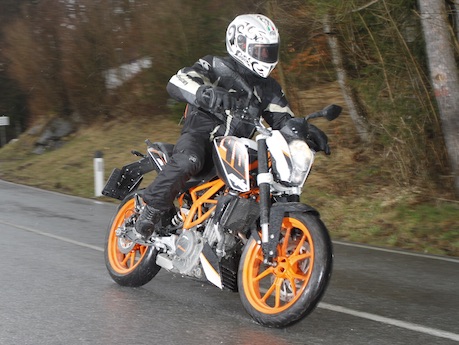 RIDER SET-UP
Riding in the rain can be a miserable experience or yet another great adventure; it's up to you.
Dress appropriately and you can be out splashing around in the rain having a great time. Forget to take waterproof gloves or a suit and you will be miserable. Worse still, you can be a danger to yourself.
When you get wet you also increase wind chill. Even 100% waterproof gloves that have an outside material that soaks up water will still make your hands cold, even though they may be dry. Wayne also points out that some wet weather gear claims to be 100% waterproof but isn't.
If your hands or feet get cold, then you lose feeling in your fingers and toes and are unable to operate the controls smoothly and efficiently which can lead to disaster.
Chris says that if your whole body is cold, you tense up and are not agile enough to be smooth.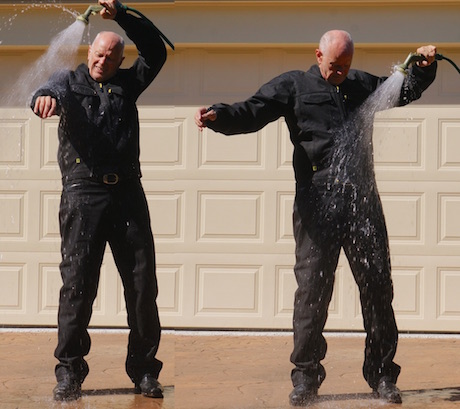 Wayne says that if he gets wet and cold his concentration levels drop "because I'm starting to think more about being cold than riding".
Miles says the right gear can turn "your worst day into your best day".
Of course, he advocates BMW gear such as a Gortex Streetguard suit, BMW gloves with a rubber strip to act as a windshield wiper and a helmet with a double visor or Pinlock system which keeps the visor from fogging up.
"I can ride in single digit wet temps and still have a big grin," he says.
Miles also suggests bikes with heated grips, seats and windshields offer better weather protection, keeping the rider warm, dry, happy and relaxed.
BIKE WET SET-UP
Few riders would buy a bike especially for how it performs in the rain.
However, it is something riders should consider. ABS, traction control, engine modes, adjustable suspension, slipper clutch and even tyre pressure monitors are all attributes that should be considered if you are doing a lot of wet-weather riding.
All bikes are capable of being ridden in the rain and there are things you can do to adjust the bike better for the conditions.
Chris says he wouldn't make any bike set-up changes because it's usually not raining when you head out for a ride.
"If it starts to come down you probably don't have a chance to adjust (the suspension) so you need to know how the bike feels with your usual set-up."
He says that on the track they are about 10% slower in the wet than in the dry so they soften the suspension by about 10%.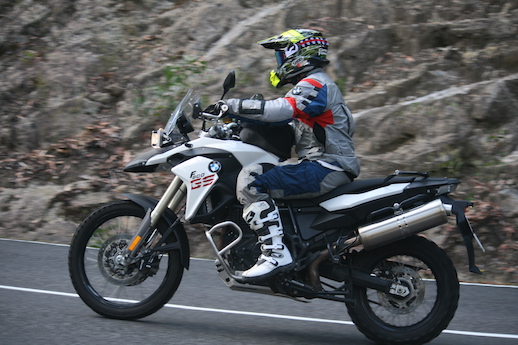 "If you are riding a bike like the BMW F 800 GS that has ESA (electronic suspension adjustment) you can change it on the fly, so I'd definitely soften the suspension."
Murray explains that softer suspension increases weight transfer, so under braking more weight goes to the front tyre for increased traction and under acceleration weight transfers to the back tyre for increased traction. It also keeps both wheels on the ground in both situations while hard springs will result in rear wheel lift under braking and wheelies under hard acceleration.
Chris says riders might also consider lowering tyre pressures for damp tracks as it creates heat in the tyre which improves grip.
However, Leo says lowering pressures only works on a damp tack, not where there is standing water.
"If there is any standing water you need to have the tyres pumped up to the recommended pressures. If the pressure is low, the grooves close together and don't pump the water away," he says.
Now that you have your bike, gear and brain right, read how to ride in the wet.