We probably didn't need a scientific study to tell us motorcycle riding reduces stress and distraction, while increasing our focus and attention.
There have been plenty of independent studies over the years that show similar correlations.
Now Harley-Davidson has funded a new neurobiological study by three researchers from UCLA's Semel Institute for Neuroscience and Human Behavior, so we can expect some positive results!
The study shows that riding lifts our focus and attention, and decreases relative levels of the hormone cortisol which is mainly released at times of stress.
UCLA research
The UCLA researchers used mobile EEG technology to record the brain activity and hormone levels of 50 experienced motorcyclists before, during and after riding, driving and resting.
After 20 minutes, riders adrenaline levels increased 27% and heart rate increased 11% which is similar to light exercise.
Researchers also found an increase in brain activity similar to drinking a coffee. This led to increased sensory focus and resistance to distraction.
At the same time, cortisol hormone levels dropped 28%, reducing stress.
Research team leader Dr Don Vaughn says the differences in participants' neurological and physiological responses between riding and either driving or resting "were quite pronounced".
Chemical process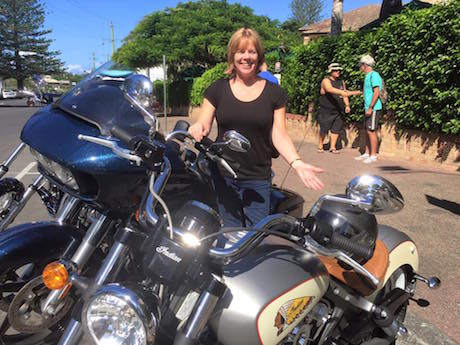 Psychologist and reborn rider Sharon Ledger told Motorbike Writer in 2016 that there are more than 10,000 chemical reactions going on in the brain every second.
"The chemicals that make you feel happy – oxytocin, dopamine, endorphin and serotonin – are produced by the endocrine system," she says.
"Not all of these chemicals are released at the same time and each has a different outcome.
"However, more of these chemicals are produced when we look forward to doing something we enjoy, we get up early, we go outside in the sunshine and fresh air, we challenge ourselves, we meditate, we concentrate on an activity that requires skill and generally do things that motivate us.
"That pretty much sounds like motorcycling to me," she says.
Stress and speed
However, a little bit of stress can be good for us.
The faster we ride, the more focussed we become, according to long-time motorcycle rider and flight instructor Peter Callil.
His theory is based on research into stress levels by human behaviour researcher Chris Welford. It shows that people perform better when their stress level is moderate and worse when it is too low and too high.
"In a road safety context, pressure relates to speed, and performance relates to our ability to operate a vehicle safely," Peter says.
Therefore, a rider's performance is degraded whether they are riding too fast or too slow for the conditions. That makes them more vulnerable to crashing.