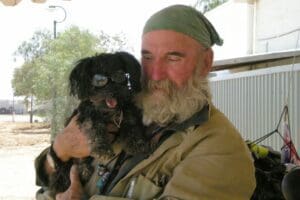 Winston Churchill called depression his "black dog".
John Skinner calls his black dog, Scrambles.
And he says Scrambles has helped him fight off debilitating bouts of depression.
Back in 2008, John and Scrambles rode their aptly painted matte-black Triumph Scrambler across Australia, becoming the first man and dog to ride solo across the continent.
This year they are joining the annual Black Dog Ride (BDR) to the centre of Australia, but doing things the hard way by returning to Brisbane via the Simpson Desert.
"We'll be solo again, taking pix and video along the way," he says. "I'll be towing the trailer again, so we have enough fuel etc to travel from Mt Dare to Birdsville. I'll be putting the Scrambler through it's paces but I'm confident with the right prep we won't have any problems."
The annual Black Dog Ride has been organised since 2009 to raise awareness of depression and has so far raised more than $800,000 toward mental health support programs.
About 50 motorcycles each from every capital city around Australia will take a week to travel to the centre in August for a national meeting in Alice Springs.
Web: www.blackdogride.com.au