Sometimes the planets align and all your ducks are in a row. That was today when I got to ride the new Indian Roadmaster and Scout with Burt Munro's son, John, at the Sturgis Motorcycle Rally.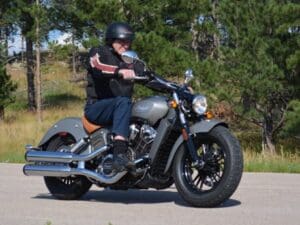 It wasn't supposed to happen that way, but we all sort of met up at the one time and it just happened.
John and his wife, Margaret, were flown in to Sturgis for the launch of the new bikes as a guest of Indian Motorcycles. He's the son of Burt, whose pursuit of world speed records was immortalised in the Hollywood film, The World's Fastest Indian.
He's a quiet man who enjoys the nostalgia of the Indian brand, but admits he's not ridden "seriously" in over 50 years. Yet, he's super-keen to throw a leg over the new light-weight Scout.
He tentatively let's the clutch out, does a few circuits of the gravel yard where we pick up the bikes and then he's off with us for a ride around the nearby Black Hills.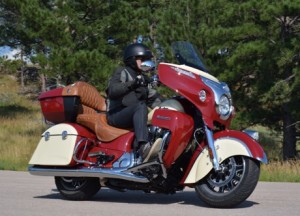 Mrs MotorbikeWriter and I are on the new Indian flagship, the Roadmaster, which is a plush and comfortable ride. Basically it's a Chieftain with some extra creature comforts and a top box.
READ THE LAUNCH STORY
I will write a full riding impression story in the next couple of days, but it feels more refined and a bit more compact.
After a ride and a photo shoot, we dropped John off and I hopped on the Scout and my day just got a whole lot better. This low and light bike is a rocket!
READ THE LAUNCH STORY
It spat gravel out the back wheel and when I hit the highway and gave it full throttle it spun up so quickly I had to hit the brakes for fear of attracting the heavy police presence.
It feels very low and light and extremely nimble with a steep fork rake. But the overriding impression is of a refined missile.
There is little mechanical noise, just a low burp from the exhaust as the radiator fan whistles lowly up the front.
Like the Roadmaster, I will write a more detailed ride impression article in the next few days.
When our day was all over, we shook hands with John and Margaret who are off on a European holiday after the rally. John had his eye on that Roadmaster, while I was still giggling from my riotous little ride on the Scout.