The widow of a rider killed when he hit wire rope barriers has urged riders to vote in this weekend's Victorian election for the party that pledges to improve the state's roads.
Jan White was speaking at the Bad Roads Rally in Bendigo at the weekend.
Her husband, Phil, died a year ago when his Harley hit a kangaroo on the Calder Highway and was thrown from his bike, hitting the WRBs.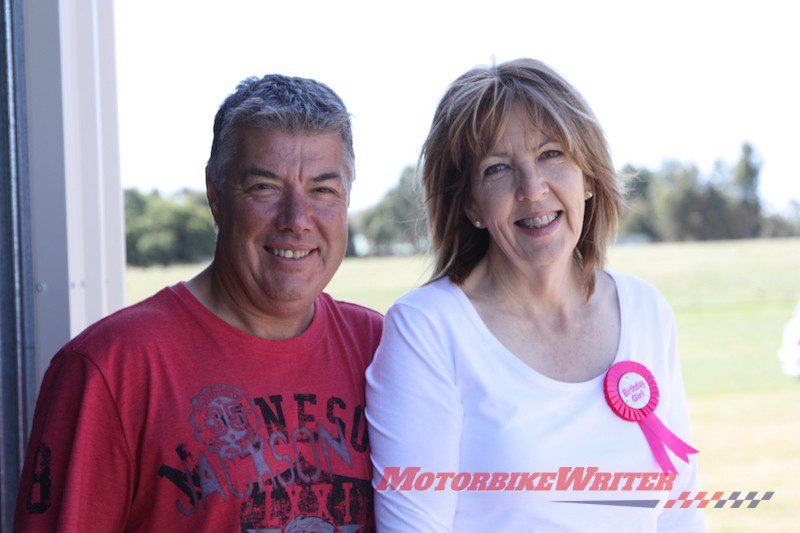 Jan says the most important issue to her is halting the rollout of wire rope barriers while a "proper safety review" is undertaken in consultation with motorcycle groups.
"This would have to include a review of our accident reporting systems in my strong view," she says.
"I want to see the promise of action to make all roads safe for all vehicles on our roads, no matter if four wheels or two."
Rally organiser Damien Codogntto of the Motorcycle Riders Association of Victoria (formerly the Independent Riders Group) claimed the event attracted about 100 people, including five candidates in Saturday's Victorian election and members of the media.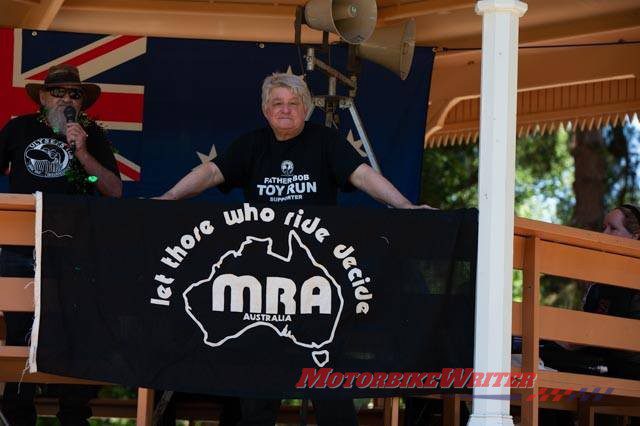 Earlier this month the Liberal Nationals promised to halt the rollout of wire rope barriers but did not advocate against their use.
MP Peter Walsh told the rally that if they attained government they would also restart the Victorian Parliamentary Inquiry into VIicRoads management of country roads.
On the same day as the rally, Victorian Police called for doctors to dob in old drivers and riders that they deemed unfit, lower speed limits and deploy more speed cameras.
Here is the full text of Jan's speech: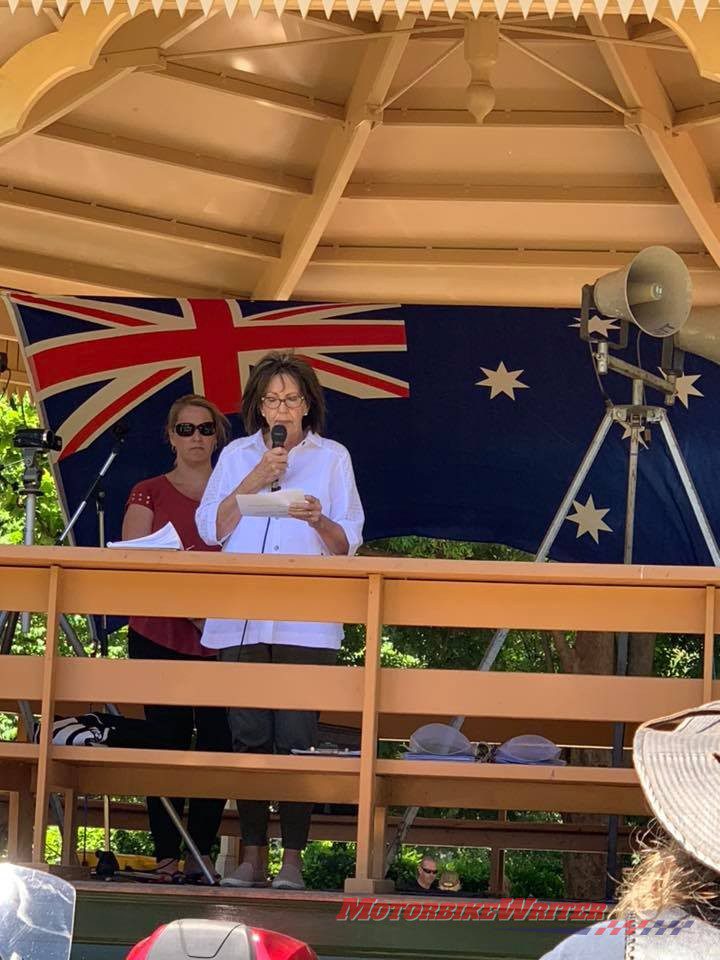 I speak today in memory of my husband Phil White and on behalf of our children, Madison, Molly, Raechel, Shane, Danielle and Chris, our family and friends. The pain of knowing how Phil died is indescribable.

On 5th November last year Phil was thrown from his motorbike and into the wire rope barriers where he died.

Make no mistake, he did not die from his bike hitting a dead kangaroo on the road. He died upon impacting the wire rope barriers.

He had no chance at all of surviving that day.  The wire rope barriers hemmed him in and were directly in his path. It could have, and should have, been different. He should have come home to us that day.

None of us will ever be the same.  I have read each and every witness statement of the events of that morning and there should be no confusion, there is no confusion of what took Phils life.  And yet, there is no mention officially implicating the wire rope barriers in my husbands death. 

Phil's cause of death is officially listed as " a result of multiple injuries caused from a mototcycle incident."

We ask, where is the justice in this?  Systems need to be changed.

How many other deaths have there been to the wire rope barriers where the true cause of death is lost or filtered amidst the trail of forms, reports and people? 

There can no truth in the statistics we are fed. There is no truth in them.

Wire rope barriers

In our view — Phil White's grieving family — the road authorities have much to answer for. 

They created the only roadside hazard in that area; already known by Vic Roads to be potentially lethal to a motorcyclist. Yet there it was, the hazard that brutally stole the next 20  – 30 years of  life from Phil and from us all. The years that he was looking forward to. Gone in an instant.

And so, we stand united today, in memory of the unjust death of our husband and father and on behalf of all road users , demanding a change to the wrongs of our governing road authorities and government.

We demand the respect and consideration that we deserve as voting road users

We demand the duty of care that is our right as voting road users

We demand the right to be safe when we travel our roads as voting road users

Not just for some, but for all.

We say to you: We will not forgive, we will not forget and we will not give up.

For our husband, father and friend,  Phil White, and for all others already tragically lost to our bad roads.