A rider has successfully sued his local council and a traffic management company for compensation to repair his Triumph Rocket III after crashing in gravel left on roadworks.
Unfortunately, both claims came with non-disclosure clauses, so we can't name the rider, council, and company, nor imply liability to any party.
However, the rider is keen for others to be made aware that they can successfully take on authorities who do not provide adequate surfaces for riders at roadworks nor adequate signage.
Click here for information about suing for roadworks crashes. 
The rider says the council settled out of court only 24 hours before his case was due to be heard. The settlement payment for repairs did not imply liability on behalf of the council and he was bound by a non-disclosure agreement which prevents him from mentioning the council.
After getting compensation for repairs from the council, the rider also lodged a complaint directly with the traffic management company for failing to provide duty of care (safe entry and exit from the work site). This was also successful in receiving financial compensation while not implying liability on the traffic management company.
How crash happened
The rider says he was leading a group of six other motorcycle riders at 8.30pm when he was directed by traffic controllers on to a detour.
"We were physically directed through roadworks with gravel and a 100mm lip," he says.
"We were going about 5km/h and had negotiated gravel ok when we hit the lip.
"The front wheel bounced back and I tried to control it, but it's a heavy bike and it went down."
The rider says the traffic control company not only directed vehicles into a hazard, but there were no warning signs of a loose road surface or gravel and there was insufficient lighting of the intersection at night.
Click here to read about a crash in unsigned roadworks.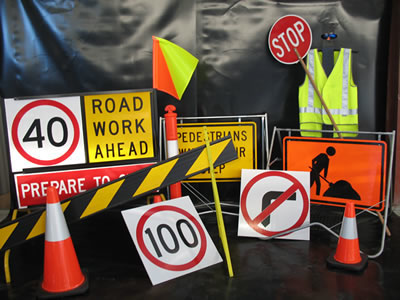 Thankfully, he had the presence of mind to take photos at the incident which he included in a letter of demand to the council.
However, they replied that it was the rider's fault and he should have taken more care on the road.
So he also called the traffic controllers and the site supervisor who admitted it was unacceptable and said he should not have been diverted through the site.
"This detour was not acceptable for all vehicles, the rider says.
"Even a Corolla lost traction. They could have moved the diversion further up the road to avoid any problems."
Buoyed by the supervisor's comments, the rider initiated Small Claims Court proceedings to recover costs and almost six months later is successful.
It's a lesson for all riders that it is possible to successfully seek compensation for damage to bike etc if can be demonstrated that it was due to the road surface and actions or lack of actions from traffic management personnel.
Unfortunately, the no-liability agreements mean councils and roadworks companies can still fight claims and are not necesasarily bound to make roadworks safe for all vehicles, especially vulnerable motorcycles.