UPDATE: A 35-year-old male rider from Caboolture has died six days after a crash with a white Ford Ranger utility at Caboolture on 5 May 2020.
Queensland Police say the crash happened at 2.15pm when the Kawasaki KLX450 and utility were travelling north on Beerburrum Road near Caboolture Show Grounds.
The rider was transported to the Royal Brisbane and Women's Hospital in a critical condition.
Queensland Police say the rider as now died and are appealing for public assistance.
Our sincere condolences to the rider's family and friends.
The 40-year-old male driver from Petrie and his 28-year-old male passenger from Warner were not physically injured in the crash.
Forensic Crash Unit officers are asking anyone who may witnessed the crash, or who may have dash cam footage to contact police.
No charges have been laid and investigations are continuing.
If you have information for police, contact Policelink by providing information using the online suspicious activity form 24hrs per day at www.police.qld.gov.au/reporting.
You can report information about crime anonymously to Crime Stoppers, a registered charity and community volunteer organisation, via crimestoppersqld.com.au 24hrs per day.
Quote this reference number: QP2000926738 within the online suspicious activity form.
(This article was first published on 6 May 2020 and has been updated.)
Utility crashes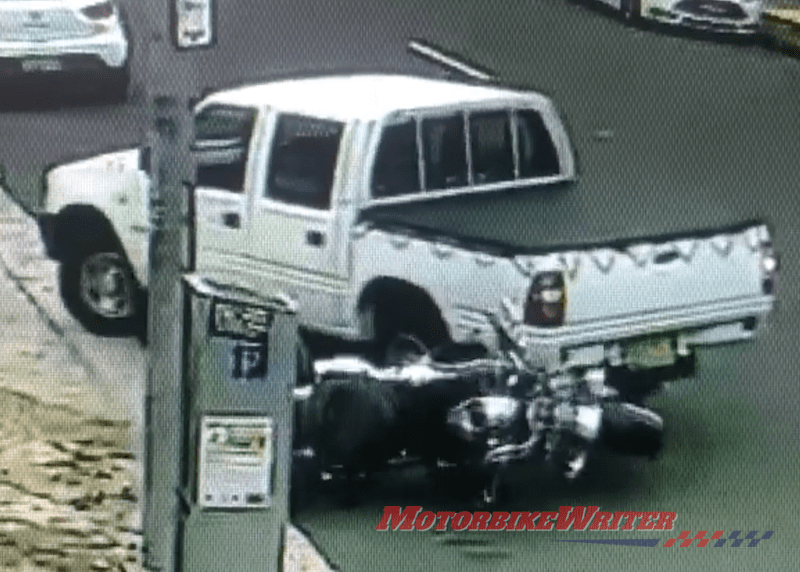 We recently published another accident report involving a motorcycle and utility.
Without suggesting any blame for these incidents, it seems that a lot of motorcycle crashes involve a ute.
Just do a search for "ute crash" on our website and you will see.
We suggest riders exercise extra caution when riding near utilities and trucks.
Ute drivers often use them as their work vehicle and may be distracted by calls involving their work.
They can also be loaded up with equipment and tools that could illegally disrupt a clear view of a small motorcycle in traffic.
You should also be aware that in some states, such as Victoria, there is no legal requirement for these drivers to cover their load.
So watch out for hazardous objects that could fall out of them.