The 2015 Lions TT Motorcycle Festival in northern NSW has been revamped and will include adventure rides escorted by four-time Dakar Rally racer Christophe Barriere-Varju.
Christophe was a junior champion motocross rider in Africa before emigrating to Australia and competing in the Dakar Rally from 2006 to 2010.
In 2006 he had two crashes and suffered a broken nose, dislocated shoulder, a cracked knee and three broken ribs before pulling out.
He returned in 2007 and finished 56th. The rally was cancelled in 2008 under terrorist threats leaving Christophe with a hefty bill. In 2009 the rally moved to South America where Christophe crashed and broke his arm. Undeterred, he returned in 2010, raced this time without any assistance and finished 52nd.
His 2010 bid is featured in the award-winning "Dream Racer" DVD.
Christophe will lead two of the adventure loops being offered over the festival weekend from September 18-20.
Instead of last year's aborted ride over a closed Lions Rd, there will be escorted rides on the roads and trails of the picturesque region.
Click here for more details of the Lions TT Motorcycle Festival in Kyogle, northern NSW.
Christophe will lead the full-day Paddy's Flat Ride on Saturday from 7am and the half-day Border Ranges Loop on Sunday from 8am.
The cost per rider for the full-day ride is $90 and $50 for the Sunday ride.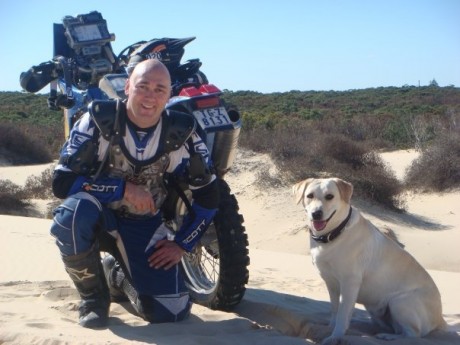 Christophe will provide riders with tips and The Great Australian Ride founder, Stuart Ball, will follow with a safety vehicle.
Space is limited to 50 riders on each ride and participants will need to bring their own food and drink.
There will also be informal group road rides and a locally guided trail ride.
The festival includes a side-by-side drag event on the Casino air strip, a hillclimb competition in the nearby Border Ranges, and an array of events and attractions in and around Kyogle and Casino in northern NSW over the weekend.
The festivities begin with an informal group ride from Rathdowney at 3pm on the Friday, over the Lions Rd and into the Kyogle showgrounds with the main street of the town closed to traffic from noon until Sunday at noon.
Riders will be able to camp at the Kyogle showgrounds for $20 a night where there will be entertainment and a bar.
Saturday's festival will be centred on Kyogle and will feature live entertainment, street markets, motorcycle and ATV demo rides, motorcycle trade stalls, and riding displays and entertainment and a "burnout" bar from noon at the showgrounds.
The festival continues on the Sunday from 9am to 2pm with a show and shine sponsored by Indian Motorcycle from 1pm.
Some of the funds raised over the weekend will go towards maintaining the glorious Lions Rd.