Riders should buy leathers that are a firm fit so they won't flap around, but with stretch panels for comfort and movement says Ricondi Motorcycle Apparel founder Andrew Smart.
He says most riders buy leathers that are loose for comfort.
However, when I visited his new shop at 532 Seventeen Mile Rocks Rd, Brisbane, to borrow some leathers for a track day, he advised getting them as firm as possible.
"We see many riders wearing ill-fitting leathers," he says.
"Get a firm fit and let the leather stretch panels do their work."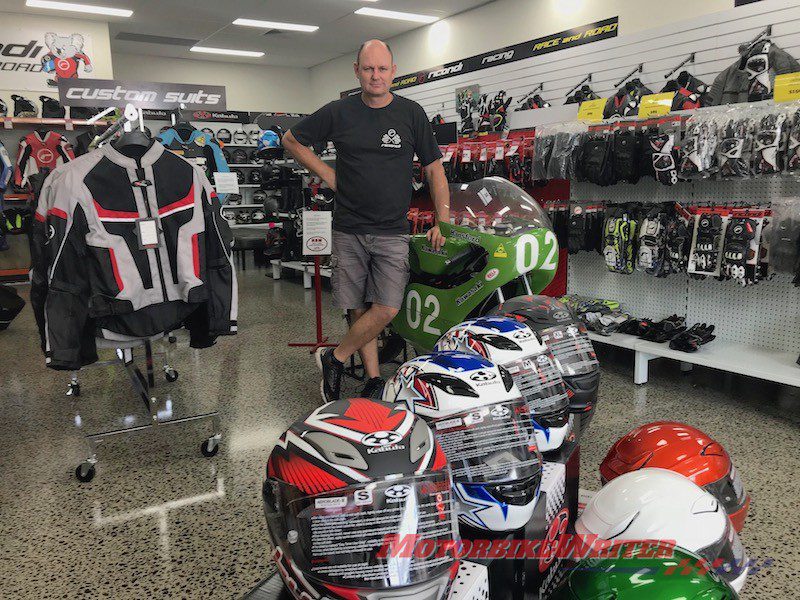 My old leathers no longer fit – we all know how they shrink in the cupboard!
So I chose a set of two-piece leathers in a size larger.
Firm fit
However, Andrew was adamant about firm sizing.
I choose two-piece leathers rather than a one-piece racing suit because they are too difficult to get on thanks to my smashed shoulder blade (result of being run over by another rider, but that's a story for another time!).
However, even the tight two-piece leathers were a squeeze and difficult to zip up.
But Andrew was adamant that the stretch panels would allow more flexibility and comfort with no baggy bits flapping in the breeze at high track speeds.
He was right.
The leathers have ample stretch panels in all the right places so I was able to sit, crouch, bend and stretch with ease.
I also complained to Andrew that the sleeves were too short.
He explained that the sleeves need to be short so they don't get caught in the glove's gauntlet and inhibit throttle action.
I took the leathers to Lakeside Park for a Champions Ride Day aboard a Harley-Davidson Fat Bob – of all things! Click here to read my track-day report.
The leathers felt firm and didn't flap around, but were also comfortable and allowed me plenty of room for movement as I wrestled the 306kg beast around the tight circuit.
Racing expertise
Andrew is a racer, so he knows what he is talking about and his store manager is veteran racer Scotty Mackellar.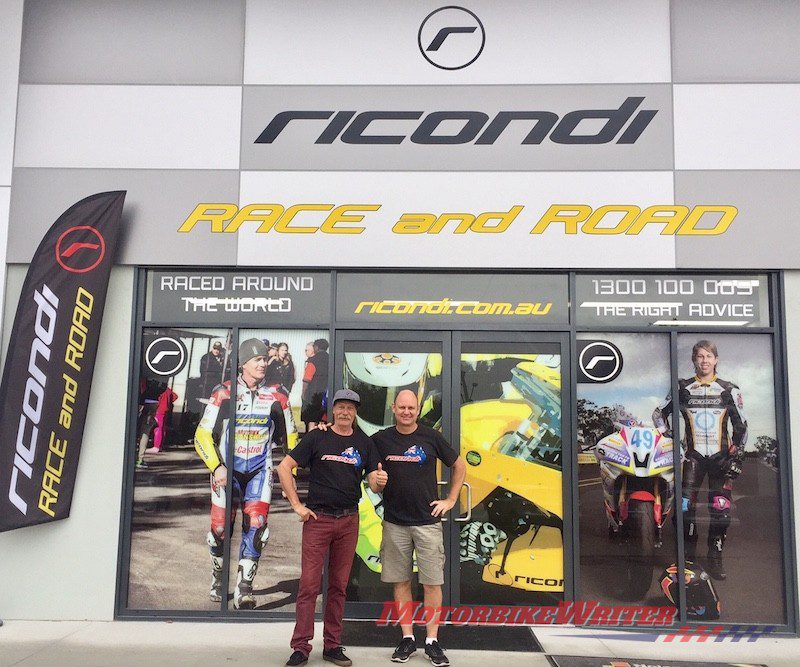 All Ricondi leathers are made in Pakistan to strict guidelines and come with a five-year warranty on stitching and manufacturing. Customs race suits have a lifetime warranty.
"Guys trust their lives to these suits, so they expect the best," he says.
The custom made Kangaroo suits use hides tanned in Brisbane by tanners experienced with roo hide.
To see how Ricondi suits hold up to crash tests, check out the race suit worn by Lachlan Epis in the 2016/17 World Supersport Championship which is on display in the shop.
It's stood up well despite several 160km/h+ crashes.
"Shoppers can see exactly what stresses his suit went through," Andrew says.
Andrew began making racing leathers and gloves several years ago, but has now expanded into retro-style street leathers for men and women and textile gear.
His new store is now big enough to stock his entire range of 125 different products.
He also stocks MotoNational products, including boots, helmets, and motorcycle accessories and consumables.
To celebrate the new store, Andrew will host a grand opening event on December 9, 2017, from 7am to 6pm.
He says they will have discounts on a range of gear, plus trade stalls and a free barbecue.
Several clubs and riding groups will attend including NWP, Club Laverda and the Italian Bike Addicts.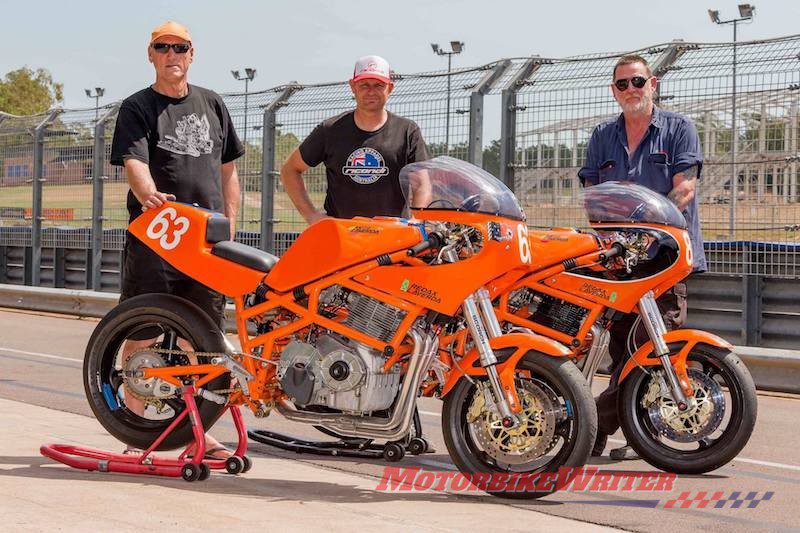 Among the display bikes on the day will be two Redax Laverda race bikes that dominated the 2017 National BEARS F4.
Andrew's store also permanently displays Gregg Hansford's Kawasaki KR250 on which he came second in the world championship.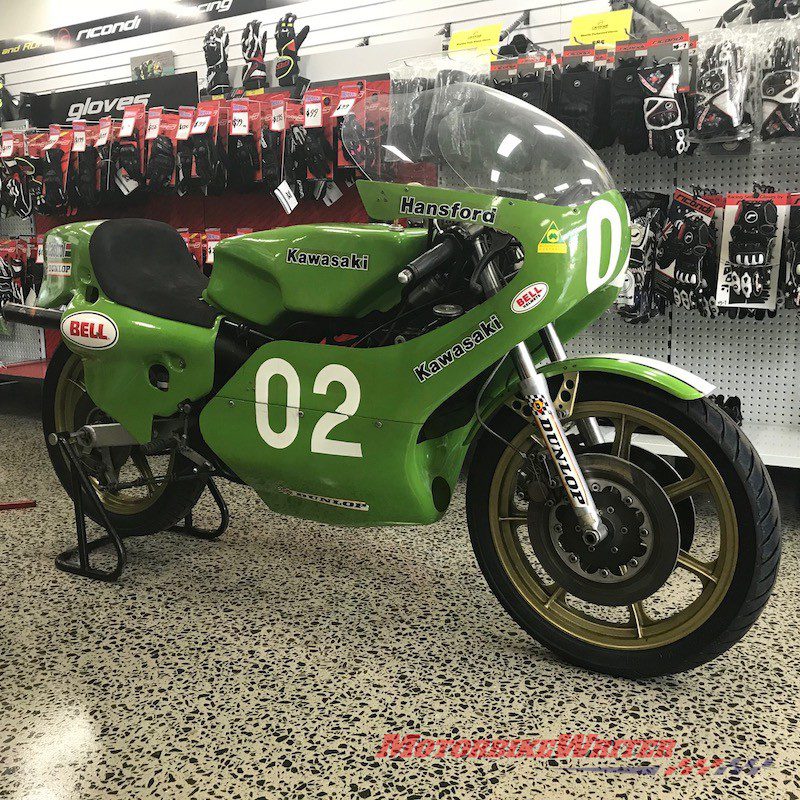 Another point of interest is a damaged crank and rod from a 2014 EBR1190 RX race bike that seized at 250km/h at Phillip Island.
"It certainly creates some chatter in the store," Andrew says.
"You don't see this type of thing in most motorcycle stores. This is different."
The store is "guarded" by the very sleepy and loveable Tully.