Ricoh WG-M1 Image Gallery
The new Ricoh WG-M1 expands the company's "WG" point-and-shoot camera lineup with a new form factor.
The WG-M1 looks rugged and it is.
It doesn't need a water-resistant housing to achieve its IPX8 rating for immersion to 10 meters (32.8 ft.).
It's also shock resistant, rated for a "Method 516.5 of MIL-Standard 810F" drop from 2 meters.
Add in a dustproof rating at JIS Class 6 and operation down to temperatures as low as −10 C (14°F.) and you're ready to rock it on your favorite ride.
Do you need all of that for motorcycle use? Probably not, but those specs would be useless anyway if the WG-M1 took poor quality video.
Fortunately, there are no worries in that regard, because the video quality is very good compared to other action cameras we've reviewed.
There are a few caveats, of course: it's all relative. Don't expect Panasonic GH4 level quality and you should be fine.
And like most of the other action cameras, when the video is viewed on a large screen, pixelation, blurred details and exposure stepping can be seen.
Mounting is also an issue, just as it always is with action cameras for motorcycle use.
We haven't been able to work out a good helmet mounting system and the WG-M1 has a single orientation only and the lens doesn't rotate (just like the GoPro system).
The WG-M1 is also expensive, with a list price of $299.95, but it's competitive with cameras like the GoPro Hero 3 (review) at $399.99 or the new GoPro Hero 4 at (gulp!) $499.99 (with the 4k video you don't need, can't process and can't watch).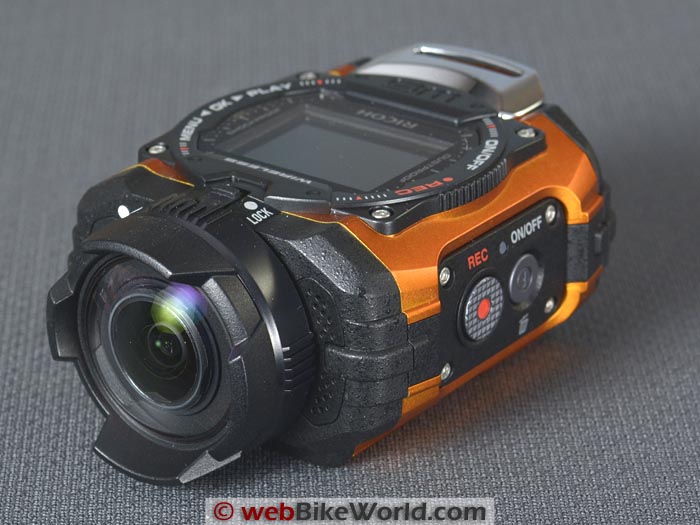 Ricoh WG-M1 Shape and Size
Ricoh is better known for their Pentax-branded cameras in the U.S.A. (and probably elsewhere). Pentax has a growing "WG" line of waterproof point-and-shoot cameras, with the WG-30w, WG-4 GPS, WG-4, WG-3 and WG-3 GPS.
You could probably cob together a mounting system for one of the point-and-shoots (or other brands), but the WG-M1 is a dedicated "action camera", as the format is now called.
When it comes to action cameras for motorcycles — which we've been reviewing for many years — smaller is better, as we always say. It's all in the mounting system…and the mounting system is almost always the weak link in the action camera chain.
As a prospective owner, you really need to consider how you'll be using an action camera and where it will be mounted and determine the best system for your needs before you buy.
There's the tube shape, like the Replay XD 1080 (review); the big square shape, forward-facing lens with housing, like the GoPro Hero 3 (review) and BlackVue Sport 500 (review). And then there's the sort-of tube/square hybrids, like the Drift HD (review).
The new Ricoh WG-M1 fits into that last category.
Yes, there are a few other formats, like the Midland XTC 300 (review) and Sony Action Cam (review), but generally, the first three shapes are the most common.
The WG-M1 feels very solid in the hand. What looks like an all-metal body is actually mostly polycarbonate, but it's a good imitation. The styling fits with the current angular adventure-touring/dual-sport motorcycle genre, if that matters.
The WG-M1 weighs in at a slightly heavy 190 grams (6-3/4 oz.) and it measures roughly 65 mm wide by 90 mm long by 42 mm thick.
The weight, when out on the end of a tripod mount like the Fat Gecko suction cup mount (review), can add to the pendulum effect but overall, the mounting issues are about the same as the GoPro.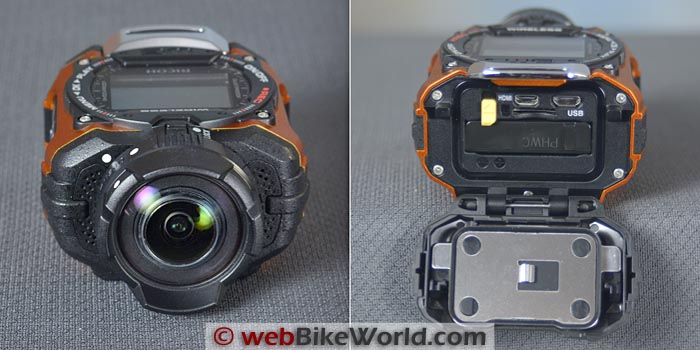 Ricoh WG-M1 Features
Sensor
Ricoh list the specifications of the camera's sensor and lens, information that isn't always available from the lesser-known brands. The WG-M1 has a 1/2.3 inch CMOS sensor of 14MP.
It's not backlit and it has lower resolution than the other WG-series point-and-shoot cameras, but it does a good job for an action camera.
Recent action cameras have become much better at taking smooth, crisp video and the WG-M1 is no exception.
As you'd expect with a pricey camera like this (but don't always get), the exposure range, overall smoothness and color rendition we rate as excellent to outstanding and near the equal of the GoPro Hero3.
But the GoPro 3 still has slightly better overall clarity and more realistic edge sharpening.
LCD Live View
A live view is always helpful for aligning an action camera on a motorcycle (although a good WiFi connection with live view is as important also). The WG-M1 has a small 22 mm tall by 25 mm wide screen with 115,000 pixels.
It's a good quality screen and allows fairly easy menu selections and changes.
Video Formats
The WG-M1 can take video in .MOV H.264 format at 1080p (1920×1080) at 30fps or 720p (1280×720) at either 60fps or 30fps. It also takes 960p (1280×960) at 50fps or 30fps or 480p (848×480) at 60fps or 120fps.
The camera can record in loops and it has a function that starts recording when a moving object comes into view. It also has image stabilization in video only.
Photo Formats
The WG-M1 takes very good quality still photos in 4:3 format at 14MP or 5MP or 16:9 format at 10MP.
Lens
The fixed wide angle lens has 6 elements in 6 groups (2 aspherical elements) and it's 16.8 mm in 35 mm camera equivalence. the maximum field of view is 160° for still photos and 137° for video. Lens aperture is f2.8.
The camera's field of view can be set in the menu for wide angle, medium, narrow and underwater.
ISO
ISO is automatic and ranges from 100 to 800. White balance is automatic or can be manually set to daylight, cloudy, fluorescent or underwater.
Battery
The WG-M1 battery is a 1250 mAh, 4.5 Wh Ricoh type DB-65. The first time we charged it, it only seemed to last for 15 minutes or so.
We charged it again and it now lasts quite long; in fact, it has about the best performance of any action camera/battery combination we've reviewed.
It takes about 3.5 hours to fully charge from empty, with any standard USB device charger.
Ricoh claims a CIPA (Camera & Imaging Products Association) standard battery life of approximately 350 images with playback time of approximately 400 minutes.
Video recording time was tested at approximately 150 minutes, which is outstanding for this type of camera.
Memory
The Ricoh owner's manual states that the WG-M1 requires a microSD card with a minimum of a Class 4 rating. But when we tried to use a Class 4 rated card, a note popped up on the live view screen informing us that the memory card was too slow. Class 10 cards are usually better and we prefer the SanDisk Ultra, available here. The memory card is not included in the camera. The camera supports cards up to 32GB.
Sound
The camera records in stereo, according to the owner's manual, although it appears to have only a single microphone in front.
There's a speaker underneath. Sound recording is typically very poor when using the camera on a motorcycle.
A remote mic cannot be attached.
There's a wind cut feature that can be turned on or off in the menu system, it supposedly reduces wind noise. In our video below, we reduced the sound levels by approximately 85% from the as-recorded volume, so that the narration could be heard.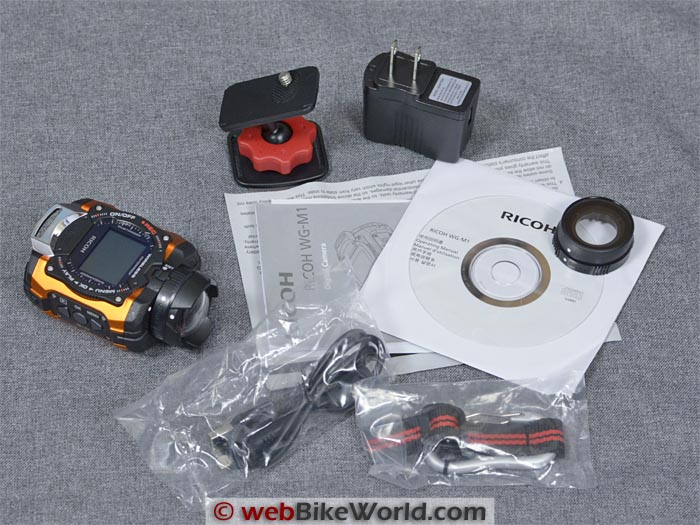 In the Box
The WG-M1 kit comes with the camera with the removable lens protector (with separate clear lens) attached.
In the box is a waterproof lens protector, the battery, a solid but flat mount, a webbed strap that fits the carabiner loop on the camera, a USB cable, a USB wall charger, the very basic quick start guide and a CD-ROM with the owner's manual.
At the time of this review, only a limited number of optional accessories are available but no helmet mount.
Since the camera has a built-in standard 1/4-20 tripod mount, a suction cup mount on the motorcycle works best.

Using the Ricoh WG-M1
It's rather amazing that if you know how to use one electronic device in 2014, you pretty much know how to use them all. This certainly was not the case back when we first started reviewing gear on webBikeWorld 15 years ago.
Every piece of electronic gear was an exercise in frustration, trying to figure out the obscure button pushes with no feedback to tell you if you would get what you really wanted.
We copied the .pdf full version of the owner's manual from the CD-ROM supplied with the kit.
We did not install the Ricoh software — does anyone really need yet another piece of who-knows-what software on your computer?
Once the WG-M1 was fully charged, turn it on by pressing and holding the on/off button for a couple of seconds.
The camera boots very quickly and then it's a simple matter of pressing the menu button and the up/down buttons to cycle through the menu.
Use the center "OK" button to select. When you're done changing things, press the red-dot "REC" button to escape from the menu.
To record a video or still photo, simply press the REC button. A blinking light on the LCD tells you it's recording. Press REC again to stop. That's all there is to it.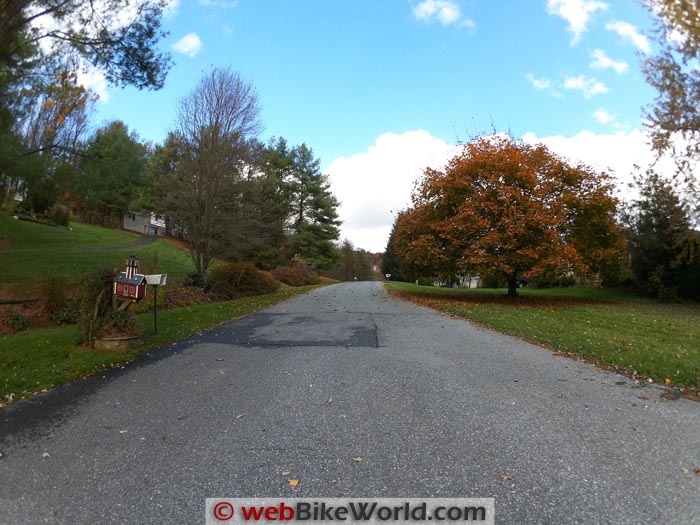 Ricoh WG-M1 Video Quality
We were impressed right from the start with the quality of the video from the WG-M1 when viewed on a smaller window or screen.
As a comparison, we're currently also in the process of evaluating the Polaroid Cube, the SJCam SJ4000 WiFi and the Replay XD Prime X (which is non-functional due to a technical problem).
The WG-M1 has very noticeably better video quality than any of the others. For example, the WG-M1 video is smooth and looks sharp on a smaller screen.
But the color in the video at both 1080p and 720p is somewhat oversaturated and although the exposure is generally good, it's not consistent, sometimes over-exposing the sky while making the street and tree detail too dark.
There isn't any color cast, which is good and in most cases the exposure range is good, although if about 2/3 of the view is exposed for dark, the sky can become blown out.
If about 50% of the screen is light and 50% dark, the camera does a pretty good job at exposure, although it does seem to want to overexpose everything in dimmer light.
Things start to change though as the viewing screen size goes up; on a 20″ computer monitor, details start to blur, there is some pixelation of the road as it moves by and stepping of the exposure settings can be seen.
We're being critical here and most viewers probably won't notice much of this.
That is, unless the video is compared to examples from, say, cameras like the GoPro Hero 3 (review) or the BlackVue Sport 500 (review), our two current leaders in action camera video quality by far.
But overall, we rate the video quality from the WG-M1 as very good for an action camera.
Note also that correctly capturing action video from a moving vehicle like a motorcycle is very difficult. Also, the online video display services like Vimeo or YouTube don't really take to fast-moving video very well.
We took video at the 1080p at 30 fps and 720p at 60 fps with the WG-M1. The video in our example (below) has only the 1080p/30fps recordings; the 720p video at 60fps doesn't have the quality we expected.
Note that the BlackVue Sport 500 (review) can also take video at 1080p at 60fps.
Usually, the 60fps settings result in smoother-looking video but although this is the case when viewing the raw video from the WG-M1, for some reason the 60fps video didn't look as good after it went through post-processing and then the Vimeo Pro and YouTube compressors.
The video from the WG-M1 does appear smooth and the camera's image stabilization may help, because the video actually seems very stable, even over some very rough roads.
Here's a raw example from the camera (.zip file), 16 seconds of .MOV video taken at 1080p/30fps.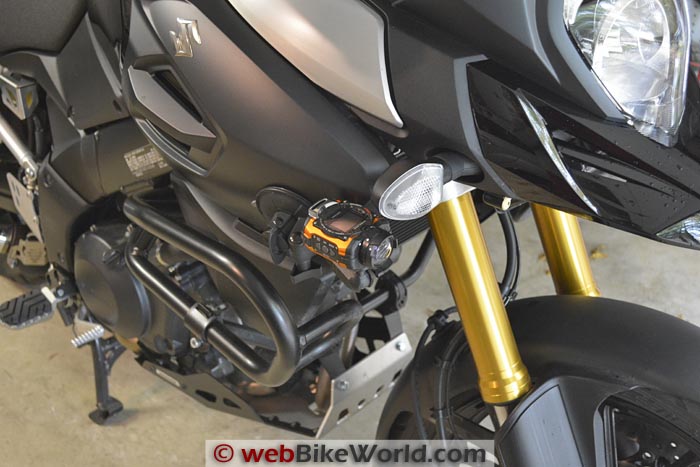 Mounting Options
As always, when it comes to motorcycle use, mounting options can make or break the camera.
The WG-M1 doesn't currently have a lot of options unfortunately, so you're pretty much stuck with using a suction cup tripod mount, mounted to the motorcycle.
We couldn't find a good way to mount the WG-M1 on a helmet; a shame considering the low-ish profile of the WG-M1 should make for a good "on the top" helmet mount.
Surely our intrepid webBikeWorld readers will figure something out and let us know.
One good thing is that the WG-M1 doesn't need a clumsy waterproof housing, like the GoPro, BlackVue Sport and others.
This helps streamline the mounting process and you don't have to worry if it starts to rain.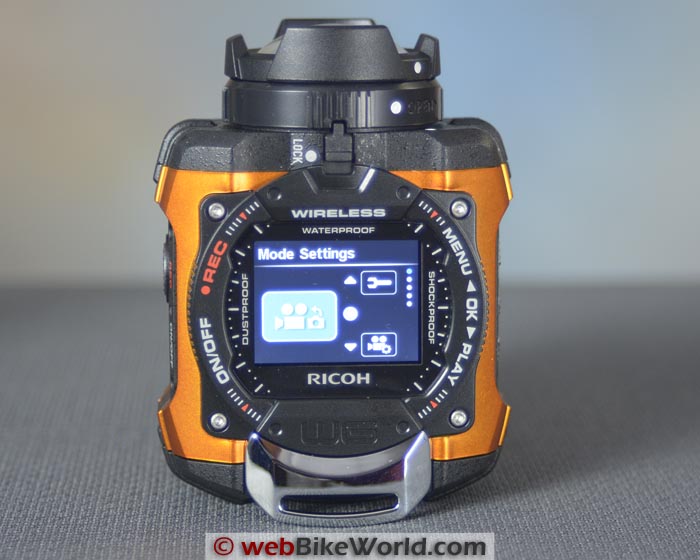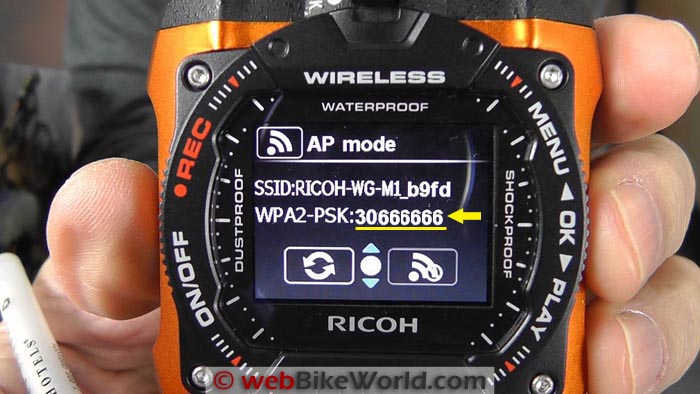 WiFi Connection
The WG-M1 has built-in WiFi that allows a connection to a smartphone or device running either Android 4.0 to 4.3 or iOS 6.0 to 7.1.
An app is available as a free download for Android or Apple devices; it allows limited control of the camera.
The wireless system is not as sophisticated as, for example, the BlackVue Sport system, but the Ricoh system does work smoothly and we encountered no bugs or problems.
Once WiFi is selected in the menu system, use your smartphone to search for new devices and connect, using the WPA2-PSK password number that will be generated as illustrated in the photo above.
Note that the password apparently changes on occasion; we had to re-enter a new password once to re-connect to the WG-M1.
The app works well and allows starting and stopping of video or photo recording. Resolution, white balance and field of view can be changed using the app.
The app also has an index playback mode that shows photos and videos stored on the camera's microSD memory. Some edited can be done of the photos and videos but we did not use that feature.
Firmware Updates
As of this date, there are no firmware updates for the WG-M1.
w

BW

 Video: Ricoh WG-M1 Overview and On-Road Examples
NOTE: YouTube and Vimeo compression significantly degrades the quality of the video from the original and it does not like fast moving video like motorcycle riding. Select 720p or 1080p quality under the "gear" icon in the YouTube video for higher quality YouTube video.
Conclusion
We like the overall feel and operation of the Ricoh WG-M1. It's a solid camera with a "like a brick" feel.
The WiFi system works well and seems more "professional" and less buggy than any other action camera systems we've tried.
WG-M1 mounting options for motorcycle use are somewhat limited, however, and the lack of a good motorcycle helmet mount may be a deal-killer for some.
Too bad, because the shape of the WG-M1 cries out for a low-profile helmet top mount.
The video quality, while good, is also somewhat disappointing. We expected more from an imaging company like Ricoh/Pentax…although we have also been disappointed with Sony and JVC action camera quality.
It almost seems like the big camera companies do action cameras as an afterthought, while the companies that come from outside the industry, such as GoPro and BlackVue, do it better.
So the Ricoh WG-M1 gets kudos for the build quality and overall design, but truth be told, if we were going to spend $300.00 on an action camera, it would probably go for a  GoPro Hero 3 (review) or the BlackVue Sport 500 (review).
Unfortunately, the perfect motorcycle video action camera doesn't yet exist, so the search continues…
More webBikeWorld: 
▪ Video Action Camera Reviews
▪ Intercom and Radio Reviews
w

BW

 Review: Ricoh WG-M1 Action Camera

Manufacturer: Ricoh Imaging
List Price: $299.95
Colors: Orange or Black.
Made In: Myanmar
Review Date: November 2014
Note:
 For informational use only. All material and photographs are Copyright © webWorld International, LLC since 2000. All rights reserved. See the webBikeWorld® 
Site Info page
. Product specifications, features and details may change or differ from our descriptions. Always check before purchasing. Read the
Terms and Conditions
!
Owner Comments and Feedback
---
From "B.P." (November 2014): "In the review of the Ricoh WG-M1 you noted that you "couldn't find a good way to mount the WG-M1 on a helmet," and I can't help you with that.
Given that limitation, you also noted that "you're pretty much stuck with using a suction cup tripod mount, mounted to the motorcycle." And I can offer a suggestion there. Just on the off-chance that you've forgotten, I remind you of the mount I used in the Ego 727 review. See the large image about two-thirds down the page.
This is the combination of Mini Cardellini Mic. Mount Clamp and the Manfrotto Mini Ball Head. I've been using this combination for two seasons now, and couldn't be happier with it.
The Cardellini has a wide-opening jaw, which is rubber-covered, is otherwise all metal, and a nice large hand-friendly nut for adjusting that opening; once tightened, it just stays in place. The Manfrotto pivots all sorts of ways. It, too, is very well-made and extremely robust, and has both a lever and a knob for making adjustments. Like the Cardellini, the Manfrotto stays in place once tightened.
I imagine that you clean the fairing before clamping down the suction cup, and my guess is that you haven't lost a camera yet. Nonetheless, if I spent $300 on a camera, I'd spend another $120 or so for a solid, non-suction, bike mounting combo; yes, I realize that's a chunk of change, but they will undoubtedly last well beyond any one camera's useful life (and look at what you spend on a torque wrench).
That engine guard on the V-Strom is just crying out for the Cardellini clamp. So I continue to recommend the Cardellini and Manfrotto combination as a top-notch mounting system."