Richa Arctic Gloves Review Summary
Richa Arctic Gloves Image Gallery
If you're looking for winter motorcycle gloves that won't break the bank but will do everything a more expensive pair will, then it's time to look at the Richa Arctic gloves.
I have been wearing them over the past two months and have found them to be waterproof and warm to the point where I can enjoy (somewhat) winter riding in the rain.
If the gloves won't quite do that, then they will at least make sure you get to your destination with dry hands and still have some feeling left!
Made of a mix of leather and other fabrics (Schoeller Keprotec, a fabric incorporating Kevlar fibres) the Richa Arctic gloves combine a comprehensive set of armour with a Hipora waterproof membrane.
Also included is Superfabric covering the scaphoid sliders and a visor wipe on the left index finger and two secure hook-and-loop fasteners.
The sizing is accurate, allowing some wiggle room but not so much as to compromise on safety and fit.
So if you find that a pair of Richa Arctic gloves fit, please allow this review to convince you that they're all you need in a winter motorcycle glove.
Rich motorcycle clothing is highly regarded in Europe and we have reviewed the excellent Richa Spirit Jacket (review) and Richa Spirit Pants (review) previously on webBikeWorld.com.
The jacket and pants are readily available in the U.S. However, the Richa Arctic gloves can be more difficult to find but are available in the UK and Europe.
And — thanks to the wonders of the Internet — can easily be purchased at a UK retailer in U.S. dollars and shipped to the U.S. or anywhere in the world.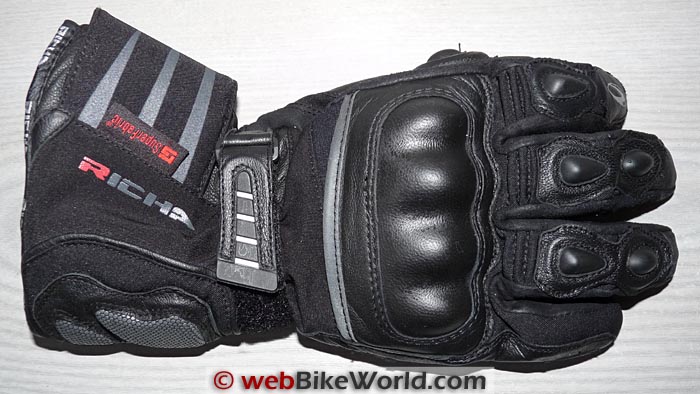 Introduction
Gloves are, like helmets, quite personal pieces of your riding kit. They might fit you perfectly but leave a little too much room for the next guy to be comfortable.
I had previously tried on a few pair of winter gloves but found them all too bulky, so I gave up and relied on a nice-fitting pair of all-season (read lightweight-ish) gloves instead.
However, with longer motorway journeys ahead due to my girlfriend moving to the middle of the country for work, I knew I had to find a pair of mitts I actually liked.
Pondering which gloves to buy, I asked myself what I envisioned in a proper winter motorbike glove. It has to be warm; it has to keep my hands dry; it has to fit well — but not be so bulky as to interfere with how I "feel" the bike through the bars.
They have to feel "strong" and be loaded with armour to help protect in a spill. Not to mention, because I am a student, they could not come in at a price point necessitating that I'd have to sell the bike they'd be used on!
The Richa Arctic gloves seemed to tick all of the boxes for me.
They have a waterproof Hipora liner (although I've had sieve-like "waterproof" gloves before); they have enough armour to ensure I could knock walls for a demolition company if I needed work; and they have enough bulk to ensure warmth.
Could they really keep up with winter in Ireland though? As a storm closed airports in Ireland, I rode 3 hours to my home in Cork and put the gloves to their most demanding test in the two months I have owned them.
Rain, Rain and More Rain…
On the ride home, just about ten miles out from my departure, I vividly remember a set of trucks travelling the opposite direction. With the wind howling and trees having been knocked down the night before, the rain was still driving.
As each truck passed by, it felt as if I was being power-hosed while standing at the bottom of the Niagara Falls, if only for a second.
I had wondered before about the benefits of Gore-Tex against other membranes such as Hipora, and this ride would give me the answer.
Previous bouts of rain over the last two months had not caused the Richa Arctic gloves to leak but this was the best test yet.
Like Gore-Tex, Hipora is a breathable fabric (fill the glove with hot water and watch as steam comes out but not water) and is used across much of the Richa range, including their now defunct Sky range of jackets and trousers.
I have both and they have been very good company in the rain. Gloves — with their multitude of seams — must present a more challenging picture for membranes such as Hipora to deal with.
As I continued my ride and as temperatures dropped to 1 or 2 Celsius, no rain water entered, so the Hipora membrane does indeed work. It also worked on my jacket and trousers, both of which kept me dry underneath.
However, the outer layers of the gloves, the fabric and leather sections, did soak up quite a lot of water from the extreme downpour.
This meant that the gloves became very heavy and this waterlogging reduced the temperature in my hands considerably.
When I did eventually stop for a coffee break, I took the gloves off and was surprised to find that, yes, my hands were dry. So cold that they were bright red…but dry nonetheless.
Normally it is trying to take a wet glove off of a cold hand but, because my hands were actually dry underneath, these required little effort once the hook-and-loop fasteners were released. The inner glove liner even stays in place!
There is nothing quite as frustrating as being in a rush to get somewhere only to discover, as you put your gloves on, that the liner has come out making it difficult to stuff your fingers in.
Richa seem to have stitched the liner to the glove so there's little risk of this happening, a thoughtful design consideration that isn't trumpeted.
Cold, Cold and More Cold…
It's difficult to deal with a damp sort of cold; it gets in to all parts and takes an age to warm up from. Even my VFR 750 with its normally fairly hot-running V4 was struggling to get the temperature gauge to budge from "C" on the motorway.
Combined with my cold hands it seemed that the Arctic gloves wouldn't stand a chance.
The fact that the outer sections still retained the water didn't help and after about an hour of riding, I could barely feel my hands. I even attempted putting my left hand down near the vent which allows hot air from the radiator to exit through the fairing, but I came up with nothing but cold air!
Neither could I really feel my heated grips. The Hipora membrane contains microscopic pieces of aluminium (according to Kolon, the Korean fabric company which manufactures it) in an attempt to distribute heat around the glove to keep the hand warm.
In this extreme case it wasn't up to the task, but a few days before when temperatures were similar but there was far less rain (and I was doing the same journey but in the opposite direction) the gloves pulled off a miracle in keeping my corpse-like hands warm to the point where I didn't bother with my heated grips.
The bottom line here is that as long as the outer fabric doesn't waterlog, you'll be kept warm.
Since this ride I have bought a bottle of Nikwax Glove Proof to coat the outside of the glove to prevent any future incidents of waterlogging, but this might be overkill, as this was a storm which closed the airports that day after all.
Design Features
In order to deliver on its promises, the Richa Arctic gloves rely on a mix of leather, Keprotec (a tear-resistant fabric incorporating Kevlar and Cordura), neoprene and other bits and bobs.
Superfabric is used to cover the scaphoid sliders on the outside of the hand, a rare inclusion for gloves in this price range.
Leather covers about half of the outer surface of the glove with suede fittings on the inner palm to assist with gripping the handlebars.
It also has a visor wipe on the left index finger which is useful — but I think I may have been over-eager with mine as my Shark S900 helmet's visor is now fairly scratched!
The glove is secured to the hand with a hook-and-loop strap on the gauntlet and another which tightens the glove around the wrist. These are fairly conventional and found on most gloves but they work well and if not loosened they simply will not pull off of your hand, which is reassuring.
The strap on the wrist is long enough to ensure a good fit for even the biggest of wrists, but I am a little wary of the plastic "hinge", which allows the strap to loop back over itself to tighten the glove.
It seems a little bit brittle and if it were to break then the glove would not secure itself to the wrist. So a better — perhaps even steel — material should be considered here.
Overall though, the straps themselves are of good quality with rubber cuttings on the ends to allow another gloved hand to open them easily enough.

Fit
I really believe that you really do need to try on a pair of gloves before committing to buying them and this is what I did at a local Honda dealership before paying the approximately £70 (€80 or $90.00 USD) retail price.
I took a size large and while it seemed tight at first, they broke in after a few days of wearing and have remained very comfortable ever since. They allow me a little bit of wiggle room, but not so much that I feel they are too big for me or not protective.
Safety
On the topic of protection, I have had spills with Richa gloves before (specifically the Richa WP Racing gloves) on a track day and they really did protect my hands.
The Arctic gloves have a good deal more protective features, with armour over the knuckles (as you'd expect but don't always find in winter gloves) and extra padding around the scaphoid area and on the fingers.
The UK-based magazine "Ride" tested the abrasion and impact resistance of the Richa Arctic gloves and awarded a four out of five stars for abrasion resistance and top marks for impact resistance.
UK owners also rate the Richa Arctic gloves very highly in their reviews posted on retailers' websites.
The abrasion test involved having an abrasive belt, to simulate tarmac, attempt to tear through the palm of the glove with the minimum European EN13594:2002 test standard set at 2.5 seconds. According to Ride, the Arctic gloves lasted four times as long.
Also, the impact resistant protective features transmitted just 1 kilojoule of force to the wearer's hand under impact when hit with a 5 kilojoule hammer, so the knuckle protection tested in this aspect certainly works.
Taking a close look at the stitching and the fit of each section of the glove, you can see that Richa really made a decent effort at putting together a glove which looked and felt like a high-quality piece of kit.
The stitching is good with no loose bits floating about and the fasteners have rubber coat-offs to assist you in putting them on and off.
Conclusion
The Richa Arctic gloves have certainly won me over, making me believe that yes — gloves can indeed be both waterproof and warm. Most of the time!
The Richa Arctic gloves have a good fit, a good level of protection and they're waterproof and warm in all but the most extreme conditions.
One recommendation I would have for Richa is to try and coat the outer materials to prevent them from becoming waterlogged in really nasty rain, as this would do wonders for the warmth that the gloves provide.
I've done this myself using the Nikwax Glove Proof, but some will say that an owner shouldn't have to make modifications to items like this. After all, you've spent your money and they should simply work.
They're right but then we all like to modify bits on our bikes from time to time and after spending less than three figures on a pair of winter gloves that do everything rather well it's a small complaint.
w

BW

 Review: Richa Arctic Gloves
List Price (2015): £70 (€80 or $90.00 USD)
Review Date: February 2015
Note:
 For informational use only. All material and photographs are Copyright © webWorld International, LLC since 2000. All rights reserved. See the webBikeWorld® 
Site Info page
. Product specifications, features and details may change or differ from our descriptions. Always check before purchasing. Read the
Terms and Conditions
!
Owner Comments and Feedback
---
From "B.P." (February 2015): "I was pleased to read in Nevin Power's recent Richa Artic Gloves review that "Richa seem to have stitched the liner to the glove so there's little risk of this [the liner's coming out] happening, a thoughtful design consideration that isn't trumpeted."
I have purchased some lesser pairs of gloves with waterproof liners, and if my bare hands got a little wet — say, walking out to the bike — before attempting to put gloves on, it made trying to get fingers properly positioned inside pulled-out liners a really onerous task. That Richa has eliminated this hassle has resulted in my looking at assorted web sites for them."