REV'IT! Parabolica Jacket Review Summary
Review Summary
The REV'IT! Parabolica jacket is a casual hoody-style jacket that is purpose-built for short, urban rides when safety and technical specification is not as important as it would be for long-distance touring or high-speed riding. Protection is CE level 1, waterproofing and ventilation are non-existent, and abrasion resistance is modest. That said, the Parabolica is intended to be something that you can just throw on when you don't want to get togged up in all the gear. For short urban rides it is a much better choice than riding without any protection.
Pros
Casual, cool-looking hoody-style design that transitions effortlessly from bike to off-the-bike wear.
Very solid build quality
Accessible price point (though there are many competitors, including other viable options from REV'IT!)
Cons
No waterproofing or ventilation
CE Level 1 protection only at elbows and shoulders; no back protector
Visibility/reflectivity is modest at best (though in keeping with the stealth nature of the jacket's design
REV'IT! Parabolica Jacket Image Gallery
Review Summary
Comfortable, casual hoody for urban motorcycling and off-the-bike wear.
This is not a robust, highly technical piece, but rather, a casual jacket that is very easy to live with, and that offers reasonable protection for short, local rides. It is also, it must be said, pretty cool-looking. A great Spring/Summer addition to the gear closet.
The Parabolica comes with REV'IT!'s award-winning Seesoft CE level 1 protection at the shoulder and elbow.
At $350, there's alot of choice in the segment but if a casual Spring/Summer riding hoody is something you have your heart set on and you can forego waterproofing or high abrasion resistance, the Parabolica does the trick.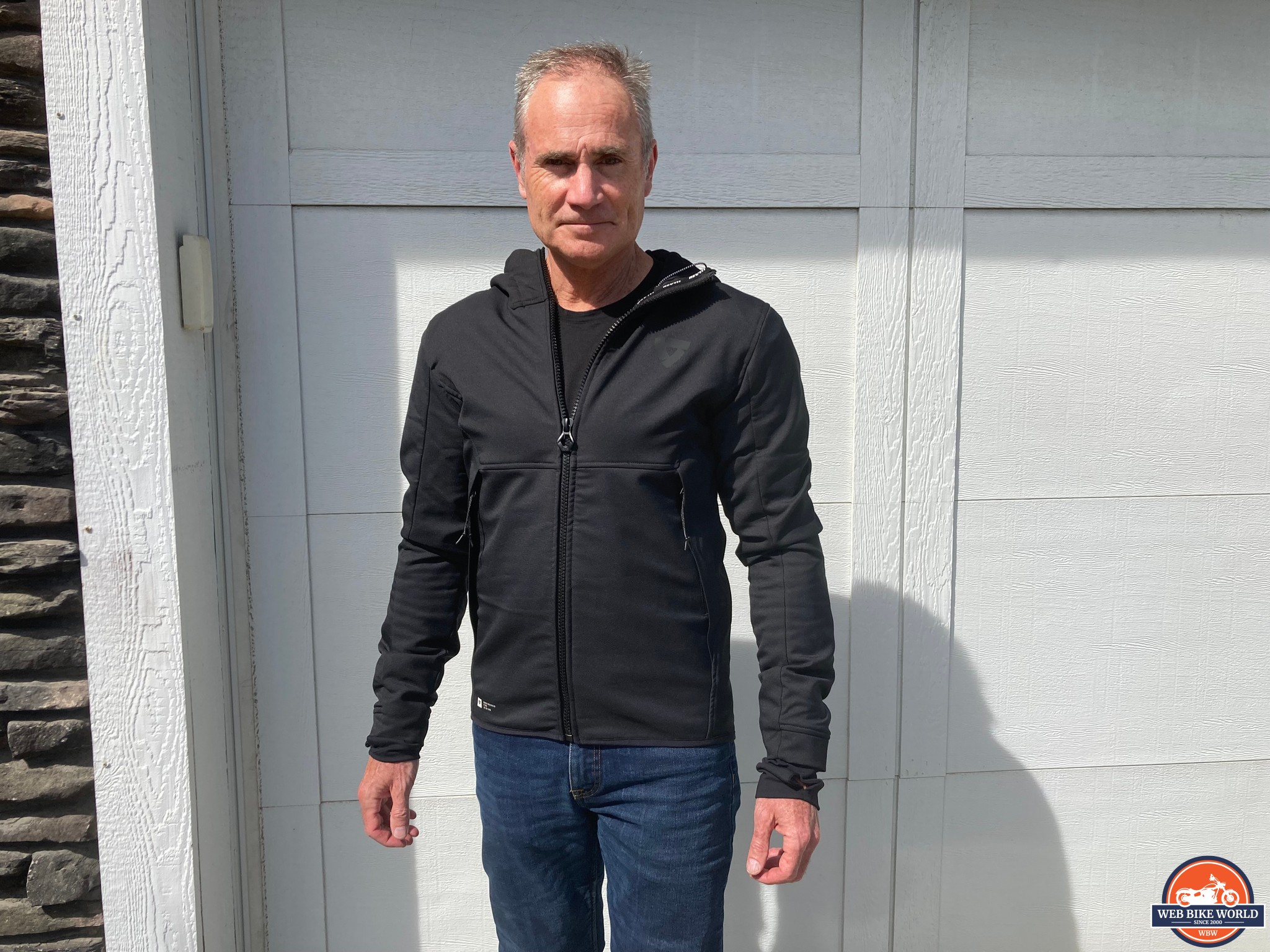 While my riding skews toward long-distance sport touring where technical specification, versatility and protection are paramount, I'm always on the lookout for what is perhaps best described as "motorcycle lifestyle clothing", gear that I can just throw on for a local ride without looking like I'm about to cross continents.
I'm also something of a REV'IT! fanboy because of the Dutch company's rare ability to combine form with function. Enter the Parabolica Jacket, a new offering that draws inspiration from street and skater gear but is positioned squarely as a viable urban motorcycle jacket.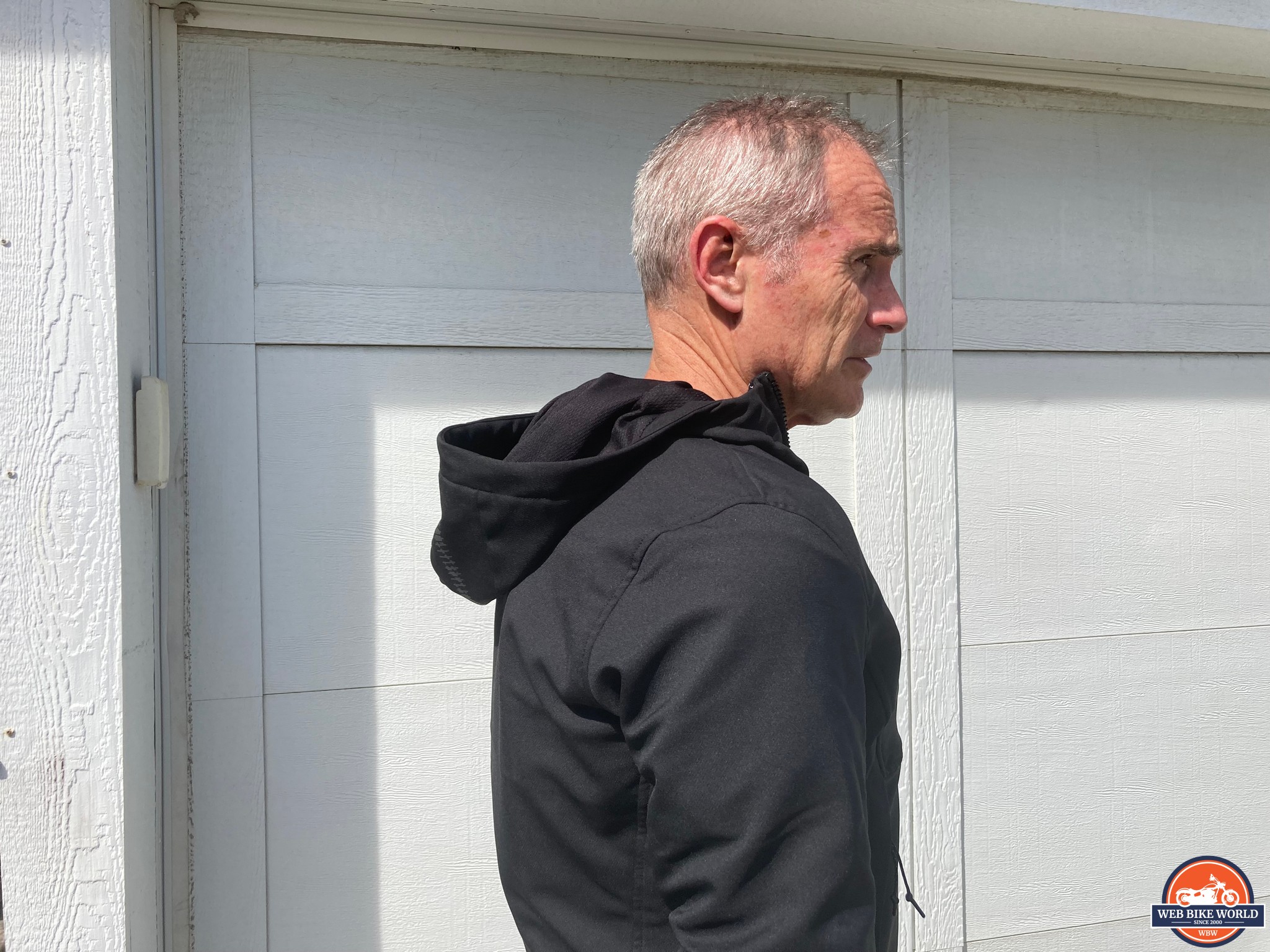 The design brief for the Parabolica jacket, as stated by REV'IT!, was to "feel good – and look good – out on the road on any of your city rides". I think this fairly sums up the context within which any review of the jacket needs to be placed.
This is not a "do everything" jacket, nor is it the first or best jacket a rider should purchase. Think of it as something that fills a particular niche (I'm thinking Spring/early Summer) without breaking the bank and you can evaluate this jacket fairly.
Fit and Comfort
The Parabolica is instantly comfortable; there is no "break-in" period here. The outer fabric is a stretch polyester and there is an elastic waist, elastic at the wrist, drawcord adjustments for the hood, thumb loops, a button to secure the hood, and a jeans loop to connect the jacket and generally dial in the fit.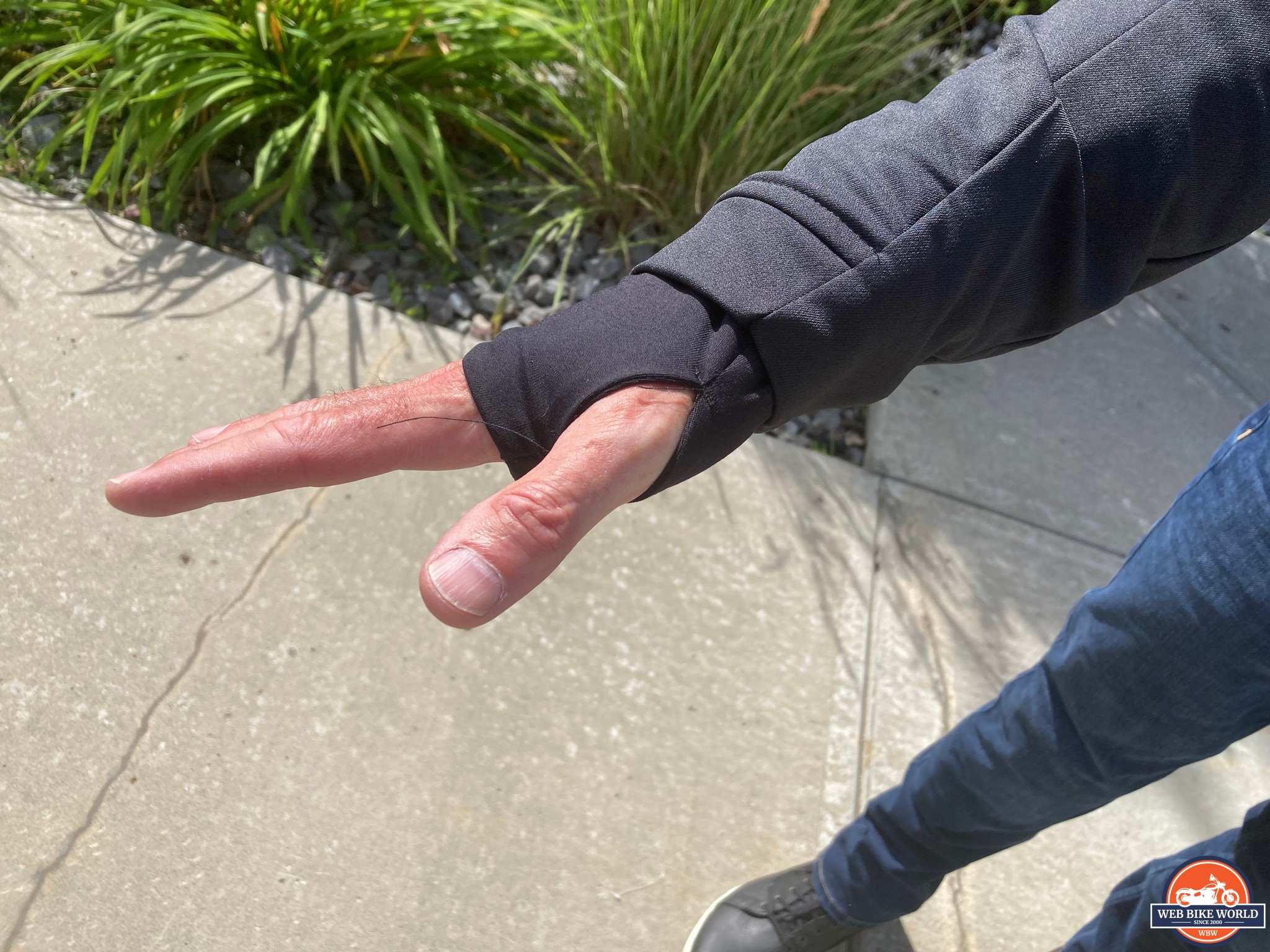 REV'IT! describe the fit on the Parabolica as being "city fit, regular", but I would characterize it as being more form-fitting. It's not crazy tight in any way, but neither is it baggy. The fit is consistent with virtually every REV'IT! Jacket I've worn.
For reference, I'm 5'10" and a lean, athletic 155 pounds and typically wear a medium (or Euro size 48) and that holds true here. The jacket does not feel reassuringly protective, per se, but that's not its unique selling proposition. This is a jacket that sells based on how comfortable it feels.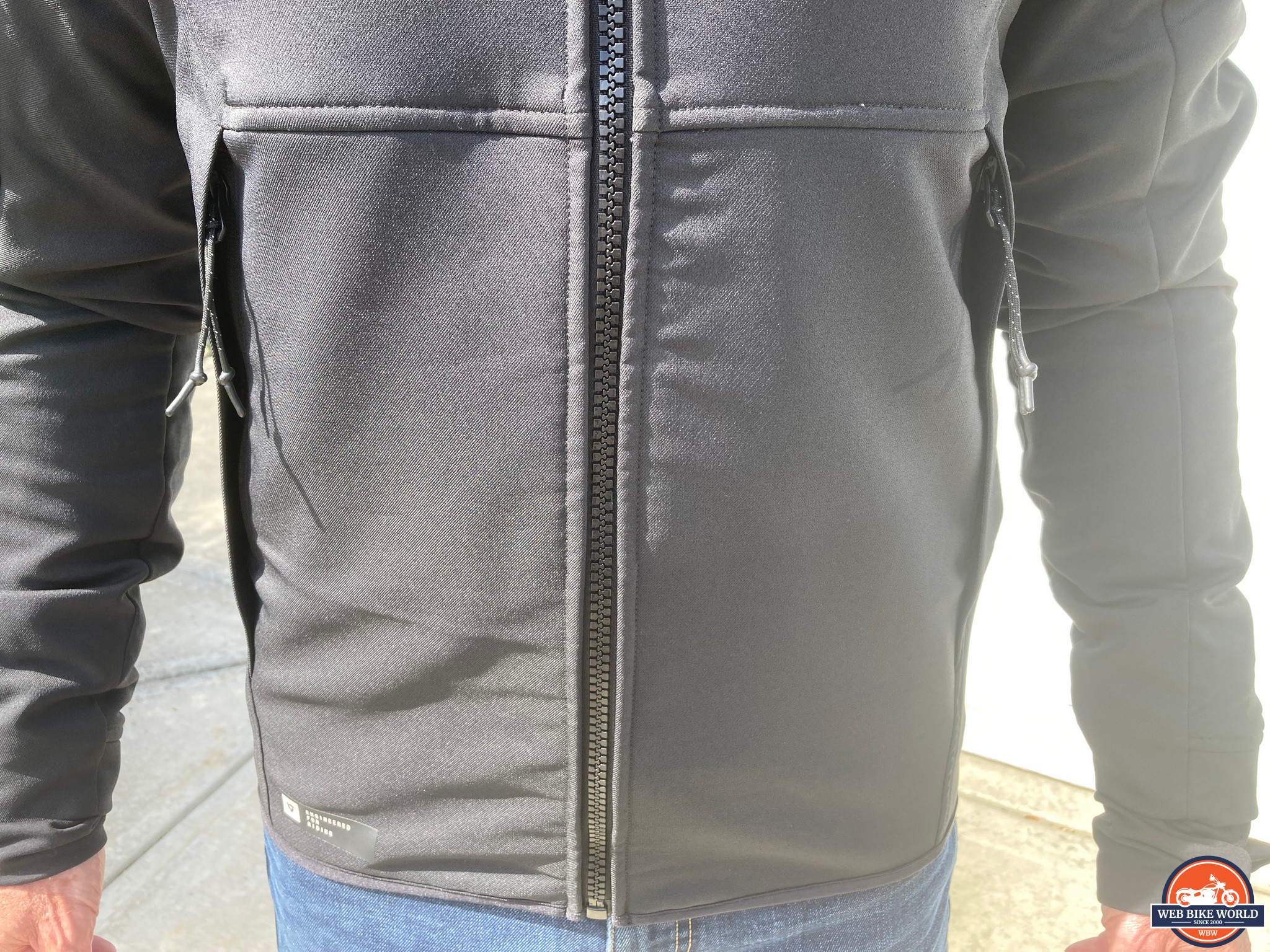 REV'IT!'s roots are in the adventure and sport touring spaces but the company has expanded into city or urban riding in a major way and that focus is very much on display with the Parabolica Jacket. It has a cool, urban vibe. As this is a motorcycle jacket, it comes with adjustable pockets for armor, which aids in comfort (and safety).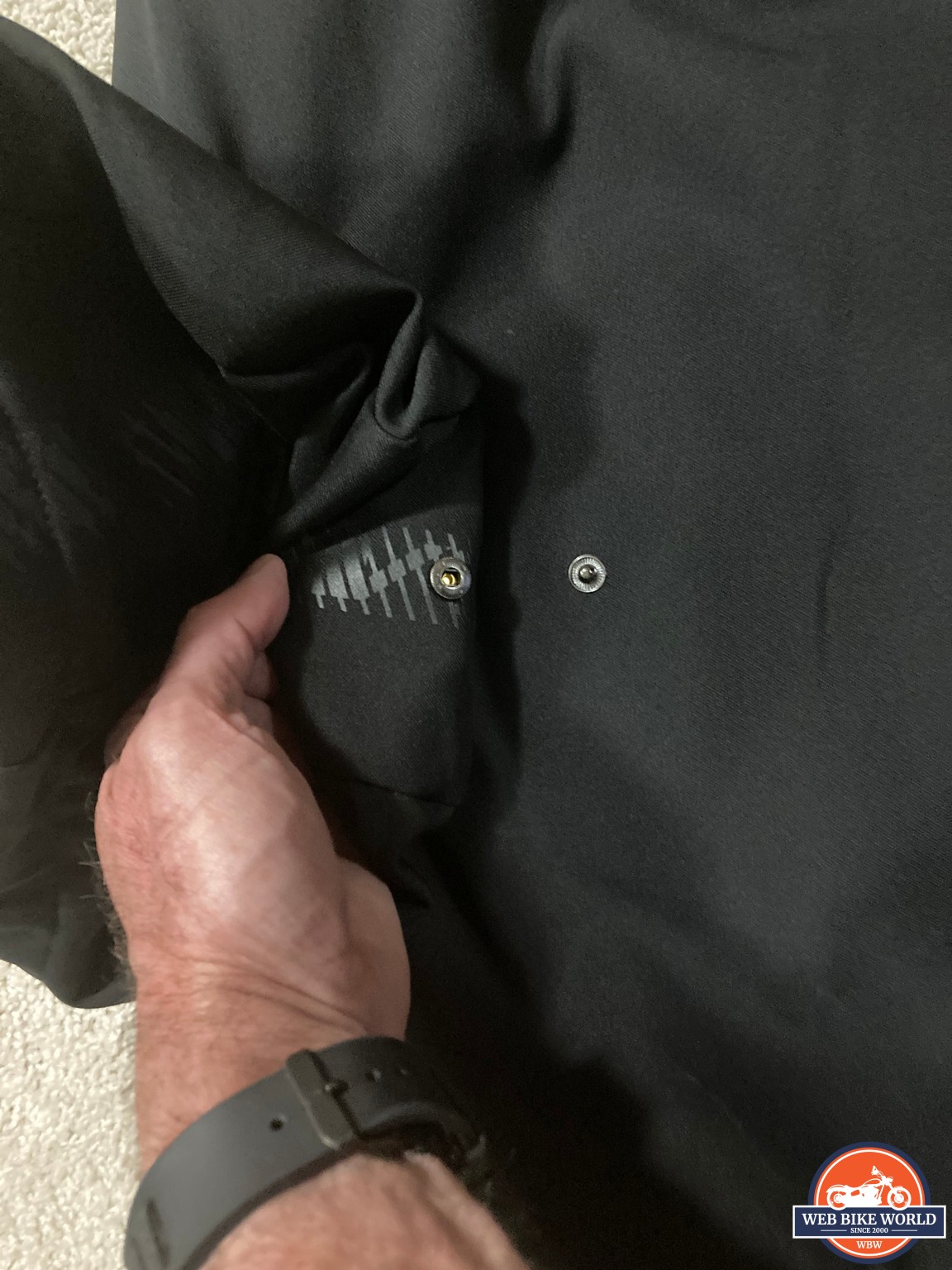 There's no thermal liner (full-sleeve or vest) with the Parabolica. Nor is there any waterproofing. This is a casual, fair-weather piece that you can throw on for a quick ride. The protection that is baked into the jacket will keep you safe and comfortable within a relatively narrow temperature range (think warm Spring and early Summer), but don't reach for this if rain is in the forecast or the temperatures are either low (less than 70 degrees F) of hot (anything above 75-80 degrees F).
Protection
Overall, the Parabolica is AA rated under the EN 17092 Standard. I was pleasantly surprised by this because on first glance you could be excused for thinking this is an A-rated garment; it feels relatively light and doesn't immediately convey that reassuringly heavy feeling of leather or 750D Cordura.
That said, the "polyester stretch" construction (96% polyester, 4% polyurethane) is said to offer decent abrasion resistance – particularly if the jacket is worn at lower speeds for urban riding. I've tossed it on and felt appropriately protected for a short ride in town, but if I was leaving downtown Edmonton and hopping on the highway I'd want something with more abrasion and impact protection.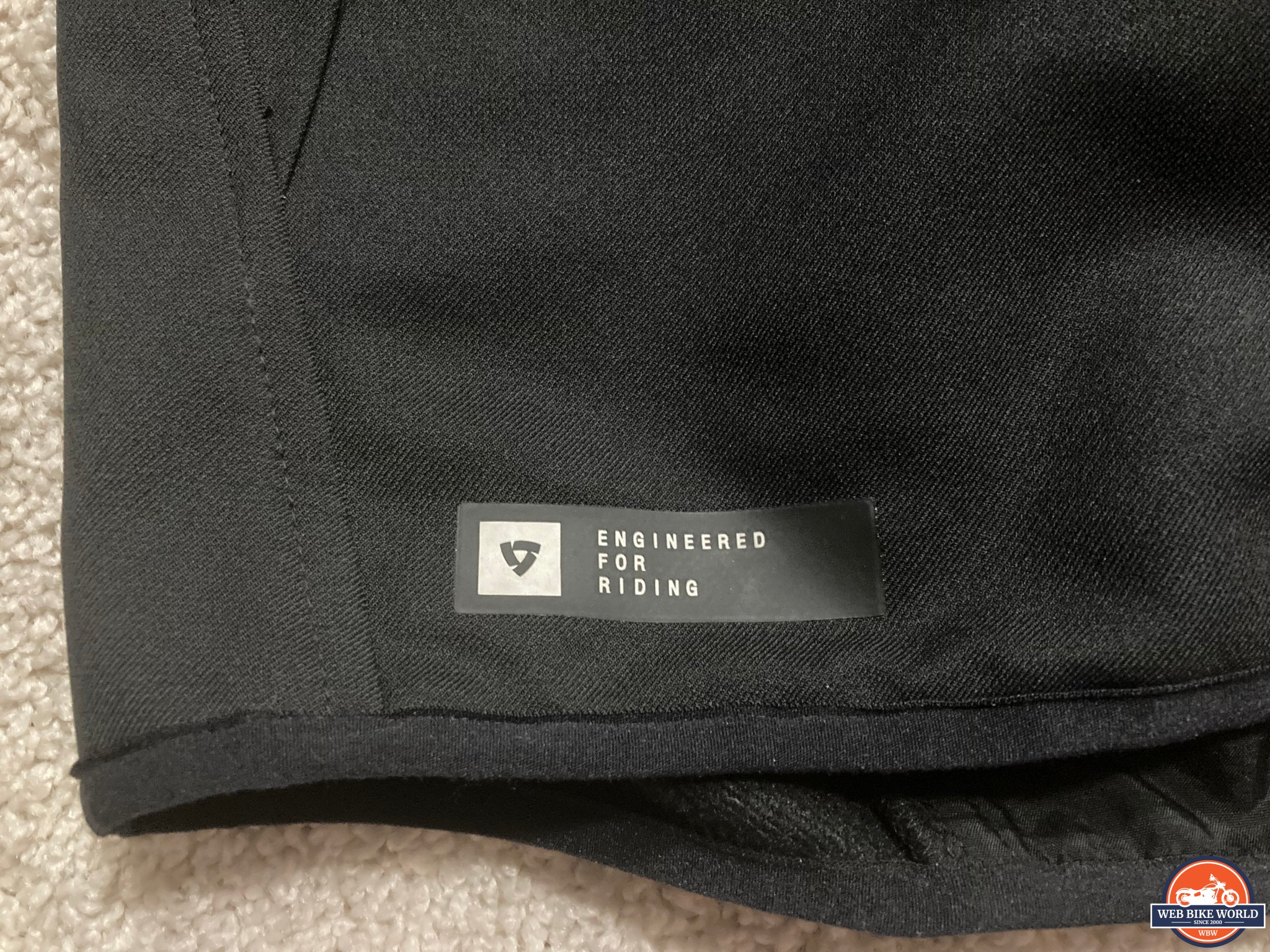 The Parabolica comes with REV'IT!'s award-winning Seesoft CE level 1 protection at the shoulder and elbow. This is among my favorite armor (alongside D30 Ghost armor); it is remarkably thin and I have never found it necessary to remove the armor when off the bike – you literally forget that it is there.
The jacket does not come pre-fitted with a back protector. This is too bad, but it has become something of the norm in the moto apparel industry, especially at this mid-price point. There is a pocket for an optional Seesoft CE level 2 Type RV back protector. I had a spare size 04 protector and popped it in and this made me feel considerably safer. Sizing for the REV'IT! Back protectors is noted below.
Type RV / Size 04 fits SM-MD
Type RV / Size 05 fits LG-2XL
Type RV / Size 06 fits 3XL
The Parabolica offers limited visibility, in keeping with the fashion/stealth nature of the garment. Still, there is a laminated reflective strip on the lower back, and a laminated reflective logo on the hood.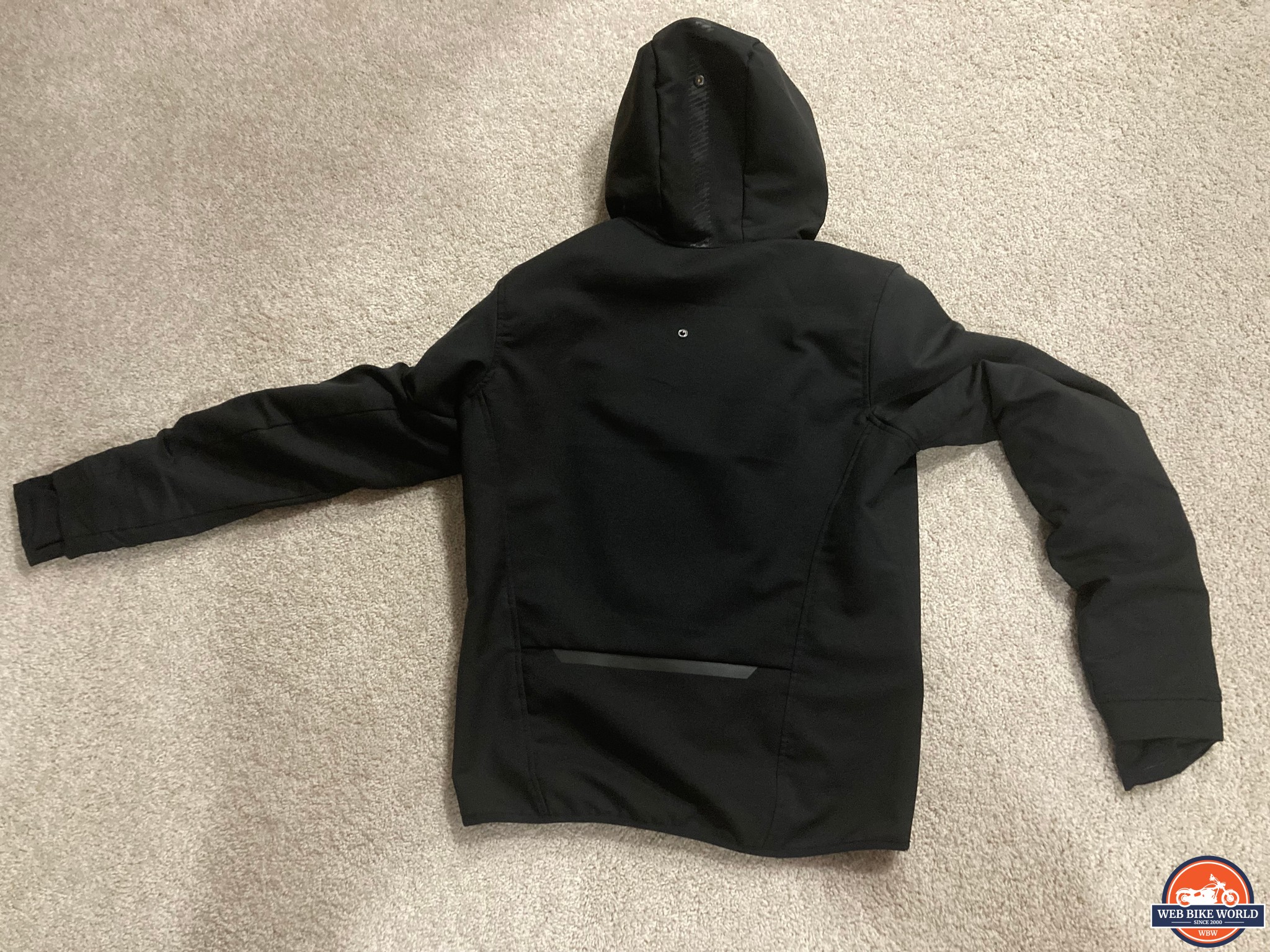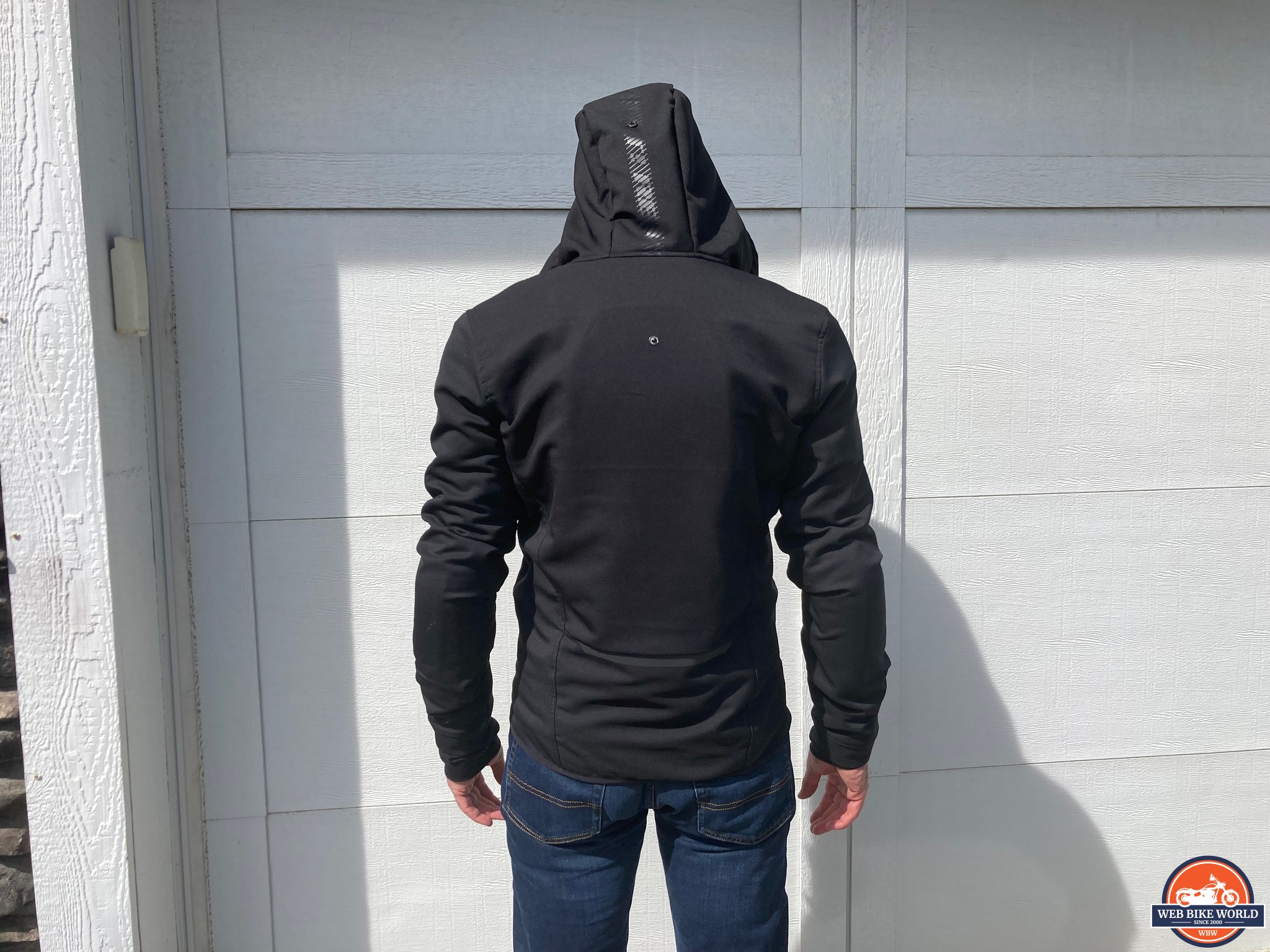 REV'IT! uses safety seams on virtually all of their jackets in areas of increased impact risk. Safety seams have a visible as well as an invisible seam. This construction keeps the material of the outer shell together, even when the visible seam is worn. I would add that the stitching on the Parabolica is very clean; no loose threads or stray stitch lines.
Ventilation
Ventilation on the Parabolica is virtually non-existent. Sure, REV'IT!'s advertising copy describes the main chasis as "mesh", but this should not be confused with the company's own Eclipse jacket – an exceptionally well ventilated mesh jacket that is ideal in hot weather. Here, the  The jacket flows some air, to be sure, but it is not a mesh jacket, per se. And there are no zippered vents that can be opened up front and back to provide some relief on hot days.
I will call out the two large main pockets on the front of the jacket (see more on these below). These are generously sized and when opened they do function like vents, but this is not their primary design purpose. I found them to be ok at bringing air into the jacket, but would have preferred some chest and arm vents, as well as a rear vent to exhaust the air.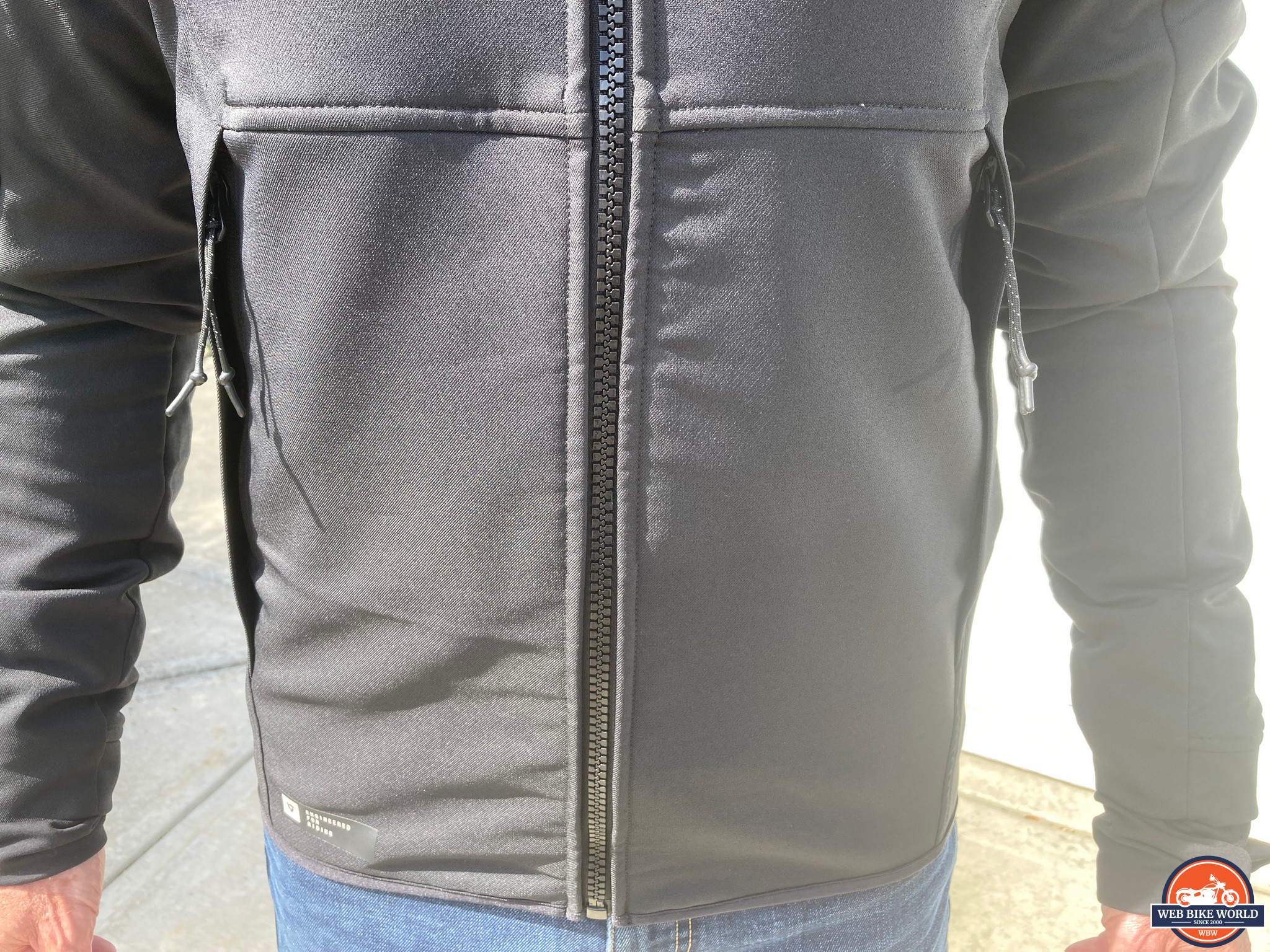 On truly hot days, you'd want to ditch the Parabolica and go with a mesh jacket or shirt anyway. There are no cuff zips or poppers on the jacket that can be left open to introduce airflow. So, depending on whether you run hot or cold, the lack of ventilation on the Parabolica makes this a Spring, early Summer or early Fall option.
Zippers and Pockets
REV'IT! typically does a great job with zippers and pockets and while the Parabolica is a stripped down jacket in many respects, it still delivers the basics. There are two large vertical slit pockets on the front of the jacket, as well as an internal pocket. For a jacket like this, you don't really need anything more – this is not the jacket you're wearing for a weekend (or longer) ride. You can tuck your wallet or phone into the front pockets and go.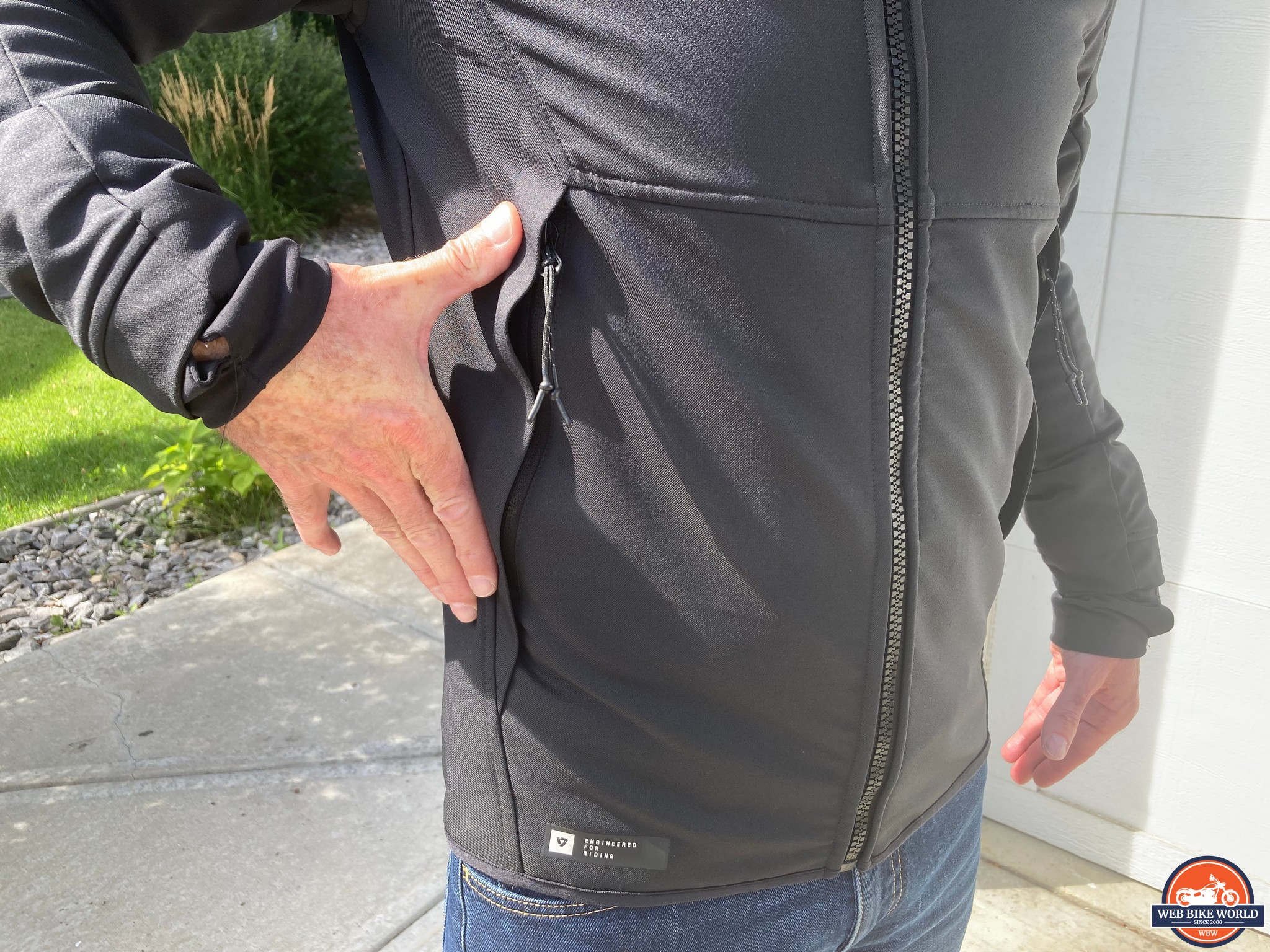 Zippers throughout are YKK and all roll very smoothly. I don't anticipate any issues with durability. The pull tab on the main front jacket zipper is burly and easily used with gloves on – a nice touch.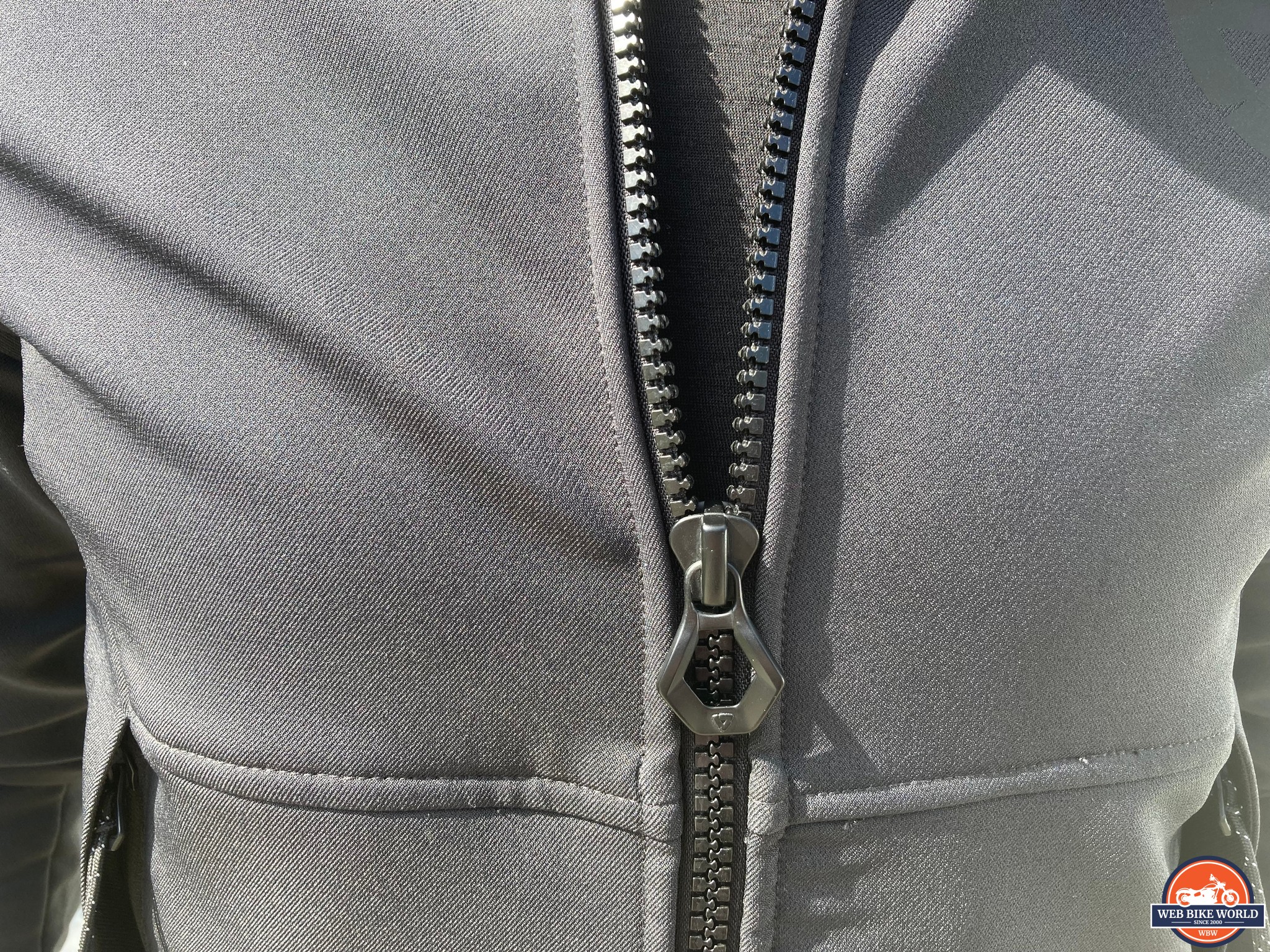 Visibility
Visibility on the Parabolica was not a design priority. There's a reflective logo on the back of the hood, two small laminated reflective tabs on the arms, and a laminated strip on the lower back and that's it. On several other REV'IT! Jackets that I've owned and/or reviewed, the company has done a pretty consistently good job of designing and positioning reflection panels to ensure excellent visibility from all angles.
Here, I would say that the fashion or off-the-bike design ethos overruled motorcycle-centric needs, resulting in a jacket that, as I said above, your 18-year old will love, even if he/she doesn't ride, but that leaves the rest of us feeling a little vulnerable in low light, inclement weather, and at night.
Parabolica In the Real World
The Parabolica strikes me as a "niche" jacket. This is not necessarily a bad thing, but it has to be viewed in the context of the kind of riding you do – and what jacket(s) you already have in your gear closet. Back in the day, Steve McQueen rocked a Harrington jacket and made it a style icon (off the bike), but it was far from the only (or first) jacket in his closet.
I feel similarly about the Parabolica.
It has a certain something, especially for younger riders, but it isn't necessarily the first jacket I would recommend, unless your riding is limited to lower speed urban environments and you particularly like the hoody style. If you've already got a solid, protective jacket with waterproofing and thermal capabilities, then the Parabolica is a nice addition that gives you other options in certain circumstances – and looks damn cool while doing it.
Value for Money
I've said many times that value for money is inevitably a subjective, or personal point. The Parabolica is positioned as a mid-range jacket from a price perspective, and it leans heavily on its fashion bona fides. And I wouldn't be surprised to see it sell well because it does have an undeniable "look and feel" to it that is different, in a good way, from many other motorcycle jackets.
Before parting with hard-earned cash, however, I would say that even within REV'IT!'s own lineup there are some compelling competitors at very similar price points.
The Stealth 2 Hoody, for instance, has a similar look, but boasts waterproofing and an excellent thermal gilet. The Afterburn H20 similarly brings the hoody style to a textile motorcycle jacket that punches well above its price point.
Putting the hoody style aside for a moment, REV'IT!'s worker overshirts are among the best on the market and are in the same price bracket as the Parabolica. And…REV'IT! Have just introduced an awesome denim jacket, in black no less, that oozes cool and boasts considerably more protection than the Parabolica.
The bottom line, so to speak, might be this: A sub-$400 jacket/hoody that works well on and off the bike is becoming a crowded gear category, which is a great thing because it means you have abundant choice. Still, if a casual Spring/Summer riding hoody is something you have your heart set on – and you don't care about waterproofing or high abrasion resistance – the Parabolica might just be what you're looking for. Otherwise, I think there are several alternatives that offer similar good looks with considerably more functionality.
Final Thoughts
The Parabolica jacket is one of REV'IT!'s newest entries in the growing mid-range of textile motorcycle jackets that fuse (or attempt to fuse) form and function. It offers reasonable protection for its intended use, and features a sharp, form-fitting cut. As ever with REV'IT! The build quality is solid. The jacket lacks waterproofing and ventilation but is otherwise very easy to live with. For short rides in and around town it is the epitome of a "grab and go" jacket that offers much more protection than a regular hoody or sweatshirt.
Pros
Casual, cool-looking hoody-style design that transitions effortlessly from bike to off-the-bike wear.
Very solid build quality from a reliable manufacturer
Accessible price point (though there are many competitors, including other viable options from REV'IT!)
Cons
No waterproofing or ventilation
CE Level 1 protection only at elbows and shoulders; no back protector
Visibility/reflectivity is modest at best (though in keeping with the stealth nature of the jacket's design