The Rev'it Moto Touring Socks are probably the highest-tech socks you can buy!
Introduction
The business of reviewing motorcycle products and clothing never seems to get boring.
Just when I start to get jaded, something like this shows up on the doorstep!
You're looking at what has to be the highest-tech, most focused pair (two pair, actually) of motorcycle socks in the world.
Leave it to the folks at Rev'it! to come up with something you never knew you needed!
Rev'it Moto Touring Socks
The Rev'it! motorcycle socks come in four different flavors.
Two are shown here: the Rev'it Moto Touring Socks are shown on Bill's left foot.
They are designed for all-around use during most of the year.
The Rev'it Winter Moto Touring Socks (right foot) use soft Merino wool and are designed for, you guessed it, winter.
These products are so new they're not even listed on the Rev'it! website, but the packaging runs the words together in one long lower-case word like "mototouringsocks" and "wintermototouringsocks".
Believe it or not, the socks are asymmetrical; that is, one sock is labeled "left" and the other "right" with bright yellow lettering near the toe.
The asymmetrical design provides direct support for each individual foot, the toes and the calf. X Technology, a Swiss company who developed the system, claims that the anatomical shape allows the foot to "gain added support and stability without losing contact with the boot through unnecessary, constricting padding".
Rev'it! says that the Moto Touring socks "provide padding exactly where it is actually needed, where the foot is subjected to stress and strain". They also claim that this "significantly reduces the risk of sustaining painful skin abrasions and pressure points…".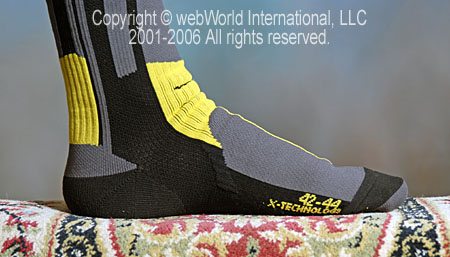 Wearing the Rev'it Moto Touring Socks
I've been wearing the lighter weight Moto Touring Socks and they're very comfortable, even in the 85-degree summer weather we've been experiencing lately. In the summertime when I'm not riding, I'm usually wearing shorts and a pair of ankle-high socks, so the extra length of the Rev'it! version does take some getting used to.
Both socks are very tall; they come up almost to my kneecap. This provides good support for my entire calf muscle and the socks feel more like a stocking. They do fit rather snug, so you may want to try them on first if you have larger than normal calves.
The socks are actually woven in Italy in a single piece without seams. This pretty much eliminates the possibility of any hot spots when wearing them.
I once visited the Hosiery Technology Center in Hickory, North Carolina, where I saw this type of high-tech Italian sock knitting machinery that can knit a one-piece sock in a single setup. The machines are computer controlled and very impressive.
The Italians are the world leaders in this type of equipment, so it's no surprise to me to learn that Rev'it! turned to the Italians to manufacture the socks.
The yellow sections of the mid-weight socks are made from an abrasion-resistant material, located at the front and rear of the ankle. The black sections are patented "air conditioning channels", which are designed to circulate air and regulate the temperature around the foot.
This is crucial to comfort when wearing motorcycle boots, which are usually tall, hot and sticky. It sure seems to me that the Rev'it! Moto Touring socks would be just the ticket for long-distance motorcycle touring!
The Winter Moto Touring socks are very similar to the mid-weight summer Moto Touring version. The winter socks use a type of "Ragg" style stitching and what feels like slightly heavier fabric.
Rev'it! says that both versions of the Moto Touring socks can help reduce skin irritations, muscle cramps, skin grazing, overheating, "burning feet", bruising, blistering and acne. Just kidding on that last one, of course!
There's an arm-long list of the features designed into the Moto Touring socks, including (deep breath here) a self-adjusting cuff, shin and calf protector, the aforementioned air-conditioning channels, an airflow side impact protector, airflow ankle pads, Achilles tendon protector, "X-Cross Bandage" ankle support, instep protector, air cooling strips across the top of the foot (summer version), toe protector, traverse airflow channel across the toes, toe tip protector and the anatomically shaped right and left footbed with "integrated air conditioning channels". Phew!!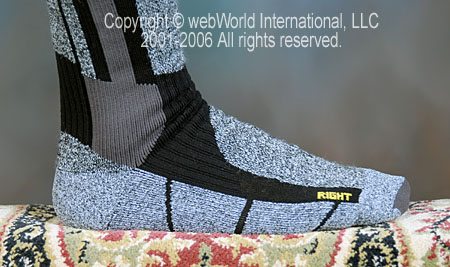 Note that the "protectors" referred to above are not the hard or soft armor used in motorcycle jackets or pants; the protectors are simply part of the design knitted into the fabric.
The socks are available from Rev'it! and can only be ordered through your Rev'it! dealer. There are actually four versions of the socks: Race, Enduro/MX, the Winter Moto Touring (Merino Wool), and the summer Moto Touring socks.
Conclusion
I don't know if you've priced a good pair of socks lately, but it's not uncommon at all to pay $15.00 for a high-quality pair. All of the Rev'it! socks list for $29.99 and come with a 3 year warranty, which I think is a heck of a deal, considering all of the technology involved.
w

BW

 Review: REV'IT! Moto Touring Motorcycle Socks
Manufacturer: REV'IT!
List Price (2006): $29.99
Colors: Gray and Black
Made In: Italy
Review Date: August 2006
Note:
 For informational use only. All material and photographs are Copyright © webWorld International, LLC since 2000. All rights reserved. See the webBikeWorld® 
Site Info page
. Product specifications, features and details may change or differ from our descriptions. Always check before purchasing. Read the
Terms and Conditions
Owner Comments and Feedback
---
From "L.P." (April 2013): "Before discovering (the) Rev'it special brand of foot comfort socks I'd never used anything other than ordinary long socks from the local outdoors store. In fairness I should probably fess up to wearing some quality merino wool socks I found at REI but those were worn for running, not riding.
Being a gear junkie, it was only natural that I'd get hooked on special socks for motorcycle riding. I think it may have been this very article that sparked my curiosity about them, so off I went on another quest.
Fast forward to last spring, when I was gearing up for a ride to Mexico. I'd never been there on a bike and since I'd be riding south along the east side of the Sea of Cortez, then crossing over to Baja California at La Paz for the return ride north, I figured it would be hot.
I ordered a pair of (the) Rev'it Moto Touring socks in summer weight from RevZilla, just to see what all the fuss was about. Using the sizing chart provided I ordered what I thought best complied with my usual size, a shoe/boot in 43 Euro or 10 USA. [42-44].
When they arrived I carefully unwrapped them for a try-on and found that the foot part was fine but if I pulled them all the way up I'd have socks half way up my thighs. So back they went via (the RevZilla) great return/exchange plan and I ordered the next size down [39-41] hoping they'd stop just below my knees. That's exactly where they fit, terminating right below my kneecap and the overall feel for them was great, sort of like I imagine support-hose would feel.
To provide a sizing reference, I measure 17" [43 cm] from the floor to the bottom of my kneecap standing barefoot. I'd add that my build is average so I don't have skinny or thick legs.
Figuring on being gone several weeks I decided to order another pair so I could wash them and give them a rest for a day or two between wearing them. This is how I normally care for socks and underwear when I'm touring and it's always proved satisfactory.
What I found on that ride was they really are comfortable socks; they provided support for my feet and calves and I never once felt the heat nor were my feet or legs tired at the end of the day. Depending on the weather for the day I alternated between my usual BMW Every Day boots and (the) Alpinestars summer Harlem Air boots.
I mentioned I'm a gear freak, right? For the Harlem Air boots I sometimes opted for Dainese Motorbike Mid-socks but that's another tale.
Back home I was happy enough with the Rev'it (socks) that I decided to try a pair of their Tour Winter version and found they work just as well. They're made with a thicker version material which means they're warmer but they still conform to the same sizes.
To date I've really put the miles on both versions and although they're fairly expensive I think they're worth the price. The summer versions performed exactly as hoped and the winter versions have done just as well. I bought all of them throughRevZilla online and per usual they're service is without fault."