Fusion Boots Review Summary
The Rev'it! Fusion boots are a new entry within the Rev'it! family of motorcycle clothing, expanding the scope of the Rev'it! product line.
Our opinion is that the Rev'it! line of motorcycle boots also represents a new trend for Rev'it! clothing because they provide the Rev'it! style and attention to detail but at a price point that is very competitive.
The Fusion boots have a high level of quality and style, which is apparent as soon as they are pulled from the box.  They look just like something you might find for sale for about twice the price at one of those chichi motorcycle boutiques with the famous blue-and-white three-letter roundel hanging over the door.
The usual course of action for a motorcycle apparel manufacturer who wants to flesh out their product line with a couple of pairs of boots is to stick their logo on a couple of models sourced from some anonymous manufacturer near the bottom rung of the global economic food chain.
After all, there's not much profit in boots, and a good pair of motorcycle boots is probably one of the last purchases a dedicated rider will entertain.  Sometimes an apparel manufacturer may just want to offer a couple of pairs of boots  just to claim that they have a complete product line.  And by the way, there are some pretty good apparel products sourced that way, sometimes at very high levels of quality.
But it's become apparent that this is not the Rev'it! modus operandi.  Although they still exploit the global economy by manufacturing their products in cost-effective countries, the products are designed at Rev'it! headquarters in the Netherlands and the manufacturing process is tightly controlled by Rev'it!, to ensure that quality is kept at high levels.
Now for all practical purposes, boots is boots, and as long as you like black, you can have them in two basic flavors, lace-up or slip-on.  The point?  Well, it's not easy to develop a product like a motorcycle boot in a single color and with a very inflexible style and shape and make it so that it stands above the competition and helps to distinguish the manufacturer.
What this means is that it's sometimes hard to pinpoint exactly what makes one boot seem to have high levels of quality when compared to others.  In general, all motorcycle boots with "sport touring" style are black, have a sole, a side zipper, some protective features and a lining.  So what has Rev'it! done to make the Fusion boot different?
Styling and External Features
Study the outside of a Fusion boot, and the quality of the materials is apparent.  Double stitching is used throughout, and typical for a Rev'it! design, the styling touches are cleverly incorporated into the safety and protective features.  The Fusion boots are made from leather and DuPont's ubiquitous Cordura, combined together in a modern and sleek look.
The inner and outer sides of the Fusion boots incorporate a section of leather that sweeps up towards the top of the boot, which add a nice styling touch but also offer some added protection to these two sensitive areas.
Both the front and rear of the boots incorporate Cordura-covered flexible panels, making it easier to use the boots for walking, which isn't always the case with motorcycle boots.  The entire toe area is covered and the heel counter are thermo-formed with thicker sections of leather for added protection.
Both boots have an inboard shift wear protector made from what appears to be some type of abrasion resistant synthetic, to help absorb the wear and tear of shifting the motorcycle. Take a close look at these little patches in the photo (left) and you'll see a typical Rev'it! design feature that illustrates their attention to detail.
While other boot manufacturers would simply sew on a piece of leather or Lorica (a type of synthetic leather) as a shift patch — which, by the way, would be more than adequate for the job — Rev'it! has carefully chosen the material and added a few styled "swoop" designs that incorporate a textured surface to provide a better grip on the bottom of the shift lever.
This level of detail will probably go completely unnoticed by most riders, but it is one of the very subtle features that add to the overall impression, in both looks and in use, that these boots are a cut above the rest.
This is the same design philosophy that has brought the Japanese to such prominence in the auto industry; that is, paying close attention to the tiny little details that overall, very few will notice, but that in the aggregate, all add up to registering a high-quality experience in the owner's mind.  It's also the reason why we are such rabid fans of Rev'it! products, because the attention to details like this is uncommon.
Lining
All of the new line of Rev'it! boots are claimed waterproof, and the Fusion model uses the Hydratex membrane that we have previously seen in the zip-out waterproof liners of Rev'it! jackets.  A small new style Rev'it! logo (that looks remarkably similar to the Dainese logo to our eyes) is incorporated on the top front of the boot.  The logo uses 3M Scotchlite for a minimal amount of nighttime reflectivity.
Another unique feature, this one in the "why didn't I think of that" category, is found in the zipper on the Fusion boots.  The boots zip up on the inside ankle, and the zippers have a nice, big zipper pull tab, each of which incorporate a section of "hook-and-loop" fastener.  When the zipper is pulled up to secure the boot, the hook-and-loop on the zipper pull sticks to the inside of the boot and is hidden underneath an outer leather flap, which also secures to the boot with hook-and-loop.
Brilliant!
This feature allows the zipper to be hidden for styling purposes, but it also adds to the safety factor, because the zipper and the zipper pull tab are protected from accidental opening by the leather flap that covers them.  This is another example of combining style and function.
Comfort
All of these features are nice, but what about comfort?  We have quite a collection of motorcycle boots in the webBikeWorld cloak room (now taking up about 1,000 square feet; "one of these days", we're going to have a webBikeWorld auction of all the products left over from reviews and photo shoots), and there are a few pair that can only be used to walk from the bike to the other end of the garage.  They work perfectly for riding, but they're just not designed for walking.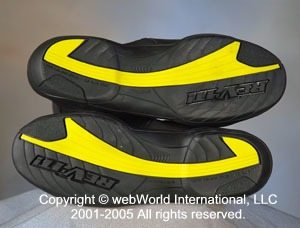 Not so with the Fusion boots.  Not only do the size 44's fit my size 10.5 US feet perfectly, they're very comfortable.  The boots have a cushy lining along the sides and on the footbed.
The sole is made for Rev'it! by Skywalker of Italy, who also supplies soles for many famous brands of hiking boots, including Vasque, Alt-Berg and others.
After the initial sheen is worn off the bottom, the soles get a "sticky" feeling, which provides good traction for walking and which add stability and a feeling of security for the rider holding up the bike with both feet down during a stop at an intersection or on an uphill slope.
This is another feature that an experienced rider will look for in a motorcycle boot, and one that is not apparent when evaluating boots at the retailer.
Motorcycle boot sole friction, or "stickiness" is especially important for riders with short inseams, or for riders (like me) with a tall adventure-touring bike, where tip-toes are sometimes necessary to muscle the bike around in a parking lot or on an incline.  A sticky sole is a safe sole!
Another nice feature that might not be readily apparent to some motorcyclists is that the Fusion boots are designed with an ankle fit that tapers down the correct amount to hold the boot securely on the foot for walking and riding.  This is both a comfort factor and is necessary for safety reasons, to help prevent the boot from coming off during a crash.
Pros and Cons
One negative aspect of the Fusion boots is related to the issue of water resistance vs. breathability.  Current technology, hype and claims notwithstanding, mean that these features are mutually exclusive.
It's been very hot and humid around here lately, and in this type of weather, the Fusion boots can get a bit toasty.  They don't have the cooling vents that can be found on some non-waterproof boots, but then again, those cooling vents are direct inlets for water.
Also, the tops of the Fusion boots don't open as wide as some other boots we've tried, so some motorcyclists with very wide calves might find that the Fusion boots might be a bit snug.  Our feeling is that the Fusion boots are best worn underneath a touring pant, like the Rev'it! Airvent Mesh Pants, or paired with the Rev'it! Ultimate pantsand Cayenne jacket.
Conclusion
We really like the new Rev'it! Fusion boots.  They have style, quality, features and they're comfortable for riding and walking.  The best part?  The list price is only $189.99!
Product Review:  Rev'it! Fusion Motorcycle Boots

BUY IT!  Get your REV'IT! motorcycle clothing at RevZilla and help support webBikeWorld!

Available From:  REV'IT!
Suggested Retail Price:  $189.99
Colors:  Black
Made in:  Romania
Product Comments:  High quality.  Nice styling.  Good compliment of safety features.  Comfortable for riding and walking.  Zipper hides underneath outer flap for protection.  Claimed waterproof.  Can get warm in hot weather.  Narrow top opening may be too restrictive for large calves.  Review Date:  July 2005.  More:  More Rev'it Fusion Boots Photos
Note:  For informational use only.  All material and photographs are Copyright © webWorld International, LLC – 2000-2011.  All rights reserved.  See the webBikeWorld® Site Info page.  NOTE:  Product specifications, features and details may change or differ from our descriptions.  Always check before purchasing.  Read the Terms and Conditions!
Owner Comments and Feedback
Comments are ordered from most recent to oldest.
Not all comments will be published (
details
).  Comments may be edited for clarity prior to publication.
---
From "D.": "I purchased these boots in Fall 2005 based largely upon the wBW review, which was spot-on!  I had a sizing problem (turns out my size 7.5 US foot best fits into a Euro size 40 Fusion boot) at first, but that was corrected.  The Fusions are comfy, get great traction and proved to be very warm during my Winter exploits, which is very important to me as I ride year-round.  I was often able to wear thinner socks than I would normally.
Only when temps were below freezing did I need my thickest wool socks.  In fact, they're so toasty I fear I may need to go back to my trusty ol' Bates Fastlanes for those hot, humid days we have here in late Summer.  My only negative thus far, and it's a small thing, is that the "hook" side of the hook 'n' loop closure is destroying the threads on the zipper pull-tab, so eventually the "hook" on the pull-tab will fall off and need to be re-attached.  I may try to head that off by glopping the appropriate type of sealant on the one side of the pull-tab in an effort to protect the threads.  All in all: great boots at a good price!"
"D's" Follow-up:  "Because Rev'It! is new to the US market, I thought you might appreciate some long-term data on one of its products.  This is a follow-up to my comments from last May (above) on the Fusion boots.
Despite my initial concerns, I wore the Fusions all Summer and never felt they were too hot to endure.  Sealing both sides of the zipper pull-tabs with a thin layer of Marine Goop stopped the threads from further damage (I'd recommend every Fusion-owner do this).
Somewhere between 5K – 6K riding miles one of the zipper tapes developed a tear of approximately 1/2 inch, compromising the boot's waterproofness.  I've sealed the tear with Marine Goop, which is holding so far.
Also, areas on the inside of the boot appear to be wearing/fraying/thinning quickly.  My Bates Fastlanes with 70K+ miles on them show less wear in the uppers and insoles!  On the plus side, the Fusions' outsoles are wearing nicely, which is somewhat surprising given how sticky/grippy they are and the amount of commuter miles (many "foot downs") they've endured.
In summation, the Fusion is a great design at a very good price, but I wish they were more durable."