Cayenne Jacket Review Summary
Cayenne Jacket Image Gallery
The REV'IT! Cayenne jacket is the perfect compliment to the REV'IT!! Ultimate pants (review).
It has dual removable liners; one is waterproof and one is an insulating liner.
It also includes Knox CE-approved shoulder and elbow armor.
Large elastic panels in waist provide adjustment. The outer shell is also mesh lined.
The jacket is very comfortable, ultra-versatile and even provides decent air flow.
The BMW GS-series introduced a radical new approach to motorcycle design that opened up an entire new genre of riding that increases in popularity each year.
Like many others, I scoffed at those silly-looking adventure-tourers for many years.
Now I'm a convert.
The webBikeWorld 1998 Triumph Tiger hack bike is an absolute blast to ride and its "sit up and beg", SUV height riding position is a refreshing change for these old bones.
Besides, I get to wear cool-looking adventure-touring gear, and I can practice for my trans-continent treks on the wild streets of Baltimore.
It's also funny to watch the faces of the local T-shirted cruiser and sportbike crowd as I look down on them from my lofty perch.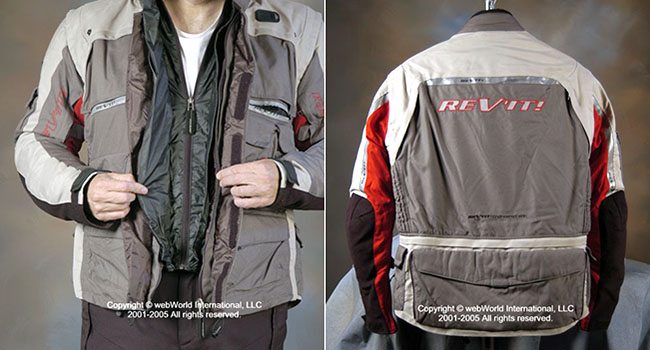 The new REV'IT! Cayenne jacket is perfect for the role.
From its earthy taupe color scheme (which doesn't reproduce correctly on computer monitors) to its — get this — removable fanny pack and hydration-ready infrastructure, I'm prepared for anything, from Baltimore to Bangui.
Well, almost anything. I'm not sure if Bangui has a Chipotle.
REV'IT! is proud of the new Cayenne jacket, and rightly so. This jacket has so many unique features that it will be a real challenge to describe.
If you're near a REV'IT! dealer and you're in the market for a first-rate 3/4-length jacket, I highly recommend a visit to check out the Cayenne.
We've been REV'IT! groupies ever since their products hit the U.S., and as long as they keep pumping out stuff like this, we'll offer no apologies. Let's see — where to start?  How about from the inside out?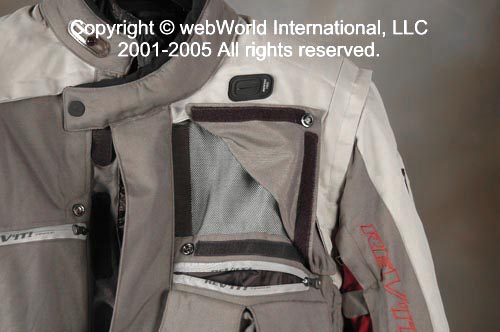 Removable Twin Liners
The Cayenne jacket has two removable full-length liners which can be mixed and matched, depending upon the weather situation.
The insulating, innermost 3 oz. padded liner attaches to a waterproof Hydratex shell with a combination of snaps along the sides and a couple of short (7.5″ or 19 cm) zippers located near the upper chest (see slide show liner photo).
It's a fairly thick liner that should keep its owner nice and toasty during winter riding.
The liner has a stretchy neoprene mobile phone pocket in the right-hand side and a 6″ wide by 7″ deep (15 cm by 18 cm) zippered pocket in the left-hand side.
The waterproof Hydratex shell then attaches to the jacket with a series of metal snaps.
Since the Hydratex shell has its own zipper and wind/rain blocking zipper cover, it could be worn alone as a sort of windbreaker with or without the insulating liner, although it doesn't appear to be specifically designed for that purpose.
The Hydratex liner does not include pockets, probably to maintain its ability to remain waterproof.
The Cayenne's outer shell is made entirely from Schoeller Keprotec with Kevlar (see note in Owner Comments below).
Although this is an expensive material, REV'IT! said that they have used it for its superior abrasion resistance.
The Cayenne can be worn with or without either one of the liners.
I'll describe its outer surface in just a moment, but the inside of the jacket also includes a non-removable mesh liner, which makes it comfortable to wear when the insulating liner and Hydratex liner are removed.
The jacket has a couple of internal pockets; the right-hand side has a 6″ wide by 8″ deep (15 cm by 20 cm) zippered pocket built into the mesh liner. The left-hand side has a 6″ long by 6″ deep zippered pocket located just inside the outer flap.
Some of the other REV'IT! jackets have a pocket in a similar location, and this pocket location is perfect for storing a wallet. It makes it easy to get to the wallet during a fuel stop without having to unzip the various layers to reach inside.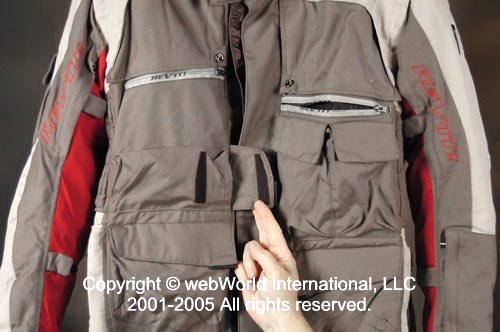 Ready for that Death Valley adventure ride?
The Cayenne jacket also has two internal loops and a couple of rubberized grommets (for lack of a better term) that are designed to hold a hose from a hydration bladder and pass it through from the inside to the outside of the jacket.
A grommet is located on the outer side of the upper left section of the jacket, which allows the hose to hang, ready for use by the rider. Note that the hydration bladder must be supplied by the owner and does not come with the jacket.
The Cayenne zips up tight with the REV'IT! designed multi-layer front flap system (see slide show front photo).
In addition to the Cayenne's double-layer wind-blocking flap system, the waterproof Hydratex liner has its own cover that also protects against wind and rain.
The outer shell has a relatively heavy zipper, with an extra length of material on the zipper pull to make it easy to grab.
When the jacket is zipped up, a final outer flap can be pulled over and seals the jacket's zipper and the waterproof liner's zipper.
The Hydratex liner and the outer shell also have a doubled-up section of material added to protect against moisture intrusion, as if there could be any moisture that could get through this maze!  It's wind and waterproof, no ifs, ands or buts.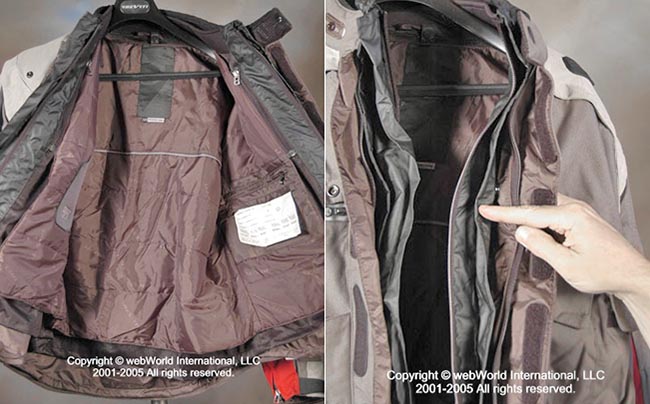 Pockets, Pockets and More Pockets!
The outside of the outer shell has more pockets and features that you can count (see slide show pockets photo). Two big "100% waterproof" labeled cargo pockets are located on the lower front.
Not only do they have a full-length "hook and loop" flap cover, the material underneath the cover is doubled over, and they have a full-length zipper!
These 6″ wide by 7″ deep (15 cm  by 18 cm) pockets must cost a fortune to manufacture. Besides the complex flap system designed to keep out water, and the fact that the pocket itself is waterproof, each pocket is cut on a taper to fit the styling of the jacket.
The pockets have four swooping lengths of stitching for an additional styling touch; and the outside corner of the pocket material is darted and tucked to ensure that the volume of the pocket is equal all the way across.
It's a marvel of textile engineering for sure, and demonstrates the signature REV'IT! obsession with details that will probably not even be noticed by the average owner.
The left-hand mid-chest section also has a cargo pocket; this one isn't waterproof, but it's slightly bigger at 7″ wide and 8″ deep (18 cm by 20 cm). It has a split flap cover, which allows partial access to the pocket and also gives acts as a styling feature.
Each side of the upper chest area on the front of the Cayenne has a covered vent section. The material covering the vent is secured to the shell with a zipper, a snap and full-length "hook and loop" fastener.
This section can either be folded up and snapped to the upper section of the jacket to reveal half of the vent, or it can be completely removed to completely uncover the vent.
When the material is removed, the mesh vent underneath measures approximately 5-1/2″ wide by 5″ high (14 cm by 13 cm).
"But wait — that's not all": Behind the split pocket on the left-hand side is yet another waterproof pocket, this one covered with one of the special REV'IT! waterproof zipper reflective fabric covers.
When the zipper is closed, the fabric closes up tight against the elements. This pocket is 6″ wide by 8″ deep (15 cm by 20 cm).
And we're not done yet: an identical waterproof pocket, also hidden behind a waterproof zipper, is located on the right-hand side of the jacket, also under the vent area.
Another mobile phone pocket, this one located horizontally, just under the right-hand side lower cargo pocket and aforementioned waterproof zippered pocket, is 7″ deep and 3″ wide (18 cm by 8 cm).
This could probably hold a GPS or water bottle, it's that big.
But hang on, there's another one: the right arm of the Cayenne has an outer patch pocket, this one is about 3-1/2″ wide by 6″ deep (9 cm by 15 cm).
I've been playing with the Cayenne jacket for a few weeks, but there are probably more pockets that I just haven't found yet!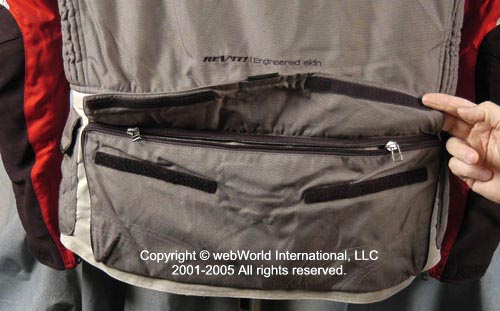 One of the most unique features we've ever encountered on a motorcycle jacket has to be the Cayenne's removable waist pack (see slide show waist pack photo).
The lower rear portion of the Cayenne jacket is removable, and includes a nylon adjustable belt hidden inside the jacket when not in use.
The belt allows the owner to carry the pack around the waist, or maybe over the shoulder. The entire removable section is actually much wider than what is typically called a fanny pack; calling it a waist pack would probably be more appropriate.
The waist pack has a huge, waterproof, compartmentalized pocket across the back that measures 16″ (41 cm) across and 7″ deep (18 cm).
It has a zipper with dual zipper pulls and can be completely opened to expose side expansion panels. One compartment is about 6″ (15 cm) wide and has a nylon fabric divider.
Two more pockets, located one on each side of the main waist pack pocket are 3″ wide and 7″ deep (8 cm by 18 cm). The Cayenne has more pockets than probably any other motorcycle jacket made.
About that trip to Bangui?  Who needs luggage?!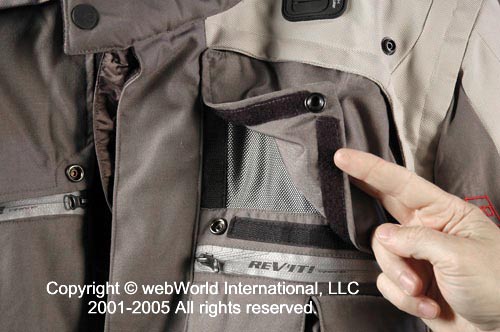 More Vents
In addition to the front vents mentioned above, the Cayenne has two 6″ long (15 cm) vents on the front of each arm with a zipper opening (see slide show arm photo).
The arms also have two dual-position cinch straps with snaps to snug up the fabric, designed to keep the CE-approved elbow armor in place. Two rear shoulder vents can also be opened with zippers (see slide show rear vent photo).
Conclusion
Did I miss anything? Probably…
There are sections of reflective striping here and there; lots of elastic in the sides of the jacket; zippered sleeve cuffs; large "hook and loop" closures for the cuffs; and CE-approved hard armor in the elbows and shoulders.
To paraphrase the back-from-the-dead Lee Iacocca, "If there's a higher-tech, better made jacket out there, buy it!"
I'm convinced that the Cayenne jacket and Ultimate pants combination will serve more purposes over a wider range of temperatures, climates and geography than any other motorcycle riding outfit available.
While the price may seem high, the functionality of this jacket (and pants combo) is without peer. It's like getting 3 sets of clothing in one.
w

BW

 Review: REV'IT! Cayenne Jacket
Manufacturer: REV'IT! 
List Price (2005): $499.99
Colors: Black, Gray/Black, Gray/Red
Made In: China
Sizes: XS-3XL
Review Date: August 2005
Product Comments: Total weight with both liners, size XL is 7 lbs. (3.2 kg).
Note: Item provided by a retailer, distributor or manufacturer with these Terms and Conditions.
Note:
 For informational use only. All material and photographs are Copyright © webWorld International, LLC since 2000. All rights reserved. See the webBikeWorld® 
Site Info page
. Product specifications, features and details may change or differ from our descriptions. Always check before purchasing. Read the
Terms and Conditions
!
Owner Comments and Feedback
---
From "D.H." (7/09): "After three plus years and maybe 30,000 miles of using the REV'IT! Cayenne and Ultimate Pants, I feel the need to share my experience with the gear and company.
Here is my story of my recent communication with the "company" and the results.
I bought the gear for the protection, ventilation, pockets and all the other features mentioned on your website. The Cayenne is a good fitting jacket with great ventilation. It is comfortable and looks good.
At the time it seemed fair to pay the price for what seemed to be a good value compared to competitive products.
Within the next twelve months, REV'IT! stood behind their product and replaced the Ultimate Pants because rivets holding the waist line adjusters detached from the material.
That was fine by me and I continued to be very happy with the product and service. I was so happy I bought a full summer suit for my wife and she already had a Rukka three season suit.
Later that year I got caught in a medium rain with the liners in the pants and jacket, the water never seemed to hesitate in finding its way to my crotch.
I contacted REV'IT! via the internet and inquired as to how they recommended wearing the gear so that a person wouldn't get wet. I never did hear back from them on that one. I did, however return to the place of purchase and they were more than happy to replace the liner.
Next time out, I had same results. Oh, well back to the rain gear. One of the key reasons I bought the gear was to avoid doing just that.
This led me to begin the process of researching the issue thinking mine was an isolated incident and my problem alone.
It seems I'm not the only one with the complaint. The internet has several comments about leaking REV'IT! riding gear and failed, faulty or design issues.
This spring, I attended an open house at the original place of purchase to find the company rep there. I spoke with him at length and told him of my woes.
Being in sales myself, I will tell you if I were in a position to hire someone, he would be the type of person I would want working for me.
Very open, seemingly honest and responsive. He handed me a card and told me to contact him if I so desired.
Shortly afterward, as though that conversation placed a hex on me and the jacket, the Cayenne began to have significant problems other than normal wear and tear.
The collar adjuster broke, the loops used to hold the rain liner in the sleeves failed and the Velcro used to adjust the sleeve opening delaminated.
I contacted the company rep who eventually put me in touch with a person who offered to send me a $3 replacement collar adjuster at no charge.
Okay, I admit this is outside the warranty period of one year but when you pay $800+ for riding gear, you expect it to last more than 3 years without significant issues.
The company also stated I could send the gear across country for repairs that might be slow in getting it back.
It is June and I'm leaving shortly for a two week trip. I've been patient to date but now time is critical. That is not an option.
Being frustrated and some of my final decision made based on the review on your website recommendations, I thought it best to help you maintain your credibility with a "real world" account of what to expect from Rev'It the company and their riding gear.
Granted, it looks great but buyers beware. The proof is in the ownership experience. I've had my fill of the REV'IT! claim of quality. I had a Chevy Vega that held up better than this stuff.
The Pros
Good looks.
Great ventilation.
Great storage.
Good adjustability on collar, sleeves and waist.
Great feature package (hydration, waterproof pockets, protection).
The Cons
Poor material quality. It might look good but don't be fooled.
Poor weatherproofing design. The liners leak and can't stop water from entering in anything more than a light rain.
Poor rain liner quality in both jacket and pants.
Poor sleeve liner fastening design.
The Velcro on the sleeve adjusters came apart from the rubber outer tab.
Poor waist adjuster design on Ultimate Pants.
Too heavy when wet.
Only a 1 year warranty.
Slow to no response from customer service. (It took 4 weeks to get an offer to mail me a $3 replacement part and it took several emails to get movement).
Material frays on sleeves as Velcro fasteners are opened and closed. (The same on my wife's REV'IT! jacket too).
Bulky thermal liner.
Poor collar adjuster quality (Mine broke).
Too expensive for the quality but a fair price at half the cost.
Can't hold up to the rigors of normal treatment for a mere 3 year, 30k miles."
---
From "B.A.":  "I own this jacket as well, and have worn it through a rather extreme range of conditions over the last 6 months. I love the jacket, but I have had a few issues with it.
Insulating liner: It's not terribly warm, it's thick, and it's poorly positioned. In fact, with the insulating liner in, it is nearly impossible to wear any gauntlet style gloves.
I have actually found it to be warmer, and more comfortable, to just leave the liner in the closet and use a thin fleece pullover underneath.
That at least allows me to have the fleece stop far enough up the sleeve to wear my REV'IT! Fahrenheit gloves (the old gauntlet ones, not the newer model).
Wet weather riding: The "waterproof" liner just doesn't cut it in truly heavy rain. I don't know if it's a flaw in the liner, or in the positioning of it, but you will get wet if it rains hard enough.
Even if you don't, the outer liner will still be soaked, making it rather uncomfortable to wear until it can finally dry out. If you're expecting really heavy rain in this gear, you need to bring some real rain gear to wear with it.
The stitching in the end of the sleeves of the liner isn't terribly durable either, and started coming apart after a few weeks of use. A quick visit to the tailor did fix that easily enough though.
Hot weather riding: FREAKING AWESOME!
I had a Joe Rocket Alter Ego 2.0 before I bought this, and this jacket, in grey, is actually more comfortable in 80-90 degree temps than the Alter Ego.
The interior mesh liner does an amazing job of circulating the air that comes in the vents. I do love this jacket, and don't regret buying it. But it does have its flaws."
Editor's Note:  Some motorcycle pants and jackets like the Cayenne have a non-waterproof outer shell and a waterproof liner, so the outer shell can become waterlogged but the liner is supposed to keep the water off the rider.
The advantage of the removable waterproof liner is that it can be removed in warm (and dry) weather, which allows better air flow.
---
From "S.C.":  "I appears that REV'IT! changed the material they use for the outer shell of the Cayenne jacket since your review was posted. I just purchased a Cayenne and the outer shell is made from Schoeller Dynatec instead of Keprotec.
The REV'IT! web sites also list the outer shell as being Dynatec. The Schoeller site (see the .pdf file) implies Dynatec falls somewhere in between Cordura and Keprotec."