Future motorcycles may not need mirrors with this Revan helmet-mounted live-feed camera that screens images to a head-up display (HUD).
Some may find this bulky camera and HUD device as a safety feature that eliminates blind spots while others may view it as a dangerous distraction.
The Revan system includes an intercom for VoIP-based group calling and bluetooths to your phone so you can hear GPS instructions, take and make calls and listen to music.
Crowd funding
Revan hopes to take this to market through a Kickstarter crowd-funding campaign which has already more than doubled its $47,689 goal with 32 days still to go.
The South Korean developers claim it will cost $US999 (about $A1600) or $US699 (about $A1130) for early supporters.
However, there is no timeline for when the product will be produced and delivered.
We warn potential supporters of Kickstarter crowd-funding campaigns that they do not issue a refund. Backers will have to contact the campaigner for a refund, put a stop to their payment or cancel their credit card.
How Revan works
The Revan system is the most bulky camera or HUD system we have yet seen.
It features a big battery unit on the back and large camera on top of the helmet, plus speakers inside the helmet all connected by messy wiring.
We have to wonder about the dangerous rotation of your head in a crash and the damage that could cause to your spine.
Under coming European helmet regulations, this unit would have to be tested with helmets to be approved for sale.
The unit has two batteries with 7000 mAh of power that last 12 hours. The battery unit features built-in LED lights for night visibility.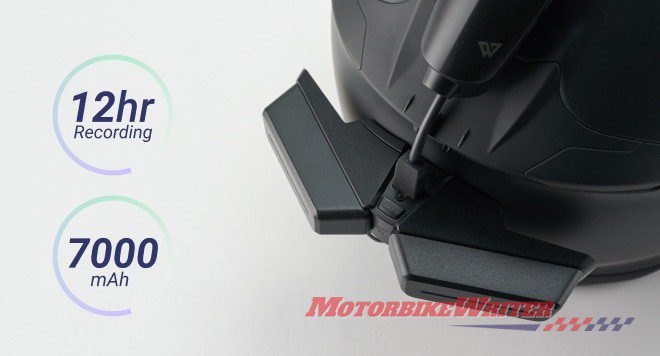 Revan's 1080p HD camera provides a 143° field of vision.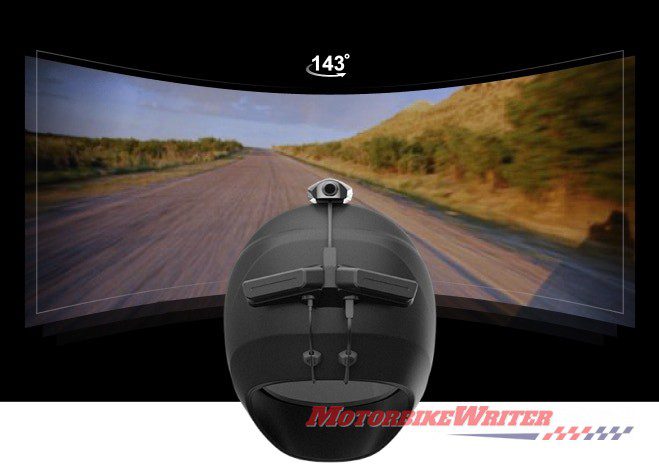 It can be operated by a Bluetooth remote control that get on your handlebars.
Or you can simply nod your head a couple of times to activate the front and rear cameras.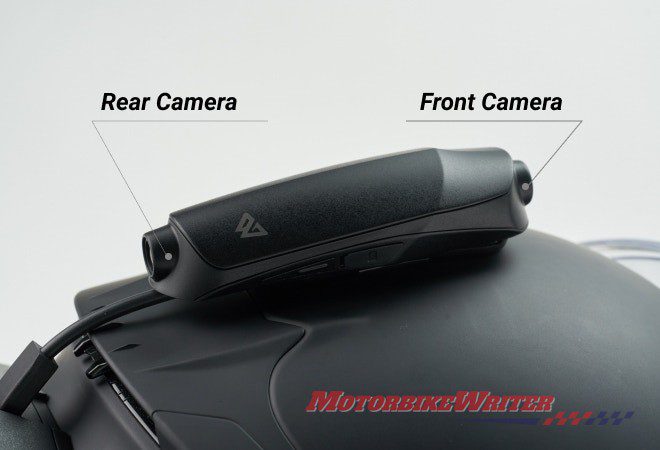 It not only shows the live feed on the periphery HUD screen, but also records it like a dashcam.
There is also a phone app that allows you to watch a live feed, set up group calls or adjust the camera settings.
The live feed facility could even replace conventional mirrors in future, although we would feel better about using our mirrors.
Also in the future, they plan to include navigation as well as real-time streaming so your loved ones can sit at home and keep track of your ride!