REV'IT! and GORE-TEX Motorcycle Product Test Team
REV'IT!! and GORE-TEX to Create "Test Team"
to Evaluate New Motorcycle Clothing
REV'IT! and GORE-TEX Test Team
January 4, 2010 – REV'IT! Sport International and GORE-TEX have now formed the motorcycle apparel industry's first prototype and product development test team composed exclusively of rider-enthusiasts (see article below).
"The purpose of this team is to learn firsthand how our products are used, how they perform in real world conditions, and what the perceived success of these new products will be in the market" said Jordan Levitt, REV'IT!'s North American Director.
Both REV'IT! and GORE-TEX are market leading brands, with a focus on new technologies which will improve the quality, comfort and safety of motorcycle apparel.
Colin Bell, Motorsports Garments, GORE-TEX said "We are delighted to announce our new cooperation with the Netherlands based brand REV'IT!. REV'IT! is a well known and respected motorcycle apparel brand globally, thanks to their innovative and stylish designs and their proactive approach to garment technology and functionality.
We believe that this proactively and focus makes REV'IT! and GORE-TEX products a very complimentary partnership and we are very optimistic about our future business together".
The process is as follows: Riders who are interested in becoming part of the team may fill out an extensive survey at motorcyclelab.com where they will input information about their riding habits, clothing sizes and other information allowing REV'IT! and GORE-TEX to assemble the team.
The initial pool of riders is expected to be from 300-500 selectees, which will be divided into groups of 50 team members.
These team members will receive products for testing, and will be expected to complete a product specific performance log on a regular basis during the life of the test. This data will be used to improve the products prior to the introduction to the market.
According to Mr. Levitt, riders are often vocal concerning their desires, likes and dislikes in regards to motorcycle apparel.
"For the first time ever, we are allowing them to become part of the development process. It's very exciting for us to have direct rider interaction and we expect that it will be exciting for the team members as well".
To apply to become a test team member, simply go to motorcyclelab.com and apply.
---
December 2009 – REV'IT! and GORE-TEX: two of the best-known brands in performance motorcycle gear. And now they've formed a partnership to develop and test the next generation of REV'IT! and GORE-TEX waterproof and breathable products specifically designed for motorcyclists.
Jordan Levitt, the Director of Operations for REV'IT! U.S.A. described the new REV'IT! GORE-TEX "Test Team" during my recent visit to their New York headquarters to view the REV'IT! 2010 lineup.
"Feedback from our customers has always been a part of the REV'IT! and GORE-TEX new product development process and both companies are always looking for better ways to connect. The Test Team concept will take it to the next level by getting real-world feedback on new gear at the right time — before it goes into production and hits the dealers' shelves" he said.
REV'IT! will manage the Test Team and they'll be looking for highly experienced riders who are interested in volunteering to evaluate and provide feedback on new motorcycle gear that will incorporate technologies from REV'IT! and GORE-TEX.
Details are still being worked out at this time, but REV'IT! envisions a group of approximately 300 motorcyclists who will make up the group, which will be divided into sub-groups to evaluate products such as boots, gloves, jackets, pants and other types of clothing.
The Test Team development riders will have to meet certain criteria, which are still being developed. The criteria might include factors such as long-distance riding, riding in hot, cold and/or wet climates (and a combination of the above!), miles ridden per year, etc.
Once the criteria have been developed, interested motorcyclists will be required to submit an application and the Test Team members will be chosen from the pool of applicants.
The benefits for the Team members will include access to the latest clothing and technologies and the ability to provide feedback that will be used to help develop the new products.
The REV'IT! Test Team concept is an outcome of another recent event; REV'IT! announced they have received a GORE-TEX license from W.L. Gore & Associates, which will allow them to include the latest GORE-TEX technologies in their clothing, such as the new GORE-TEX Lockout closure system recently described on webBikeWorld, which will soon find its way into new REV'IT! products.
GORE-TEX is very careful about releasing new licenses to ensure the highest level of quality and performance; in fact, GORE-TEX has been known to cancel the license for motorcycle clothing manufacturers who fail to meet GORE-TEX quality or performance standards. So this new license for REV'IT! is a major accomplishment and a measure of confidence in REV'IT! products.
I think the Test Team concept is an excellent idea, because it will help create a formal process for obtaining user feedback during the product development process.
More information on the REV'IT! and GORE-TEX Test Team will be forthcoming and you'll learn about it here!  REV'IT! will be organizing this project and we'll let you know the details on how to submit applications when they're ready.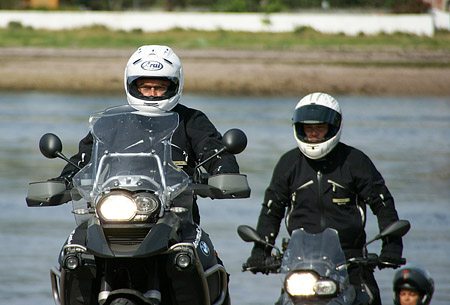 Note:
 For informational use only. All material and photographs are Copyright © webWorld International, LLC since 2000. All rights reserved. See the webBikeWorld® 
Site Info page
. Product specifications, features and details may change or differ from our descriptions. Always check before purchasing. Read the
Terms and Conditions
!
Owner Comments and Feedback
---
From "N.C." (12/09):  "I have read the article about the product test team if headed right it should be a good leap forward and better thinking and applying of better waterproofing to jackets!
Pity I did not live in America maybe they should do it in England too. I have always thought a manufacturer of motorbike gear should real world test things out among the biking community. After all, how many times have people said I wish this was made better with this added, so now the time to add your two cent's worth."