One of the most important findings of the Hurt study was that motorcycle visibility is extremely important.  There have been so many accidents caused by other drivers who's excuse was "But officer, I didn't see the motorcycle!"
Visibility is important during the day, and more so when it gets dark.  My feeling is that when you're sitting on your motorcycle, the highest parts will be the most visible.  I distinctly remember seeing a cruiser rider decked out entirely in black, but wearing a "safety orange" Shoei RF-900 helmet.
I was stopped at a light and he was headed perpendicular to me on the cross-street.  I caught the helmet color with my peripheral vision before I even knew it was a motorcyclist.  As I watched him fade off into the distance, that helmet stuck out like a beacon.
You may not want to own a safety orange helmet, and in fact, it's my understanding that Shoei doesn't offer the RF-900 in that color any more, but you can (and should) make your helmet — and your bike — more visible to others.  And why not have a bit of fun doing some customizing at the same time?
There are many retro-reflective products out there, but these items from FlashBack are simple, inexpensive, and easy to apply.  And, hey, those flag stickers are really cool!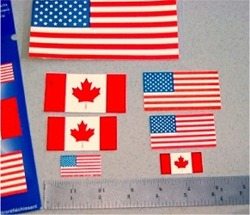 The products come in a variety of sizes and shapes; you can get plain 1″ wide lengths of tape, which you can cut to different sizes and shapes.  Or you can get 1/4″ pin striping tape, which works great on helmets or to outline saddlebags.
The flags are a nice touch for the back of helmets or bikes, and they come in different sizes also, or you can purchase variety packs, each containing several different sizes.  The flags would make nice gifts or giveaways at motorcycling events!
The FlashBack products are high quality, and made from 3M reflective stock.  They contain over 45,000 micro-reflectors in each square inch (6 cm2) of material.
If your motorcycle jacket doesn't have any reflective tape built in, FlashBack also offers retro-reflective safety vests and sew-on retro-reflective tape.    My advice: buy a bunch of this stuff and have at it!
I wanted to take these photos (below) from 40 or 50 feet away, but my camera wouldn't focus at those distances at night.  But you can get an idea of the difference the FlashBack products can make for visibility.
| | |
| --- | --- |
| | |
| Photo 1 | Photo 2 |
Photo 1 (left) is the bare helmet; the camera flash is visible as a reflection, but needs to be discounted, as this wouldn't appear at night.
Photo 2 (right) illustrates the brightness of the yellow 1/4″ tape.
The photos below are a slightly better rendition — Photo 3 (left) shows the helmet with the Canadian flag (lower) and the American flag (upper).  These photos are un-retouched, so you can see that both flags offer a pretty bright reflective flash.  Photo 4 (right) adds a strip of white reflective tape above the flags.
You can see that if it weren't for the reflective products, it would be pretty dark — you might never see the helmet.
| | |
| --- | --- |
| | |
| Photo 3 | Photo 4 |
Note:  For informational use only.  All material and photographs are Copyright © webWorld International, LLC – 2000-2011.  All rights reserved.  See the webBikeWorld® Site Info page.  NOTE:  Product specifications, features and details may change or differ from our descriptions.  Always check before purchasing.  Read the Terms and Conditions!
Product Review:  

FlashBack Retro-Reflective Stickers and Decals
Available From:  FlashBack
Made in:  Canada
Suggested Retail Price:  Trim package: $2.49; 1/4″ x 200″ roll of tape: $3.99; flag stickers from $0.80 to $3.99.
Colors:  Various colors, including red, yellow, white, silver, green and blue.
Product Comments:  Inexpensive, easy to apply, good reflectivity.  The problem is finding enough space on your helmet or bike to put them all!
More:  

w

BW

 Motorcycle Helmet Page  |  Motorcycle Accessory Page  |  See Below for visitor comments about Flashback products
Owner Comments
Owner Comments
wBW Visitor "J.M.":  "Rick, Bought a bunch of their stuff and it is fantastic stuff. I used a reflective flag and the wide white tape on the back of my helmet. I looks like a skunk but the tape makes a huge difference."