Kawasaki Australia has recalled its new models of Ninja 400 (pictured) and Z400 learner-approved motorcycles over an issue that could cause them to stall.
The official notice issued through the Australian Competition and Consumer Commission says the strength of the camshaft chain tensioner may be insufficient due to a manufacturing fault. 
"This may cause the engine to generate abnormal noises, and in some cases the engine to stall," it says.
"If the engine stalls, this increases the risk of injury or death to rider(s) and/or other road users."
The issue affects 2021 Ninja 400 models and 2020/21 Z400.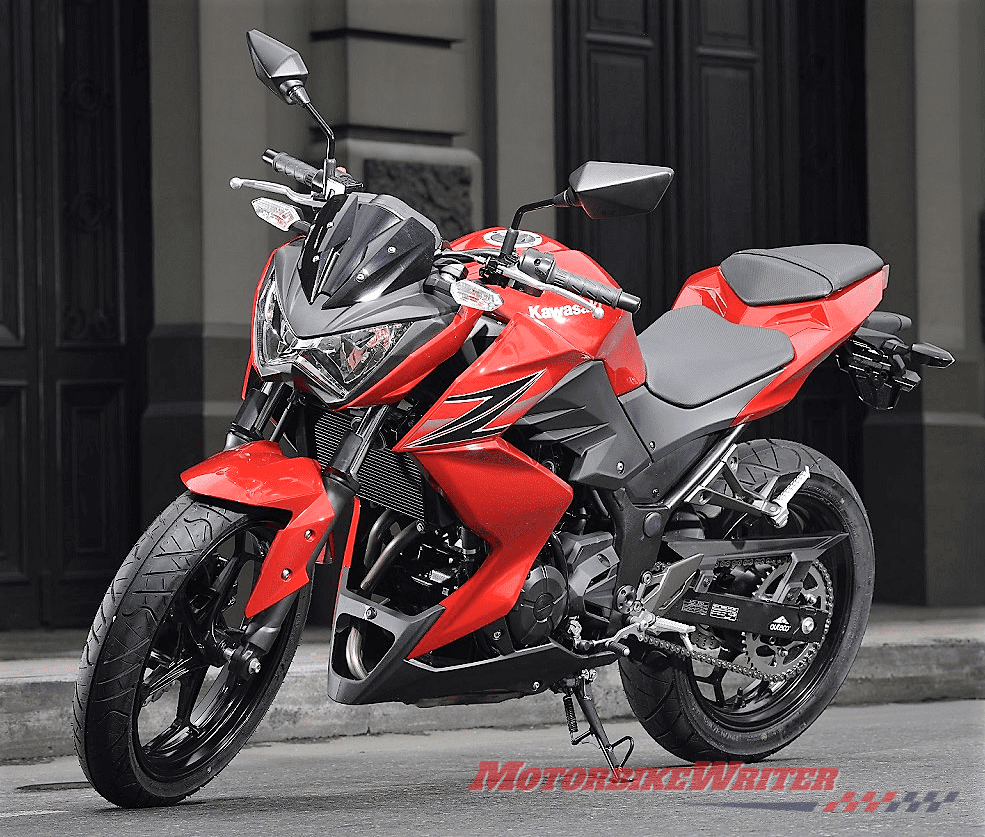 Vehicle identification numbers (VINs) of the 504 affected bikes are listed at the end of this article.
Kawasaki Motors will notify known owners by letter or email and advise them to make an appointment for a free repair.
Even though manufacturers and importers usually contact owners when a recall is issued, the bike may have been sold privately to a rider unknown to the company.
Therefore, Motorbike Writer publishes all motorcycle and scooter recalls as a service to all riders.
If you believe there is an endemic problem with your bike that should be recalled, contact the ACCC on 1300 302 502.
To check whether your motorcycle has been recalled, click on these sites:
VINS of affected bikes
| | |
| --- | --- |
| ModelCode | Frame/VIN |
| EX400GMFAN | JKAEXKG17MDA95597 |
| EX400GMFAN | JKAEXKG16MDA94716 |
| ER400DMFNN | JKAERKD1XMDA94815 |
| ER400DLF | JKAERKD16LDA90310 |
| EX400GMFAN | JKAEXKG13MDA95614 |
| EX400GMFAN | JKAEXKG18MDA98895 |
| EX400GMFAN | JKAEXKG13MDA95595 |
| EX400GMFNN | JKAEXKG1XMDA98543 |
| ER400DMFNN | JKAERKD12MDA94825 |
| EX400GMFNN | JKAEXKG10MDA94582 |
| EX400GMFAN | JKAEXKG10MDA98275 |
| EX400GMFNN | JKAEXKG15MDA95369 |
| ER400DMFNN | JKAERKD17MDA95873 |
| EX400GMFAN | JKAEXKG18MDA95592 |
| EX400GMFAN | JKAEXKG11MDA94719 |
| EX400GMFAN | JKAEXKG11MDA98270 |
| EX400GMFAN | JKAEXKG14MDA94715 |
| EX400GMFAN | JKAEXKG10MDA94727 |
| EX400GMFAN | JKAEXKG18MDA98878 |
| EX400GMFAN | JKAEXKG11MDA94722 |
| EX400GMFAN | JKAEXKG12MDA95636 |
| ER400DLF | JKAERKD17LDA90297 |
| EX400GMFAN | JKAEXKG16MDA98877 |
| ER400DMFNN | JKAERKD16MDA94830 |
| EX400GMFAN | JKAEXKG16MDA94733 |
| EX400GMFAN | JKAEXKG15MDA94741 |
| EX400GMFAN | JKAEXKG10MDA94744 |
| EX400GMFAN | JKAEXKG17MDA95650 |
| EX400GMFNN | JKAEXKG18MDA94586 |
| EX400GMFNN | JKAEXKG13MDA95368 |
| ER400DMFNN | JKAERKD19MDA95874 |
| EX400GMFAN | JKAEXKG19MDA98291 |
| EX400GMFAN | JKAEXKG12MDA94731 |
| EX400GMFNN | JKAEXKG16MDA95977 |
| EX400GMFAN | JKAEXKG18MDAA0377 |
| EX400GMFAN | JKAEXKG12MDA95622 |
| EX400GMFAN | JKAEXKG1XMDA97974 |
| EX400GMFAN | JKAEXKG18MDA98279 |
| ER400DMFNN | JKAERKD1XMDA94829 |
| EX400GMFAN | JKAEXKG11MDA98267 |
| EX400GMFAN | JKAEXKG15MDA98272 |
| EX400GMFNN | JKAEXKG19MDA98064 |
| EX400GMFNN | JKAEXKG1XMDA95979 |
| EX400GMFAN | JKAEXKG12MDA94714 |
| EX400GMFAN | JKAEXKG1XMDA94735 |
| EX400GMFNN | JKAEXKG19MDA95357 |
| EX400GMFAN | JKAEXKG10MDA97983 |
| ER400DMFNN | JKAERKD10MDA95889 |
| EX400GMFAN | JKAEXKG14MDA95640 |
| EX400GMFNN | JKAEXKG12MDA94583 |
| ER400DMFNN | JKAERKD16MDA94794 |
| ER400DMFNN | JKAERKD13MDA94798 |
| EX400GMFAN | JKAEXKG13MDA97976 |
| ER400DMFNN | JKAERKD15MDA95872 |
| EX400GMFNN | JKAEXKG16MDA95980 |
| EX400GMFAN | JKAEXKG13MDA98884 |
| ER400DMFNN | JKAERKD18MDA95882 |
| EX400GMFAN | JKAEXKG14MDA94732 |
| ER400DMFNN | JKAERKD18MDA95879 |
| ER400DMFNN | JKAERKD12MDA94808 |
| EX400GMFNN | JKAEXKG16MDA94585 |
| EX400GMFAN | JKAEXKG16MDA98278 |
| EX400GMFNN | JKAEXKG17MDA95986 |
| EX400GMFNN | JKAEXKG11MDA95997 |
| EX400GMFNN | JKAEXKG18MDA95365 |
| EX400GMFNN | JKAEXKG11MDA96003 |
| ER400DMFNN | JKAERKD12MDA94811 |
| EX400GMFAN | JKAEXKG19MDA95603 |
| EX400GMFAN | JKAEXKG17MDA98273 |
| EX400GMFAN | JKAEXKG10MDA95599 |
| EX400GMFNN | JKAEXKG15MDA94576 |
| EX400GMFNN | JKAEXKG15MDA96005 |
| EX400GMFNN | JKAEXKG15MDA98059 |
| EX400GMFAN | JKAEXKG11MDA94736 |
| ER400DLF | JKAERKD19LDA90303 |
| EX400GMFNN | JKAEXKG15MDA95355 |
| EX400GMFAN | JKAEXKG17MDAA0371 |
| EX400GMFAN | JKAEXKG10MDA98289 |
| EX400GMFAN | JKAEXKG17MDA97981 |
| EX400GMFNN | JKAEXKG11MDA94588 |
| EX400GMFAN | JKAEXKG13MDA94740 |
| EX400GMFNN | JKAEXKG19MDA95360 |
| EX400GMFAN | JKAEXKG14MDA98294 |
| EX400GMFNN | JKAEXKG1XMDA94590 |
| EX400GMFAN | JKAEXKG16MDA98281 |
| EX400GMFAN | JKAEXKG13MDA96178 |
| EX400GMFNN | JKAEXKG14MDA95363 |
| ER400DMFNN | JKAERKD17MDA95856 |
| EX400GMFAN | JKAEXKG15MDAA0367 |
| ER400DMFNN | JKAERKD18MDA94814 |
| EX400GMFAN | JKAEXKG19MDA95598 |
| ER400DLF | JKAERKD11LDA90294 |
| EX400GMFNN | JKAEXKG12MDA95359 |
| EX400GMFAN | JKAEXKG12MDAA0374 |
| EX400GMFAN | JKAEXKG1XMDA94749 |
| EX400GMFAN | JKAEXKG17MDA95602 |
| ER400DMFNN | JKAERKD16MDA95881 |
| EX400GMFAN | JKAEXKG18MDA94734 |
| EX400GMFNN | JKAEXKG11MDA95353 |
| EX400GMFAN | JKAEXKG15MDA95646 |
| EX400GMFNN | JKAEXKG14MDA95976 |
| EX400GMFAN | JKAEXKG13MDA96181 |
| EX400GMFNN | JKAEXKG17MDA95356 |
| ER400DMFNN | JKAERKD11MDA94797 |
| EX400GMFAN | JKAEXKG15MDA97977 |
| ER400DMFNN | JKAERKD10MDA94810 |
| EX400GMFNN | JKAEXKG13MDA95998 |
| ER400DMFNN | JKAERKD18MDA94800 |
| EX400GMFNN | JKAEXKG13MDA94575 |
| EX400GMFNN | JKAEXKG19MDA98551 |
| EX400GMFAN | JKAEXKG14MDA98876 |
| EX400GMFAN | JKAEXKG15MDA95629 |
| EX400GMFAN | JKAEXKG13MDA98271 |
| EX400GMFNN | JKAEXKG12MDA95989 |
| ER400DMFNN | JKAERKD11MDA95867 |
| EX400GMFNN | JKAEXKG11MDA98060 |
| EX400GMFAN | JKAEXKG17MDA97978 |
| ER400DLF | JKAERKD15LDA90296 |
| EX400GMFAN | JKAEXKG14MDA98277 |
| EX400GMFAN | JKAEXKG10MDA98261 |
| ER400DMFNN | JKAERKD15MDA95886 |
| ER400DMFNN | JKAERKD15MDA94804 |
| EX400GMFNN | JKAEXKG18MDA98539 |
| EX400GMFAN | JKAEXKG15MDA96182 |
| EX400GMFAN | JKAEXKG14MDA98280 |
| EX400GMFAN | JKAEXKG13MDA94723 |
| EX400GMFAN | JKAEXKG13MDA95631 |
| EX400GMFNN | JKAEXKG19MDA96007 |
| EX400GMFAN | JKAEXKG19MDA98890 |
| EX400GMFNN | JKAEXKG12MDA98536 |
| EX400GMFAN | JKAEXKG15MDA98885 |
| EX400GMFNN | JKAEXKG12MDA95992 |
| EX400GMFAN | JKAEXKG15MDA95615 |
| EX400GMFNN | JKAEXKG18MDA98069 |
| EX400GMFAN | JKAEXKG10MDA94713 |
| EX400GMFAN | JKAEXKG16MDA95591 |
| EX400GMFAN | JKAEXKG17MDA95647 |
| EX400GMFAN | JKAEXKG1XMDA95609 |
| EX400GMFAN | JKAEXKG1XMDA94721 |
| EX400GMFAN | JKAEXKG17MDA95616 |
| EX400GMFAN | JKAEXKG18MDAA0363 |
| ER400DLF | JKAERKD18LDA90308 |
| EX400GMFNN | JKAEXKG17MDA94580 |
| EX400GMFAN | JKAEXKG19MDA97982 |
| EX400GMFNN | JKAEXKG15MDA95971 |
| EX400GMFNN | JKAEXKG1XMDA96002 |
| ER400DMFNN | JKAERKD18MDA94828 |
| EX400GMFAN | JKAEXKG15MDAA0370 |
| EX400GMFAN | JKAEXKG10MDA98888 |
| EX400GMFAN | JKAEXKG14MDA95637 |
| ER400DLF | JKAERKD1XLDA90293 |
| EX400GMFNN | JKAEXKG18MDA94572 |
| EX400GMFAN | JKAEXKG11MDAA0379 |
| EX400GMFNN | JKAEXKG10MDA98065 |
| EX400GMFNN | JKAEXKG16MDA94571 |
| EX400GMFAN | JKAEXKG16MDA95638 |
| EX400GMFAN | JKAEXKG16MDA98894 |
| EX400GMFNN | JKAEXKG16MDA98541 |
| ER400DMFNN | JKAERKD10MDA94824 |
| ER400DMFNN | JKAERKD17MDA94819 |
| EX400GMFAN | JKAEXKG16MDA98295 |
| EX400GMFNN | JKAEXKG11MDA98074 |
| EX400GMFAN | JKAEXKG18MDA94720 |
| EX400GMFAN | JKAEXKG16MDA98880 |
| EX400GMFAN | JKAEXKG15MDA94724 |
| EX400GMFAN | JKAEXKG19MDA97979 |
| EX400GMFAN | JKAEXKG19MDA94743 |
| ER400DMFNN | JKAERKD11MDA94802 |
| EX400GMFNN | JKAEXKG12MDA98066 |
| ER400DMFNN | JKAERKD1XMDA94796 |
| EX400GMFAN | JKAEXKG19MDAA0369 |
| ER400DLF | JKAERKD10LDA90299 |
| EX400GMFAN | JKAEXKG14MDA97971 |
| EX400GMFNN | JKAEXKG14MDA94584 |
| ER400DMFNN | JKAERKD13MDA94817 |
| EX400GMFAN | JKAEXKG1XMDA97988 |
| ER400DLF | JKAERKD18LDA90292 |
| EX400GMFAN | JKAEXKG1XMDA95626 |
| EX400GMFAN | JKAEXKG18MDA98282 |
| EX400GMFAN | JKAEXKG11MDA95594 |
| EX400GMFAN | JKAEXKG18MDA97987 |
| EX400GMFAN | JKAEXKG18MDA98265 |
| EX400GMFNN | JKAEXKG16MDA98071 |
| EX400GMFNN | JKAEXKG14MDA98070 |
| ER400DMFNN | JKAERKD16MDA95864 |
| ER400DMFNN | JKAERKD10MDA94807 |
| ER400DLF | JKAERKD15LDA90301 |
| EX400GMFNN | JKAEXKG1XMDA98056 |
| EX400GMFAN | JKAEXKG14MDA94729 |
| ER400DMFNN | JKAERKD14MDA94793 |
| ER400DMFNN | JKAERKD16MDA94813 |
| EX400GMFNN | JKAEXKG10MDA95361 |
| EX400GMFNN | JKAEXKG14MDA95993 |
| ER400DMFNN | JKAERKD12MDA95862 |
| EX400GMFAN | JKAEXKG1XMDA98266 |
| EX400GMFNN | JKAEXKG19MDA95990 |
| ER400DMFNN | JKAERKD11MDA95884 |
| EX400GMFAN | JKAEXKG12MDA98262 |
| ER400DMFNN | JKAERKD14MDA94809 |
| EX400GMFAN | JKAEXKG18MDA95639 |
| ER400DLF | JKAERKD10LDA90304 |
| EX400GMFAN | JKAEXKG19MDA94712 |
| EX400GMFAN | JKAEXKG18MDA94717 |
| EX400GMFNN | JKAEXKG18MDA95351 |
| EX400GMFAN | JKAEXKG19MDA98288 |
| EX400GMFNN | JKAEXKG17MDA95972 |
| EX400GMFAN | JKAEXKG11MDA97989 |
| ER400DMFNN | JKAERKD18MDA94795 |
| EX400GMFAN | JKAEXKG17MDA96183 |
| EX400GMFAN | JKAEXKG15MDA98286 |
| EX400GMFNN | JKAEXKG1XMDA95352 |
| ER400DMFNN | JKAERKD10MDA95858 |
| EX400GMFNN | JKAEXKG15MDA95985 |
| ER400DMFNN | JKAERKD16MDA95878 |
| EX400GMFNN | JKAEXKG11MDA95370 |
| EX400GMFNN | JKAEXKG16MDA98068 |
| EX400GMFAN | JKAEXKG12MDA94728 |
| EX400GMFNN | JKAEXKG13MDA98061 |
| EX400GMFAN | JKAEXKG11MDA95630 |
| EX400GMFAN | JKAEXKG17MDA98287 |
| ER400DLF | JKAERKD14LDA90306 |
| EX400GMFAN | JKAEXKG19MDA94726 |
| ER400DMFNN | JKAERKD1XMDA95866 |
| EX400GMFAN | JKAEXKG13MDA98285 |
| ER400DMFNN | JKAERKD17MDA95887 |
| EX400GMFNN | JKAEXKG12MDA95362 |
| EX400GMFAN | JKAEXKG14MDA95606 |
| EX400GMFAN | JKAEXKG11MDA97975 |
| ER400DMFNN | JKAERKD14MDA94812 |
| EX400GMFAN | JKAEXKG1XMDA95643 |
| EX400GMFAN | JKAEXKG15MDA97980 |
| EX400GMFNN | JKAEXKG16MDA95364 |
| EX400GMFAN | JKAEXKG1XMDA96176 |
| ER400DMFNN | JKAERKD13MDA95854 |
| ER400DMFNN | JKAERKD17MDA95890 |
| ER400DMFNN | JKAERKD17MDA94822 |
| EX400GMFNN | JKAEXKG13MDA98075 |
| EX400GMFAN | JKAEXKG17MDA94739 |
| EX400GMFAN | JKAEXKG1XMDA98882 |
| ER400DMFNN | JKAERKD11MDA95870 |
| EX400GMFAN | JKAEXKG19MDA95617 |
| EX400GMFAN | JKAEXKG1XMDA98879 |
| EX400GMFAN | JKAEXKG12MDA98889 |
| EX400GMFAN | JKAEXKG19MDA98274 |
| EX400GMFAN | JKAEXKG11MDA98883 |
| EX400GMFAN | JKAEXKG16MDAA0376 |
| ER400DMFNN | JKAERKD18MDA95851 |
| EX400GMFNN | JKAEXKG1XMDA98073 |
| EX400GMFAN | JKAEXKG19MDA95620 |
| ER400DLF | JKAERKD16LDA90291 |
| ER400DMFNN | JKAERKD13MDA95868 |
| EX400GMFAN | JKAEXKG13MDA94737 |
| ER400DMFNN | JKAERKD15MDA95855 |
| EX400GMFAN | JKAEXKG19MDAA0372 |
| ER400DMFNN | JKAERKD13MDA95871 |
| EX400GMFAN | JKAEXKG14MDA95623 |
| EX400GMFAN | JKAEXKG14MDAA0361 |
| EX400GMFAN | JKAEXKG11MDA95627 |
| EX400GMFAN | JKAEXKG16MDA95607 |
| EX400GMFAN | JKAEXKG17MDA98256 |
| EX400GMFAN | JKAEXKG12MDA94745 |
| EX400GMFNN | JKAEXKG11MDA95983 |
| EX400GMFAN | JKAEXKG10MDA95635 |
| EX400GMFAN | JKAEXKG11MDA98284 |
| EX400GMFAN | JKAEXKG11MDA95644 |
| EX400GMFNN | JKAEXKG18MDA98072 |
| EX400GMFAN | JKAEXKG18MDA97990 |
| EX400GMFAN | JKAEXKG10MDA95649 |
| EX400GMFAN | JKAEXKG17MDA98886 |
| EX400GMFAN | JKAEXKG1XMDA95612 |
| EX400GMFAN | JKAEXKG13MDAA0366 |
| EX400GMFAN | JKAEXKG14MDA96173 |
| EX400GMFNN | JKAEXKG13MDA94589 |
| EX400GMFAN | JKAEXKG11MDA96180 |
| EX400GMFAN | JKAEXKG19MDA95634 |
| ER400DMFNN | JKAERKD12MDA94792 |
| EX400GMFAN | JKAEXKG10MDA95621 |
| EX400GMFAN | JKAEXKG19MDA98257 |
| EX400GMFAN | JKAEXKG17MDAA0368 |
| EX400GMFAN | JKAEXKG14MDA98263 |
| ER400DMFNN | JKAERKD15MDA95869 |
| EX400GMFNN | JKAEXKG13MDA95354 |
| EX400GMFNN | JKAEXKG13MDA98058 |
| ER400DMFNN | JKAERKD13MDA94803 |
| ER400DMFNN | JKAERKD14MDA94826 |
| EX400GMFAN | JKAEXKG16MDA97972 |
| ER400DLF | JKAERKD13LDA90295 |
| EX400GMFNN | JKAEXKG12MDA95975 |
| EX400GMFAN | JKAEXKG18MDA94748 |
| EX400GMFAN | JKAEXKG16MDAA0362 |
| EX400GMFNN | JKAEXKG11MDA98057 |
| EX400GMFAN | JKAEXKG18MDA95611 |
| EX400GMFNN | JKAEXKG17MDA98063 |
| ER400DMFNN | JKAERKD10MDA95861 |
| EX400GMFAN | JKAEXKG13MDA95600 |
| EX400GMFNN | JKAEXKG19MDA98548 |
| EX400GMFAN | JKAEXKG19MDA98260 |
| EX400GMFAN | JKAEXKG18MDA95608 |
| EX400GMFAN | JKAEXKG10MDA94730 |
| ER400DMFNN | JKAERKD17MDA94805 |
| EX400GMFAN | JKAEXKG14MDA98893 |
| EX400GMFNN | JKAEXKG13MDA96004 |
| EX400GMFAN | JKAEXKG1XMDAA0364 |
| ER400DMFNN | JKAERKD15MDA94818 |
| EX400GMFAN | JKAEXKG11MDA96177 |
| EX400GMFNN | JKAEXKG17MDA94577 |
| EX400GMFAN | JKAEXKG10MDA98292 |
| EX400GMFAN | JKAEXKG16MDA96188 |
| ER400DMFNN | JKAERKD14MDA95877 |
| EX400GMFAN | JKAEXKG1XMDA94718 |
| EX400GMFNN | JKAEXKG11MDA95367 |
| ER400DMFNN | JKAERKD16MDA94827 |
| EX400GMFNN | JKAEXKG19MDA94578 |
| EX400GMFAN | JKAEXKG18MDAA0380 |
| ER400DMFNN | JKAERKD14MDA95863 |
| ER400DMFNN | JKAERKD15MDA94821 |
| EX400GMFAN | JKAEXKG16MDA94747 |
| EX400GMFAN | JKAEXKG18MDA95625 |
| EX400GMFAN | JKAEXKG12MDA97984 |
| EX400GMFNN | JKAEXKG11MDA94574 |
| EX400GMFNN | JKAEXKG14MDA98067 |
| ER400DLF | JKAERKD16LDA90307 |
| EX400GMFAN | JKAEXKG10MDA95618 |
| ER400DMFNN | JKAERKD12MDA95859 |
| EX400GMFAN | JKAEXKG16MDA97986 |
| EX400GMFAN | JKAEXKG11MDA95613 |
| ER400DMFNN | JKAERKD14MDA95880 |
| EX400GMFNN | JKAEXKG19MDA96010 |
| ER400DLF | JKAERKD1XLDA90309 |
| ER400DMFNN | JKAERKD12MDA95876 |
| EX400GMFNN | JKAEXKG12MDA96009 |
| ER400DMFNN | JKAERKD10MDA94791 |
| EX400GMFNN | JKAEXKG19MDA95973 |
| EX400GMFAN | JKAEXKG13MDA95628 |
| EX400GMFAN | JKAEXKG12MDA95619 |
| EX400GMFAN | JKAEXKG17MDA94711 |
| EX400GMFAN | JKAEXKG10MDA96185 |
| EX400GMFAN | JKAEXKG19MDA96184 |
| EX400GMFAN | JKAEXKG16MDA95610 |
| ER400DMFNN | JKAERKD11MDA95853 |
| ER400DMFNN | JKAERKD19MDA94823 |
| ER400DMFNN | JKAERKD10MDA95875 |
| EX400GMFAN | JKAEXKG10MDA98258 |
| EX400GMFNN | JKAEXKG19MDA94581 |
| ER400DLF | JKAERKD17LDA90302 |
| EX400GMFAN | JKAEXKG12MDA98892 |
| EX400GMFAN | JKAEXKG18MDA98881 |
| ER400DMFNN | JKAERKD11MDA94816 |
| ER400DMFNN | JKAERKD1XMDA94801 |
| ER400DMFNN | JKAERKD19MDA95857 |
| EX400GMFNN | JKAEXKG16MDA95994 |
| EX400GMFAN | JKAEXKG18MDA96189 |
| EX400GMFNN | JKAEXKG1XMDA95982 |
| ER400DMFNN | JKAERKD13MDA94820 |
| EX400GMFAN | JKAEXKG18MDA97973 |
| EX400GMFNN | JKAEXKG12MDA98553 |
| ER400DMFNN | JKAERKD13MDA95885 |
| EX400GMFAN | JKAEXKG13MDA95645 |
| EX400GMFAN | JKAEXKG16MDA95624 |
| ER400DMFNN | JKAERKD19MDA94806 |
| EX400GMFNN | JKAEXKG18MDA95981 |
| EX400GMFAN | JKAEXKG15MDA95632 |
| EX400GMFAN | JKAEXKG12MDA96172 |
| EX400GMFAN | JKAEXKG12MDA98276 |
| EX400GMFAN | JKAEXKG18MDA96175 |
| ER400DMFNN | JKAERKD1XMDA95852 |
| EX400GMFNN | JKAEXKG1XMDA94573 |
| ER400DLF | JKAERKD13LDA90300 |
| EX400GMFAN | JKAEXKG1XMDA95593 |
| EX400GMFAN | JKAEXKG17MDA94725 |
| ER400DMFNN | JKAERKD15MDA94799 |
| ER400DMFNN | JKAERKD18MDA95865 |
| EX400GMFAN | JKAEXKG14MDA94746 |
| EX400GMFAN | JKAEXKG12MDA98293 |
| EX400GMFAN | JKAEXKG11MDAA0365 |
| EX400GMFAN | JKAEXKG19MDA98887 |
| EX400GMFAN | JKAEXKG16MDA96174 |
| EX400GMFAN | JKAEXKG12MDA98259 |
| EX400GMFAN | JKAEXKG12MDA95605 |
| EX400GMFAN | JKAEXKG10MDAA0373 |
| EX400GMFAN | JKAEXKG15MDA94738 |
| EX400GMFAN | JKAEXKG12MDA96186 |
| EX400GMFNN | JKAEXKG13MDA95984 |
| EX400GMFAN | JKAEXKG10MDA95604 |
| EX400GMFNN | JKAEXKG15MDA95999 |
| EX400GMFAN | JKAEXKG16MDA94750 |
| EX400GMFNN | JKAEXKG16MDA98538 |
| EX400GMFAN | JKAEXKG15MDA98269 |
| ER400DMFNN | JKAERKD19MDA95888 |
| EX400GMFNN | JKAEXKG15MDA98062 |
| ER400DLF | JKAERKD19LDA90298 |
| ER400DMFNN | JKAERKD1XMDA95883 |
| ER400DLF | JKAERKD12LDA90305 |
| EX400GMFNN | JKAEXKG10MDA94579 |
| EX400GMFAN | JKAEXKG15MDA95601 |
| EX400GMFAN | JKAEXKG1XMDAA0378 |
| EX400GMFAN | JKAEXKG1XMDA98283 |
| EX400GMFAN | JKAEXKG14MDA97985 |
| EX400GMFAN | JKAEXKG18MDA95642 |
| EX400GMFAN | JKAEXKG19MDA95648 |
| EX400GMFAN | JKAEXKG15MDA95596 |
| EX400GMFAN | JKAEXKG14MDA96190 |
| ER400DMFNN | JKAERKD19MDA95860 |
| EX400GMFAN | JKAEXKG17MDA94742 |
| EX400GMFAN | JKAEXKG16MDA95641 |
| EX400GMFAN | JKAEXKG10MDA96171 |
| EX400GMFAN | JKAEXKG13MDA98268 |
| EX400GMFAN | JKAEXKG17MDA98290 |
| EX400GMFAN | JKAEXKG17MDA95633 |
| EX400GMFNN | JKAEXKG1XMDA94587 |
| EX400GMFNN | JKAEXKG10MDA95358 |
| EX400GMFAN | JKAEXKG16MDA98264 |
| EX400GMFAN | JKAEXKG10MDA98891 |
| EX400GMFAN | JKAEXKG15MDA96179 |
| EX400GMFAN | JKAEXKG14MDA96187 |
| ER400DMFNN | JKAERKD16MDAA3454 |
| EX400GMFNN | JKAEXKG14MDAA3910 |
| EX400GMFAN | JKAEXKG1XMDAA3197 |
| ER400DMFNN | JKAERKD13MDAA4268 |
| EX400GMFNN | JKAEXKG11MDAA3167 |
| EX400GMFNN | JKAEXKG18MDAA3165 |
| ER400DMFNN | JKAERKD19MDAA4274 |
| ER400DMFNN | JKAERKD17MDAA4273 |
| EX400GMFNN | JKAEXKG19MDAA3904 |
| EX400GMFNN | JKAEXKG11MDAA3914 |
| EX400GMFNN | JKAEXKG17MDAA3917 |
| ER400DMFNN | JKAERKD14MDAA4263 |
| ER400DMFNN | JKAERKD12MDAA4276 |
| EX400GMFNN | JKAEXKG18MDAA3179 |
| EX400GMFNN | JKAEXKG14MDAA3177 |
| ER400DMFNN | JKAERKD18MDAA4279 |
| EX400GMFNN | JKAEXKG1XMDAA3913 |
| ER400DMFNN | JKAERKD15MDAA4272 |
| EX400GMFAN | JKAEXKG14MDAA0375 |
| ER400DMFNN | JKAERKD19MDAA3464 |
| ER400DMFNN | JKAERKD11MDAA4270 |
| ER400DMFNN | JKAERKD10MDAA4261 |
| ER400DMFNN | JKAERKD17MDAA3821 |
| EX400GMFNN | JKAEXKG11MDAA3170 |
| ER400DMFNN | JKAERKD12MDAA3824 |
| EX400GMFNN | JKAEXKG15MDAA3902 |
| EX400GMFNN | JKAEXKG17MDAA3920 |
| EX400GMFNN | JKAEXKG15MDAA3916 |
| ER400DMFNN | JKAERKD10MDAA3451 |
| EX400GMFNN | JKAEXKG10MDAA3175 |
| EX400GMFNN | JKAEXKG14MDAA3163 |
| EX400GMFNN | JKAEXKG13MDAA3915 |
| EX400GMFNN | JKAEXKG1XMDAA3166 |
| EX400GMFNN | JKAEXKG19MDAA3918 |
| ER400DMFNN | JKAERKD11MDAA3460 |
| ER400DMFNN | JKAERKD11MDAA3829 |
| ER400DMFNN | JKAERKD15MDAA3462 |
| ER400DMFNN | JKAERKD10MDAA3837 |
| ER400DMFNN | JKAERKD14MDAA3839 |
| ER400DMFNN | JKAERKD13MDAA3461 |
| EX400GMFNN | JKAEXKG10MDAA3919 |
| ER400DMFNN | JKAERKD10MDAA3465 |
| ER400DMFNN | JKAERKD13MDAA3833 |
| EX400GMFNN | JKAEXKG10MDAA3905 |
| ER400DMFNN | JKAERKD13MDAA3458 |
| EX400GMFNN | JKAEXKG17MDAA3903 |
| EX400GMFNN | JKAEXKG19MDAA3174 |
| ER400DMFNN | JKAERKD12MDAA3466 |
| EX400GMFNN | JKAEXKG16MDAA3908 |
| ER400DMFNN | JKAERKD12MDAA3452 |
| ER400DMFNN | JKAERKD14MDAA4280 |
| ER400DMFNN | JKAERKD12MDAA4262 |
| ER400DMFNN | JKAERKD11MDAA4267 |
| EX400GMFNN | JKAEXKG12MDAA3906 |
| EX400GMFAN | JKAEXKG18MDAA3196 |
| EX400GMFAN | JKAEXKG16MDAA3200 |
| ER400DMFNN | JKAERKD11MDAA3832 |
| EX400GMFNN | JKAEXKG18MDAA3909 |
| ER400DMFNN | JKAERKD10MDAA3840 |
| ER400DMFNN | JKAERKD15MDAA3459 |
| EX400GMFNN | JKAEXKG12MDAA3176 |
| EX400GMFNN | JKAEXKG16MDAA3911 |
| EX400GMFAN | JKAEXKG11MDAA3198 |
| ER400DMFNN | JKAERKD18MDAA3827 |
| ER400DMFNN | JKAERKD18MDAA4265 |
| EX400GMFNN | JKAEXKG16MDAA3178 |
| ER400DMFNN | JKAERKD18MDAA3455 |
| ER400DMFNN | JKAERKD1XMDAA4266 |
| ER400DMFNN | JKAERKD19MDAA3822 |
| ER400DMFNN | JKAERKD15MDAA4269 |
| EX400GMFAN | JKAEXKG16MDAA3195 |
| EX400GMFNN | JKAEXKG13MDAA3901 |
| ER400DMFNN | JKAERKD16MDAA3468 |
| ER400DMFNN | JKAERKD14MDAA3453 |
| EX400GMFNN | JKAEXKG18MDAA3912 |
| ER400DMFNN | JKAERKD14MDAA4277 |
| EX400GMFAN | JKAEXKG13MDAA3199 |
| EX400GMFNN | JKAEXKG13MDAA3168 |
| EX400GMFNN | JKAEXKG10MDAA3161 |
| ER400DMFNN | JKAERKD1XMDAA3828 |
| EX400GMFAN | JKAEXKG12MDAA3193 |
| EX400GMFNN | JKAEXKG15MDAA3172 |
| ER400DMFNN | JKAERKD10MDAA4275 |
| ER400DMFNN | JKAERKD16MDAA4278 |
| ER400DMFNN | JKAERKD10MDAA3823 |
| ER400DMFNN | JKAERKD13MDAA4271 |
| ER400DMFNN | JKAERKD16MDAA4264 |
| ER400DMFNN | JKAERKD14MDAA3467 |
| EX400GMFAN | JKAEXKG14MDAA3194 |