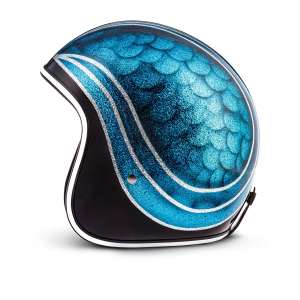 Aren't you bored with the same solid colored helmets that make your expensive bike look duller and older? It's time to break those unvaried helmet hues and embrace the colorful and elegant helmets produced by Rebel.
The R3 model of Rebel will not only add spice to your ride but will also grant an overall safety.
Why Should You Buy This Helmet?
The product has some unusual features, but the primary feature that is surely going to win you over, at first sight, is its unique, classy design and look. The classy blue and black colored helmet from Rebel will leave an impact on every motorbike lover's heart. From quality designing to top-notch build and finish, nothing has been compromised in the creation of this steely and tough helmet.
The Fantastic Qualities of the Helmet
Of course, a helmet is not only about great looks and finish, but it also needs to be robust and unbreakable to take care of your safety. This helmet sports all the features that are required to give you a classy look and guaranteed security. Let's explore the impressive qualities of this steely open faced helmet!
Shell
The shell of R3 Rebel Joint helmet is made from fiberglass that provides protection and lightness to the product. The product is of superior quality and exceptionally lightweight weighing barely 635 grams or 1.4 pounds. The lid is constructed carefully keeping protection of your skull as the primary purpose. The fiberglass used in its making guarantees absolute security and well-being. In the case of an unfortunate accident, the fiberglass can garner a much better damage control than an ABS or carbon composite.
An extra small shell is added to the product to impart a smooth and decent look. Also, the helmet has partially removable and washable inner lining, allowing you to clean the lining effortlessly. Thanks to the three-dimensional head shape of this bike accessory, you will never feel uncomfortable while wearing this helmet.
It ports a click and secure mechanism for securing the bands, making it easier to close and open by using a single hand, with or without gloves. Another fantastic feature possessed is the superb carrier bag that comes as a surprise with the product.
The inner lining of the helmet is perfectly seen and stitched, catering to a smooth finishing. The vibrancy of blue color combined with jet black and an unusual design on the shell makes it a guaranteed head turner. The exterior, as well as the interior of the helmet, is perfectly smooth and glossy giving it a flawless gaze.
There are five different sizes of the product that range from XS to L (that's 53 to 60 cm). The helmet will fit properly and quickly to everyone's head as it has a three-dimensional head design. So you will never have to worry about comfort and convenience while riding your bike. The only thing that you need to take care of is to order the right size, and the rest will be taken care of by the three-dimensional head shape. Ergo, make sure you get your measurements correct and precise before ordering it.
UV Protective Finish
The glossy coating over the helmet makes its colors shine and last longer as well. The colors seem interesting for the kids and make them want to wear it all the time. Apart from that, the color also has UV protective finish so that it doesn't fade due to sun's rays over time, making the helmet stay bright and new for years.
Visors
The helmet boasts an open face look, so there are no screens attached to it. Visors might become suffocating and can cause uneasiness in summer seasons due to heat and sweat. Although the safety of your eyes is necessary, you are better off ordering a pair of well-branded goggles. This minimal addition with your helmet will protect your eyes and guarantee you full security.
Ventilation
Unlike the other helmets that need a separate ventilation system to save yourself from nauseous conditions, R3 sports a cool open face look. You are allowed to breathe in the crisp, fresh air and let the cool wind rejuvenate your face.
Padding and Lining
The Jet Helm R3 helmet has an excellent, smooth inner fabric padding that is washable as it is partly removable. Your helmet is never going to stink again, and washing will provide it a pleasant and fresh feel. The fabric of the inner lining is very smooth and soft serving as the most suitable companion for your crown's comfort.
Customer Reviews
To date, no customer has given negative feedback about the product. Only customers who received the product in damaged condition were unsatisfied with the helmet. No surprises there…
Bottom Line
This retro and classic R3 Blue Joint by Rebel is a must-have to add fun and safety to your next ride. This helmet will act as your best comrade in your future biking trips, securing the most vital part of your body from any injury. The technology and improvements made during the manufacturing of the product have made it durable and resistant to abrasions.
Go ahead and become the showstopper on the roadway even with your old second-hand bike. You are surely going to make heads turn when you go out with this awesome merchandise.