Recover My Ride is offering Motorbike Writer readers a 15% discount on 24/7 roadside assistance service for their motorcycle, car or other vehicle.
That's a $25 saving on the normally $150/year service which provides you with total peace of mind!
All you have to do to redeem this generous offer is click here or click on the "Recover My Ride" advertisement on our home page.
It is open to all riders and drivers around Australia and will aid you in situations where your motorcycle or other vehicle is immobilised.
Reasons can include a flat battery, flat tyre, running out of petrol or any mechanical problems, but not a crash as that should be covered by your insurance.
It will pick up your bike or other vehicle on any sealed or designated safe road.
Your membership also includes, at no extra cost, free cover for your motorcycle trailer, caravan, box trailer and boat trailer.
Recover My Ride Roadside Assist Features:
Australia Wide.
Ambulance member benefit assistance.
Emergency Roadside Assist 24/7 365 Days.
Flat batteries jump starts.
Flat batteries replacement service.
Flat tyre change or transported to the nearest repairer.
Free out of fuel emergency.
Member benefit personal illness.
Member benefit personal injuries.
Member benefit car hire.
Member breakdown accommodation.
Unlimited callouts Australia wide.
Unlimited towing to the nearest repairer.
Unlimited breakdowns to nearest repairer.
Unlimited km to the nearest repairer.
Motorbike Writer is happy to partner with Recover My Ride which we believe provides you with the best and most comprehensive roadside assistance in the country.
It's also very affordable with no hidden costs.
Some other services may seem the same, but they can have hidden costs that can make a long-haul recovery very expensive.
Once an account has been set up, customers can add and pay for extra motorcycles, cars and others vehicles on the same account at any time.
Please read the terms and conditions first.
Fleet at your call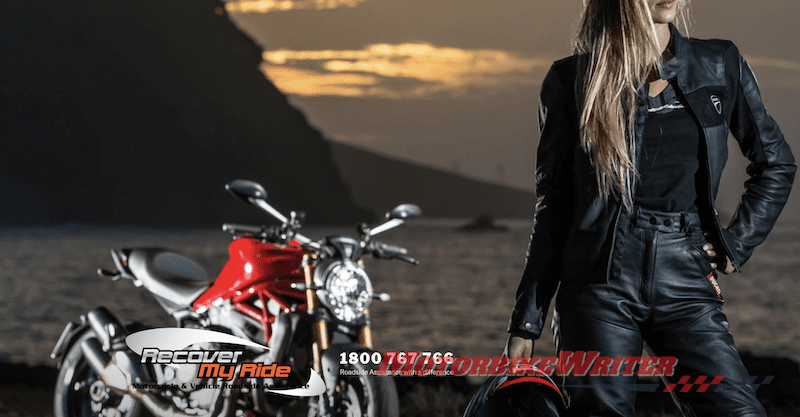 Roadside Services MD Francisco Robles says they have a fleet of business and trading partners with unmarked service vehicles.
They cover the metropolitan and country areas of NSW, Queensland and Victoria. For all other areas there are more than 1600+ roadside assist contractors available.
Recover My Ride has formed a business partnership with Swann Insurance (Insurance Australia Limited), Franc says.
"We believe Swann Comprehensive Insurance is the best insurance for motorcycle enthusiast with a rich history of supporting the Australian lifestyle," he says.
"They specialise in motorcycle insurance to help keep riders on the road and protect what they love."
"They get that riding is your passion, because they're riders too. That's why they've partnered with us to offer Personal and Roadside Assistance as an additional benefit under their Comprehensive Motorcycle Insurance."