Rare motorcycles such as a technicolor Honda and the most powerful motorcycle in the world in 1914 are among the eclectic mix offered at the Bonhams annual Autumn Stafford Sale on October 19. We may not be able to afford them, but they are certainly worth drooling over for a few minutes.
The 1975 technicolor Honda with a legendary Dresda racing frame comes from a private collection of 1970s and '80s Japanese bikes, some of which are turbocharged. It was offered as the prize in a Motor Cycle News "spot the ball" competition in 1975 and, in more recent years, has won the 'Best Chopper/Custom Bike' award at the Ace Café '70s Day.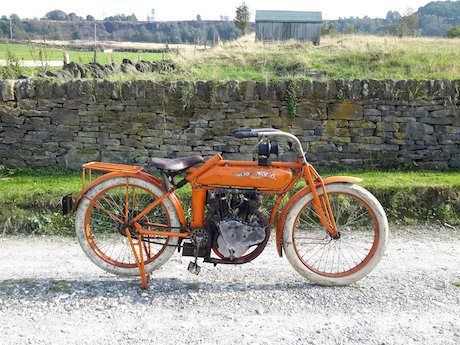 The bike once marketed as "the most powerful motorcycle in the world" is the 1914 Flying Merkel 998cc V-Twin. It was developed by Joe Merkel in Harley's home town of Milwaukee from 1911 to 1915. While a replica racing Flying Merkel sold for $43,000 in 2012 at a Bonhams sale, this original model is expected to fetch up to $130,000.
Another rare bike is the 1954 MV Agusta 125cc Bialbero (twin-cam) racer which could fetch up to $140,000. It comes from the rare collection belonging to the late Maurice "Mole" Benn. He had a great passion for MV Agustas, but was also one of the first enthusiasts to tune and race BSA's humble Bantam commuter bike in the 1950s. Mole is credited with lapping the Isle of Man TT course at over 70mph (112km/h).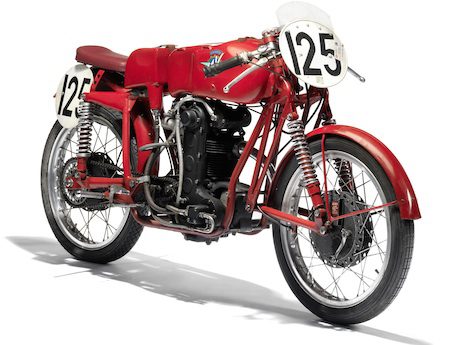 These rare motorcycles are part of the pioneer, vintage, classic and racing motorcycles set to headline the Bonhams sale at the Classic Motorcycle Mechanics Show. However, there will also be some more modern collector's items such as a 1999 Kawasaki 676cc W650 Custom by Deus Ex Machina which was displayed at the Bike Shed M.C.C.
Bonhams spokesman Ben Walker says there are more than 180 motorcycles being offered this year with "something for every enthusiast".