Quin is a cheap, lightweight helmet with an integrated Bluetooth communications that doesn't have wires, velcro speakers, dials, knobs or an exposed microphone, yet also detects a crash and sends for help.
It is the product of Indian/American company Quintessential Designs who have launched a Kickstarter crowd-funding campaign six days ago and has already almost doubled its target with 25 days to go.
They plan to start making them in May and ship in September.
See more helmet types and styles.
 The ECE and DOT-approved helmets will only cost $US300 (about $A390) for the McQ open-face helmet, $US350 ($A450) for the SpitFire full face and $US540 ($A700) for the 1270gram carbon full-face Ghost helmet.
That's quite cheap considering some Bluetooth communicator units cost about the same. Those prices are introductory offers and may increase.
Quin helmet coms
Their unobtrusively integrated Bluetooth 4.0 communications system sits almost flush with the helmet shell. It includes wired-in speakers and microphone, even on the open-face model.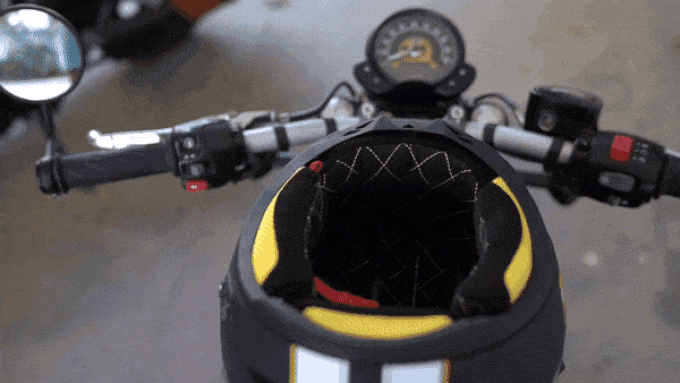 The absence of a boom mic for open-face helmets is a boon. Those boom mics get in the way.
However, we've tried integrated units before and found that permanently fixed speakers never quite line up with every rider's ears. The result is low volume and tiny sound.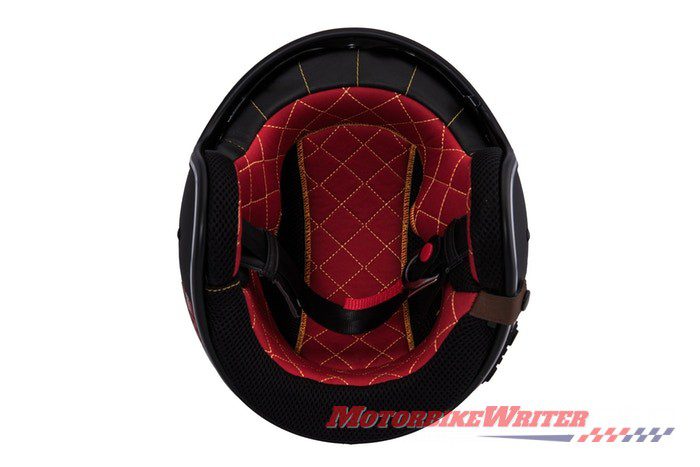 Quin Helmets technology runs off a lightweight Arch chip with upgradeable firmware via a charging plug at the back of the helmet.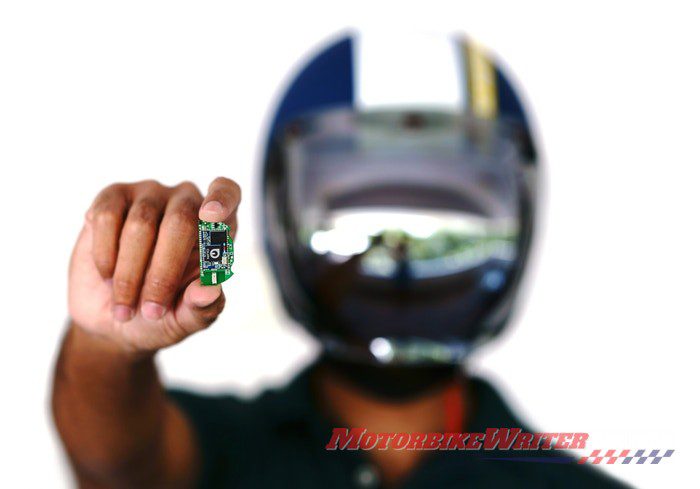 Even with all the communications gear inside, the Ghost helmet weighs only 1270 grams.
There are button controls on the communications unit, but you can perform every function through Siri voice activation and an app.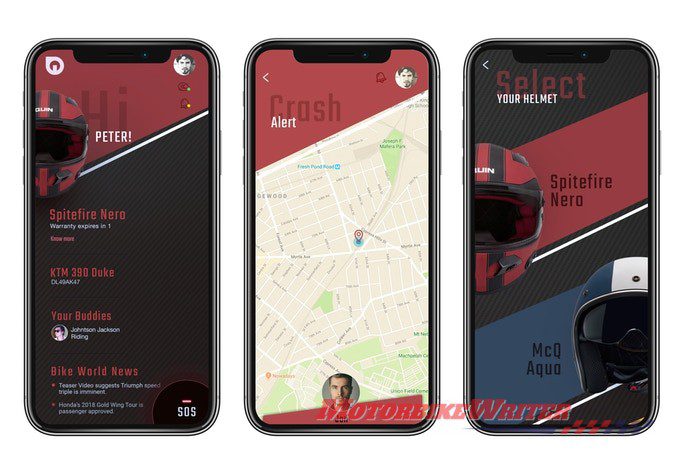 SOS function
What makes this different from other smart helmet concepts is the SOS function.
Sensors in the helmet will detect a crash and within six seconds send an emergency beacon of your exact GPS location to emergency services.
If the helmet is accidentally dropped, you can cancel the SOS beacon.
You can also manually contact emergency by pressing a button if another rider is down or you are in a dangerous situation such as being followed.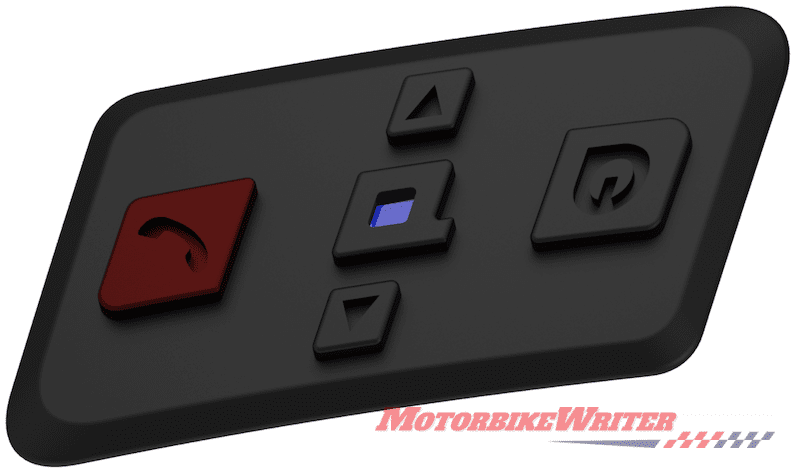 It also activates a "Blackbox" unit which records ambient sounds for evidence. It is connected via Bluetooth and has to be secure somewhere on your bike.
This personal safety feature would be particularly welcomed by lone female riders.
Company director Hannah Norling says the SOS response mechanism can be customised.
"Either you notify pre-set emergency contacts, or nearby Quin riders who can reach you in the shortest time," she says.
"However, the latter feature will be increasingly useful as more riders use the Quin App and populate various geographies. We are working on country-specific integrations that will allow for direct response from EMS and Police.
"Notifying emergency contacts can be used universally, however calling EMS is not as universally helpful. So we are working on options by country, rolling out tailored options over time."
A similar SOS function is now available on some BMW Motorcycles. It includes a phone call so you can speak with emergency services.
It's called eCall and the EU has mandated it on all new cars and is expected to extend the mandate to motorcycles within the next few years.
Smart helmets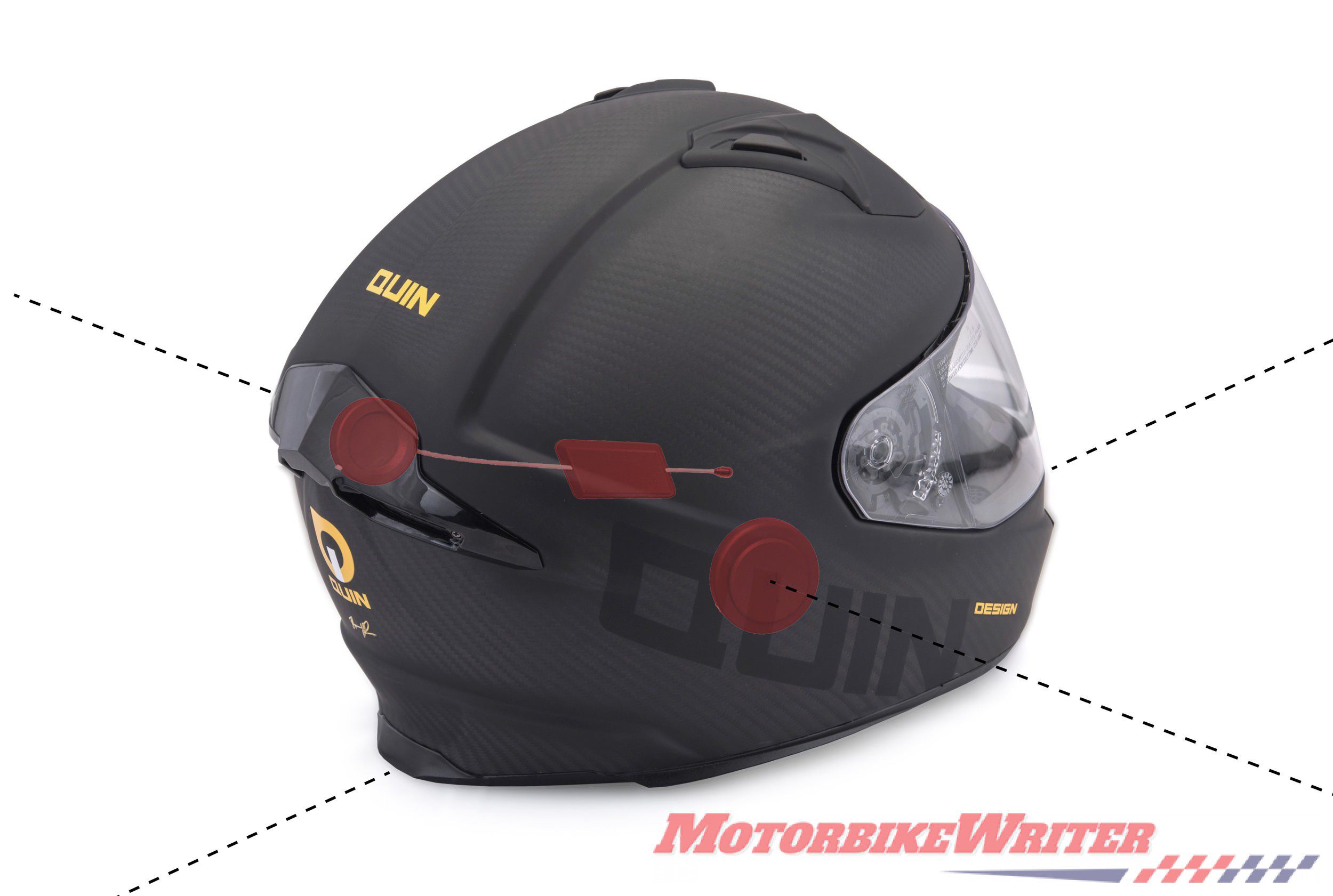 Smart helmets with an array of built-in technology such as head-up display are coming.
Even motorcycle manufacturers such as KTM and BMW are planning to introduce smart helmets.
However, few have made it to market yet prompting a lot of scepticism.
One smart helmet company, Skully, raised millions in crowd funding only to blow it on fast cars and fast women. They never delivered to any customers and burnt financial backers.
However, Quintessential Designs is keen to dispel concerns.
Hannah says Quin Helmets will be made in partnership with a major helmet manufacturer in China, although she doesn't name the company.
"Safety is our bottom line, so we have done everything we can to ensure we provide top quality at the most affordable price point," Hannah says.
She also says their research and development, product tooling and factory testing have already been done. They only have their mobile phone app to finish before starting production in May.
Quintiseential Designs is a new company is Minnesota but also has a design and R&D centre in India.