Motorcycle racing doesn't have to be serious.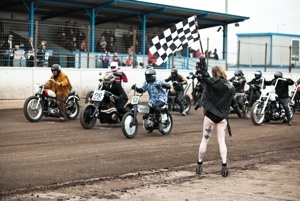 That's why MotoGP "clowns" Marc Marquez and Valentino Rossi are so popular and it's probably why Australian motorcycle racing is so unpopular with the fans.
Check out the video above. The annual British Dirt Quake event is the sort of thing we need in Australia to bring the fans back to motorcycle racing. It looks like a great event where the emphasis is on fun rather than just serious competition, although they also have a lot of past and present racers in more serious events. Even Charley Boorman attended last year!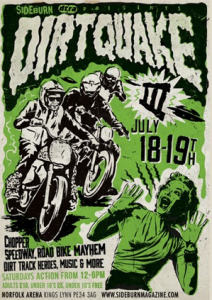 It looks similar to the annual Troy Bayliss Classic held in Troy's home town of Taree in January. It's a good event with a lot of past and present racing stars, but it could be better with some of the Dirt Quake amateur fun.
I went to the Troy Bayliss Classic last January and 12 hours of watching the same racers go round and round the same track seemed awfully boring. In fact, I only watched about four hours and didn't even bother staying for the final.
For those MotorbikeWriter readers who live in England – and I know there are about 5500 – the third annual Dirt Quake is being held on July 18-19 in Norfolk Arena, King's Lynn, Norfolk. Like the Troy Bayliss Classic, it features the cream of Britain and Europe battling on modern DTX bikes, twin shock Rotax framers and classic twins with heaps of amateurs turning out in some surprising machines. Sort of a 1970s bike rally meets serious dirt trackers.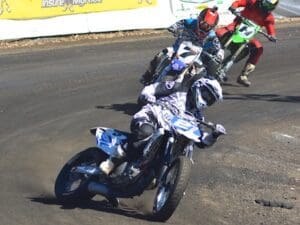 They also have off-track music and entertainment for when the racing does get a little boring. It looks like a great event and maybe someone will bring it to Australia.
MotorbikeWriter isn't usually about motorsport, but what do you think of the state of motorcycle racing in Australia?