Cyclists have had puncture-proof tyres for ages, but we are still to get puncture-proof motorcycle tyres in Australia.
There are two varieties that we have heard of: American-made RhinoTire tyre sealant and Indian-made CEAT tyres.
RhinoTire technology from the USA is a quick-sealing polymer RhinoPlex gel inside a tyre, which will instantly seal any puncture or incision up to 0.6cm (1/4″).
The polymer is heated to a very high temperature and then it is sprayed evenly inside the tyre.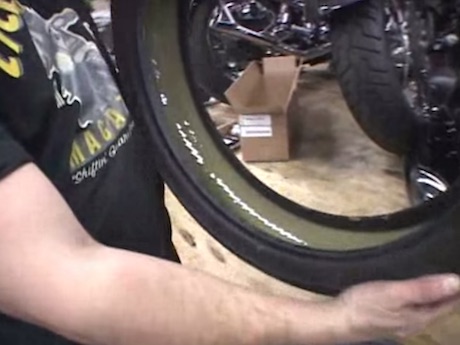 A spokesman says they still do not have an Australian distributor.
"We had prepared to sign a contract with one selected company there, but they met financial problem with their own business," he says.
"The market there is still in an open situation, even though the inquiries have kept coming in, while we have not found someone capable yet."
Indian puncture-proof tyres
Indian manufacturer CEAT Tyres has recently launched their Zoom Rad X1 tyre which they claim is puncture-proof.
However, they are not available in Australia and they are only suitable for 200-400cc road bikes.
What we really need is a puncture-proof tyre for adventure motorcycles to handle Australia's harsh country dirt roads.
Mind you, they would also be handy for those roads where nails and screws fall out of tradies' utes!
CEAT have released this video that proves their tyres do not leak after being punctured, but they do not say how they work.
They say they have a H-speed rating up to speeds of 210km/h, even though there would be no 400cc motorbikes with anywhere near that speed.
The tyres come in three sizes of 130/70R17, 110/70R17 and 150/60R17.
Hey would suitable for a range of learner approved motorbikes such as the new Kawasaki Ninja 400, KTM Duke 390, Bajaj Dominar and Yamaha R15.