Things have been a little slow around here lately, mostly due to the intolerable weather that has us watching MotoGP video reruns instead of riding.
The entire planet seems to be on fire, and the way it's going, we'll all have to find a new pastime sooner rather than later.
The weather is supposed to break soon, and it will be none too soon.
We can't wait to finish up a couple of in-process helmet evaluations and a review of some interesting Fieldsheer perforated clothing (finally).
We also have a feature on Rick's beautiful new GiMoto custom made kangaroo leather one-piece suit in the works, and he'll be reporting on that one soon.
In the meantime, I found this cool Princeton Tec mini LED keychain light and guess what?
It's made the U.S.A., believe it or not!
Princeton Tec has been making high-tech flashlights and lighting systems for 30 years, and their products are often found strapped to the most extreme of the extreme sports fanatics, from under the sea to up in the clouds.
Their flashlights and headlamps are often found in places like REI, Cabela's, Eastern Mountain Sports and other stores often haunted by cheerful granola eaters.
No offense, because I'm one too!
Regular webBikeWorld visitors may be familiar with another Princeton Tec product, the Princeton Tec Yukon HL, which is our favorite LED headlamp and which is also still in production after all these years.
This is a sure sign of a product that adds value to its owners, and it's also the best headlamp we've found.
We use it all the time in the garage, where it has provided invaluable assistance during our regular motorcycle repair and maintenance sessions.
The Princeton Tec Pulsar and Pulsar II (illustrated here) mini LED keychain light is much more of a novelty, however, than the workhorse Yukon HL.
The Pulsar is a bantamweight 0.25 ounces, or 7 grams, which is less than half the weight of just the key to the webBikeWorld pickup truck.
Thus, the Pulsar mini LED should fit on the keychain of any motorcycle and if it's always handy, I guarantee you'll find many uses for it.
The Pulsar is also tailor-made for motorcycle owners who are fanatics about reducing weight and clutter.
I can understand why someone would not want to carry a flashlight, no matter how small, but when something is as tiny and unobtrusive as the Pulsar can be such a lifesaver in an emergency, it doesn't make any sense to not carry one.
Don't want to carry it on a keychain? How about using it as a zipper pull?
Or attach it with a cable tie to a piece of the bike's frame, or hang it from a belt loop…the possibilities are what take the "in" out of owning an insignificant thing like this.
This is no 49-cent el Cheapo like the mini keychain lights found in a bucket next to the checkout counter at your local Shop 'n' Slop. You know — the type that is guaranteed to work until it breaks, about 30 feet from the store?
OK, so the Pulsar costs 10 times as much, at around $7.95. But here's my argument in favor of forking over the extra dosh.
First of all, the Pulsar carries a lifetime warranty.
That alone makes it worth the price, because it theoretically means that this is the last mini keychain light you'll ever have to buy.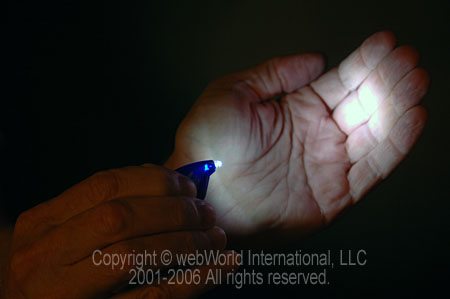 But it also has a very powerful LED with a brilliant white light, rated at 4 Lumens. Princeton Tec claims that is has an effective beam out to about 10 feet (3 meters) with a 20-degree beam angle, and I concur.
The Pulsar mini LED keychain light uses two 2016 lithium watch batteries and it's rated as having a 12-hour burn time.
The only difference between the Pulsar and the Pulsar II (shown here) is that the Pulsar II has a sliding switch on the thumb side.
When the switch is in the "off" position, it can be pressed to turn on the LED, which will stay lit as long as the switch is pressed.
When the switch is pushed forward, it stays in place to keep the LED burning continuously.
The only issue I have with the Pulsar II is that if it's laying in a briefcase with something pressing against it, the sensitive switch might experience enough pressure to turn on the light, which could run down the batteries.
This hasn't actually happened to me, but I have noticed several times when the light flashes unexpectedly when the switch is nudged by some object.
I love obscure little products like this that are fun to use, well built and have many uses.
Surely a mini LED keychain light isn't going to change your world, but it's a cool little item to play around with — and maybe take your mind off the unbearable weather!
w

BW

 Review: Princeton Tec Pulsar Mini LED Keychain Light
Available From: Princeton Tec
Suggested Retail Price: $7.95
Colors: White, Green, Red, Black, Blue.
Made In: U.S.A.
Review Date: July 2006
Note:
 For informational use only. All material and photographs are Copyright © webWorld International, LLC since 2000. All rights reserved. See the webBikeWorld® 
Site Info page
. Product specifications, features and details may change or differ from our descriptions. Always check before purchasing. Read the
Terms and Conditions
!
Owner Comments and Feedback
---
From "C.B.":  "I just read Burn's review of the Tec light. I agree that it is a very useful light. I wear a medical alert necklace. I installed my Tec light on the necklace. The only time I do not have a light with me is when I shower. It is almost unbelievable how invaluable the little Tec light has been."