THE PRE-UNIT TRIUMPH TR6
The preceding page offers a complete history of the Triumph TR6 from beginning to end. For the purpose of breaking up the large number of model years for the Triumph TR6, we have broken them up into their two logical subsets: "Pre-Unit TR6", spanning 1956 to 1962; and "Unit-Construction TR6", from 1963 to 1982.
WHAT MAKES A PRE-UNIT TRIUMPH TR6 A PRE-UNIT?
Today we call them Pre-Unit Triumphs. But before the advent of Unit Construction, it was all there was so they were just called Triumphs. By 1963 however, every Triumph motorcycle was now of Unit Construction so it became necessary to differentiate. The new bikes being Unit-Construction left the older bikes they replaced with the nicknames Non-Unit and/or Pre-Unit. Over the years, 'Pre-Unit' has stuck, but the name 'Non-Unit', while less common, can still be used interchangeably.
WHAT IS PRE-UNIT CONSTRUCTION?
The traditional way that motorcycles were built in the early days of motorcycling was to bolt together a separate engine & gearboxe, linking them with a third component, a primary chain case, in the frame. The primary chain was adjusted by tilting the gearbox in its mounts, which then threw the final drive chain out of adjustment. The system worked well enough & lasted literally for decades.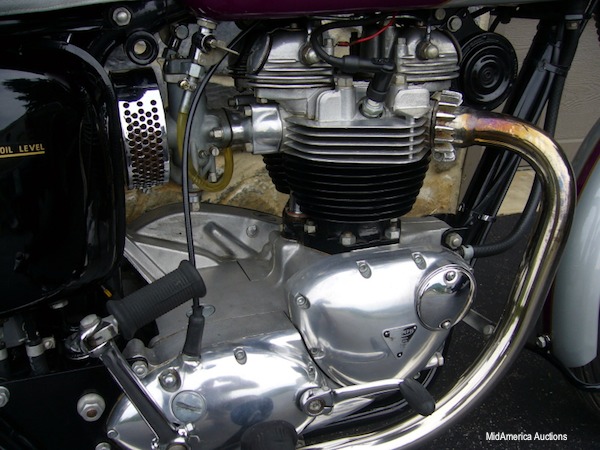 THE ARRIVAL OF UNIT CONSTRUCTION
The Triumph 3TA 350 twin was the first Triumph motorcycle to go unit constuction in 1957. The 500 twins follwed in 1959. The highly successful Pre-Unit 650 twins would wring every last sale out before going Unit-Construction for the 1963 model year. Unit Construction means that the separate crankcase, gearbox & primary cases were now incorporated into one common set of cases. In other words, the engine package was in one piece instead of three. It was lighter, stronger, more compact, quieter, cleaner, more attractive & cheaper to produce.
---
Pre-Unit Triumph TR6 YEAR-BY-YEAR
---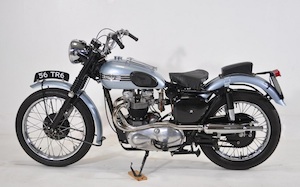 1956 Triumph TR6
649cc OHV vertical twin
First year for TR6. This is what happens when you take a Tiger T110, drop on a Delta Head, then strip the big fenders & nacelle off, give it high exhaust & knobby tires & make it look like a dirt bike. It was an instant hit!
---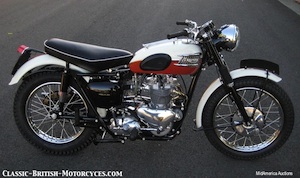 1957 Triumph TR6
649cc OHV vertical twin
A new, more modern look sweeps the entire Triumph line, including TR6, with new tank, new "Mouth Organ" tank emblem & exciting new 2-tone paintjobs.
---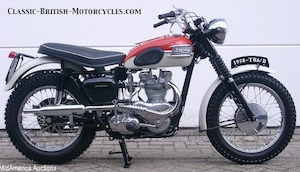 1958 Triumph TR6
649cc OHV vertical twin
New one-piece forged steel crankshaft replaces old 3-piece built-up crank. "Slickshift" is introduced to provide clutchless shifting & it bombed. Smaller valves for Delta Head solved head cracking problems.
---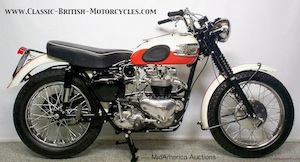 1959 Triumph TR6
649cc OHV vertical twin
Of course, the big news for 1959 is the arrival of the seminal Triumph Bonneville. TR6 benefits from Bonnie's new one-piece forged steel crank, hotter cams & tougher gearbox parts.
---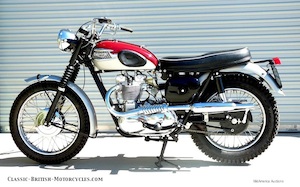 1960 Triumph TR6
649cc OHV vertical twin
The new 'Duplex Frame' replaces the outgoing 'Whip Iron'. Duplex has problems of its own: cracked steering heads. First year for TR6A & TR6B model designations. TR6A is the new Roadster with low pipes, essentially a Bonneville with one less carb.
---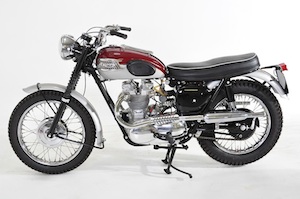 1961 Triumph TR6
649cc OHV vertical twin
First year for TR6C & TR6R designations. New Duplex Frame is cracking at the neck, so an extra frame tube is added below the backbone, triangulating at the neck. Problem solved. Delta head gets cast-in pillars to quiet vibes. Crankshaft balance is now 71%.
---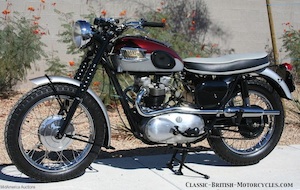 1962 Triumph TR6
649cc OHV vertical twin
Last year for the pre-unit TR6. A bit of a lame dog while work is done on the new unit-construction 1963 models. Crank balance goes to 85%, a new iron body oil pump is introduced & "Slickshift" foot-operated clutch mechanism is eliminated.