Not really a motorcycle product, but pretty cool nonetheless.
The PowerFlare is a high-tech LED electronic safety beacon that replaces those nasty old (and dangerous) wax-covered emergency flares.
It's super rugged, highly visible and with 10 different LED light patterns, the PowerFlare is an interesting device…but it's not cheap.
I can't remember where or how I discovered the PowerFlare, and it's a bit out of the range of what might reasonably be called a motorcycle accessory, but it's definitely unique enough to deserve a webBikeWorld "Quick Look".
Powerflares were apparently invented by a Police Officer as a replacement for the old-style perchlorate emergency flare that's been around forever.
Those are the red waxy stick thingies that light up when the cap strikes the tip of the flare, then burn with a magnesium fire intensity.
Obviously, the old-style emergency flares are extremely dangerous when lit and, as I learned, they're also dangerous to store in a saddlebag or in the trunk of a car.
But an LED PowerFlare can be used near gasoline or fuel or in other hazardous chemical or other dangerous environments — the type of environment where the old-style flare should be at least 100 meters away.
But something I never realized is that the perchlorate used in emergency flares is a very hazardous material, both before and after the flare has gone up in smoke, flame and ash, which is a big concern.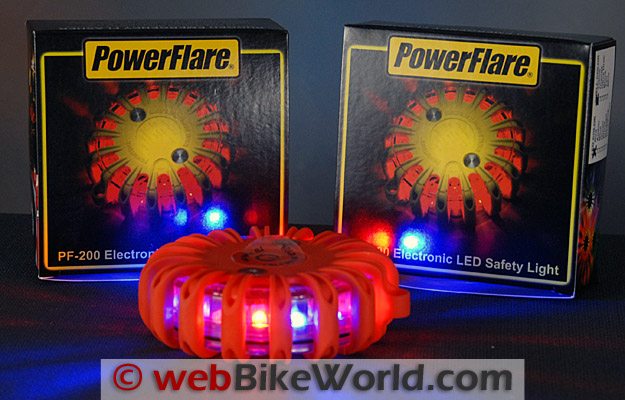 PowerFlare Details
Powerflares come in a variety of colors; that is, both the body itself and the LEDs inside are available in a wide array of colors and patterns. The body of the PowerFlare is 105 mm by 30 mm thick and it weighs 207 grams (7.25 oz.).
Powerflares are designed for emergency use or whenever high visibility is warranted, and they're currently used mostly by the Police and Military.
The body of the PowerFlare is extremely rugged; for example, it's waterproof to 80 ft. and can be used for scuba diving.
The manufacturer has videos of a PowerFlare being blown up, run over by a tank, truck and car and the LEDs are still operational.
The material used in the body of the PowerFlare is a rubbery-feeling type of plastic, and the PowerFlare is designed to sit low on the ground. The sticky rubber keeps it in place and if a car or truck accidently runs over it, well, no big deal.
It can also be placed inside a translucent traffic cone for a nice multiplied lighting effect.
The PowerFlare is claimed to be visible in daytime to 300 meters (~1,000 ft.) and at night to 900 meters (~3,000 ft.) and up to 16 kilometers (~10 miles) from the air.
w

BW

 Video: PowerFlare and Magnetic Light Mine
Motorcycles and the PowerFlare
This may be a stretch, but for motorcycle use, a PowerFlare could be placed on the side of the road during a breakdown at night. It's certainly better than carrying stick flares in the saddlebag.
I suppose a PowerFlare could also be stuck to the top of a rear saddlebag or even to the back of the rider — or how about on top of the helmet? — for more visibility at night or in foggy conditions. A PowerFlare can also be used on a bicycle for night-time safety.
A length of cord can be threaded through the small plastic hoop attached to one side. Just be careful of the red/blue blinking light pattern, it's illegal to mimic a Police or emergency vehicle.
The orange PowerFlare shown in the photos and in our video (below) has blue and red LEDs and the yellow PowerFlare has red LEDs only. Both have 10 different light flashing patterns, including an S-O-S pattern that probably very few people today would recognize as the international signal for "help me".
A rubber-covered membrane switch on the bottom turns the LEDs on and off.
Each time the button is pressed, the next light pattern is engaged. Hold the button down to shut it off and it will remember which pattern was last used, so the next time it's turned on it will return to that pattern.
Two Powerflares have an even better effect and they can be stacked on the side of the road and set with two different blinking patterns for a dramatic look that will definitely get attention.
The PowerFlare PF-200 shown here uses a single CR123 battery with a claimed 10 year shelf life and a claimed life from 8 hours if left with all LEDs glowing solid to 150 hours for the slow blink.
There's also a rechargeable version that works with a "Smart Charger" in the trunk of the Police car so it's always charged and ready to go.
The downside? They're expensive. The PF-200 lists for $49.95 with the single-color LED and $59.95 with the two-color LED. They are also available with infrared LEDs for military use (marking helicopter landing zones at night).
Conclusion
The PowerFlare is a very interesting device for sure. It might come in very handy some day and mine will stay in the truck in case of an emergency at night when towing a motorcycle.
Master Listing of All wBW Motorcycle Product Reviews
w

BW

 Review: PowerFlare LED Emergency Light
Manufacturer: PowerFlare
List Price (2010): $49.95 to $59.95
Colors: Varied body and LED colors of white, red, amber, green, blue or infrared.
Made In: "Assembled" in the U.S.A.
Review Date: August 2010
Note:
 For informational use only. All material and photographs are Copyright © webWorld International, LLC since 2000. All rights reserved. See the webBikeWorld® 
Site Info page
. Product specifications, features and details may
change or differ from our descriptions. Always check before purchasing. Read the
Terms and Conditions
!
Owner Comments and Feedback