Riders in the South-East Queensland area should be aware of a major police campaign in the Gold Coast hinterland area starting on Sunday, December 13, 2015.
It's called Operation North Upright and is promoted as a "road safety campaign" citing the death of 12 motorcyclists on hinterland roads in the past year.
They say the factors contributing to these crashes were speed, rider error, lack of rider experience, motorcycle visibility and collisions with other vehicles.
So we can expect police will have a significant number of radar traps and licence checks in the region.
The operation will involved police from Logan and Gold Coast police districts plus the QFES, QAS, the Department Transport and Main Roads, and Gold Coast, Logan and Scenic Rim City Councils.
There will be educational and promotional displays at Numinbah Valley Community Hall (9am-2pm) and Beechmont Primary School (6.30am–1pm).
There may also be bike compliance checks since Main Roads officers will be present.
A release from the police says riders will notice "an increased presence of police in the South East Hinterland".
"Intercepts of riders touring through or towards the hinterland will be increased and officers will be tasked to inspect the safety of the motorcycle, check rider license status and provide a rider safety brochure.
"Enforcement using marked and unmarked traffic policing will also be widespread in the area, predominately on the weekends and will focus on riders utilising the hinterland road networkInspector Mick Stenner from South Eastern Regional office has invited riders to "stop for a chat about road safety with experienced motorcycle officers from the Road Policing Command and other emergency services".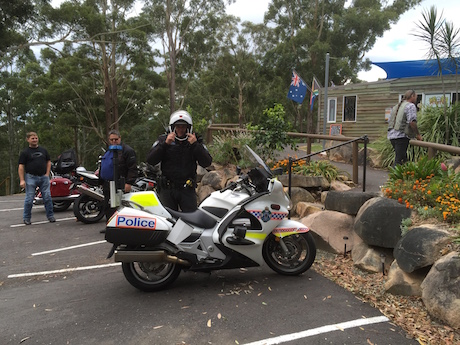 "This facet of the operation endeavours to inform riders about safe riding techniques through displays, demonstrations, and discussions," he says.
"All attendees will have the opportunity to see speed detection equipment, police motorcycles and marked vehicles first hand and to have any questions answered in relation to traffic legislation and crash prevention strategies."
At regular intervals at selected locations, police and partners will encourage motorcyclists to stop for a free sausage sizzle and a chat about hazard perception, braking distances and scanning techniques.