Police claiming all bikies are criminals is vilifying them in a similar way as saying prostitutes cannot be rape victims, says former detective and now Bond Uni criminology lecturer Terry Goldsworthy.
His comments follow the discovery of the body of Comanchero member Shane Ross at a Gold Coast park.
Terry says police commentary over Ross's alleged murder represent vilification.
Queensland Police Superintendent Brendan Smith is quoted as saying "bikie lifestyle carries its own risk".
"Anyone who thinks a bikie is a motorcycle enthusiast is kidding themselves – they are criminals and criminal behaviour is hazardous," Supt Smith is quoted as saying.
Vilifying bikies
Terry says this kind of statement creates "obvious" problems.
"The data clearly tells us that bikies are not all criminals," he says.
"They generally do not carry out criminal activity within the auspices of the gang.
"Being a criminal does not mean that you should be treated any less as a victim.
"This kind of thought process harks back to the logic that a prostitute cannot be raped, or the short skirt justification for rape etc.
"When you vilify the status of the victim you are intentionally suggesting that they are somehow to blame for the offence committed against them and the act is minimised. Every victim deserves to be treated the same."
Riders vilified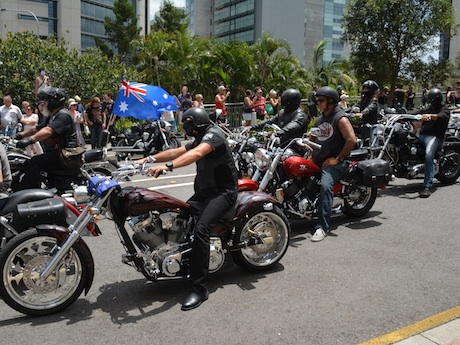 In 2017, Terry also claimed the tough, so-called "anti-bikie" VLAD laws in Queensland were not the success the police claimed.
As we found during the height of the original VLAD laws, riders wearing club "colours" were mistakenly vilified as "outlaw bikies" by both the public and police.
Vilifying anyone because of their association is not only careless, but can be dangerous.
Criminals should only be classed as criminal for their actions, not because of their membership of a group.
Similarly, all police aren't criminals because one officer breaks the law.