Polaroid Cube Image Gallery
The new Polaroid Cube action camera is tiny. And yes, it's pretty darn cute.
There's no getting around the cuteness factor but, of course, cute isn't enough.
No problem, because the little guy actually takes surprisingly good quality video!
That fact is a testament to how far technology has taken us, because it wasn't very long ago at all that a $400 video camera wouldn't do as well.
But, as you suspected, there's a catch. As always, it's all in the mounting…at least when it comes to motorcycle use.
That tiny form factor is also the Cube's greatest liability, because it's very difficult to find a suitable mounting position on a helmet or bike frame with any of the optional camera mounts.
And the not-so-tiny price that seems somewhat reasonable at first ($99.00 list) quickly starts to look less so once you add in the $24.95 waterproof housing and the $20.00 tripod mount.
To add insult to injury, neither of those mounts work very well, which quickly cools any Cube passion.
But, if you can figure something out (hint: duct tape comes in handy),  the Cube's small size and excellent video quality may just be your ticket to video bliss.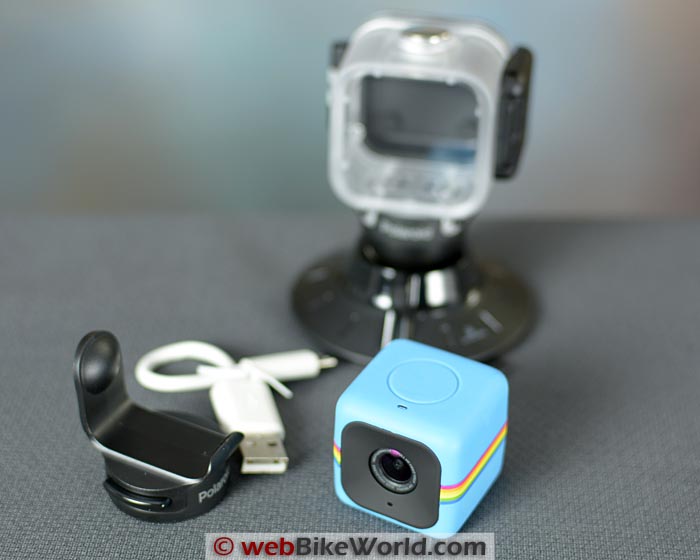 Polaroid Cube Shape and Size
Motorcycle video cameras — now called "action cameras" — come in all shapes and sizes. But there are more or less two different commonly-used form factors: the tube and the box.
The tube shape is best represented by the Replay XD 1080 (review) and its latest iteration, the new ReplayXD Prime X we're in the process of evaluating. The box shape is certainly best represented by cameras like the GoPro Hero 3 (review) and the excellent BlackVue Sport 500 (review).
But about that box…we've always been surprised at the popularity of the GoPro, which probably has a lot to do with its ubiquitousness (but the newest versions also take darn good video). A GoPro is just big, heavy and clumsy and there's no getting around it. This makes it difficult to mount on a helmet or motorcycle. Nevertheless, it's probably the most popular and commonly used action camera of all.
Tube shapes like the ReplayXD with its low profile are usually easier to mount on a helmet and the ReplayXD has a vibrating sensor you can feel through the helmet to tell you what's going on.
Besides the tube and the box, there are the in-between shapes, like the new Ricoh WG-M1 we reviewed recently (more or less a boxy tube); the Drift HD (review) (ditto); the Midland XTC 300 (review) (a sort of vertically rectangular tube) and the Sony Action Cam (review) (ditto). And others…
So where does the Polaroid Cube fit in? Well…none of the above. After all, it's…a Cube! A picture is worth a thousand words, as they say. At first glance, you may think the Cube's tiny form factor would be perfect for motorcycle use. At a mere 35 millimeters in each plane, the very square Cube easily fits in the palm of even a child's hand.
But, as we always say, it's all in the mounting. A good mounting system can make or break a motorcycle video camera and the perfect mounting system (and therefore the perfect camera) has yet to be invented. Or at least we haven't discovered it. Yet.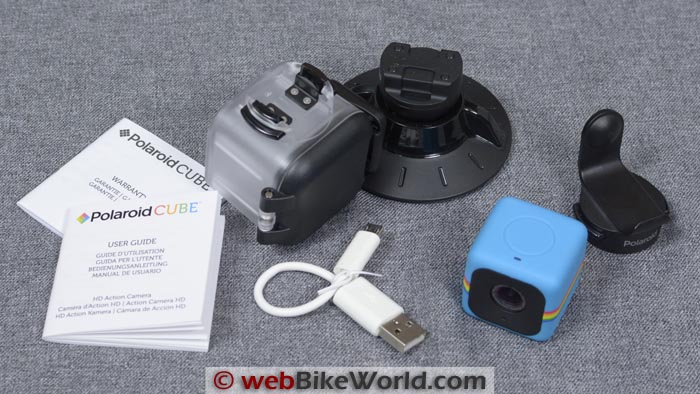 Polaroid Cube Features
There isn't a heck of a lot of technical information available about the Cube; apparently Polaroid wanted to make this a simple and easy-to-use camera targeted to an audience that doesn't know or care about bit rates, sensor resolution and the rest.
Starting and Stopping
Simple it is; the Cube has a single on/off button on top. Press and hold to fire it up; press once to take a still photo and press twice to shoot video. Once the video is rolling (you'll hear 3 beeps and the tiny LED will blink), press once again to stop recording. That's it.
The back of the Cube has a plastic cap to cover the micro USB connector port, the microSD card port and the only switch on the camera, which allows 720p or 1080p recording. The cap opens with a coin or, as we discovered, with the tripod mount (see the video below). It twists only about 1/10 of a turn, so be careful and don't lose it.
LCD Live View
Nope.
WiFi Connectivity
Negative.
Software
The camera comes with an app we didn't use and a .exe file for Windows computers that allows a few simple firmware changes, such as 50Hz/60Hz changes; time stamp on/off; date change, beep volume control and continuous cycle recording on/off.
Video Formats
The Cube saves the video in .MOV file format with the MPEG-4 H.264 codec at 1080p (1920×1080) or 720p (1280×720), both at 29.97fps only. We couldn't notice any quality differences when comparing 720p vs. 1080p.
Photo Formats
The Cube takes acceptable quality still photos at 72 dpi only in 16:9 format at 6MP.
Lens
Other than the fact that the lens has a 124 degree view, no other lens info is available. The lens appears to have an f2.4 focal ratio.
ISO
ISO is automatic and appears to range from 80 to 1000. White balance and exposure is automatic.
Battery
The battery muscle in mAh is unknown. Polaroid claims a 90 minute life fully charged and we can confirm that's about right. The camera can not be used when it is charging, despite the owner's manual claim that it can. [UPDATE: This only applies when the Cube is connected to a USB charging port on a computer, see the Owner Comments section below.]
The Cube charges via the micro USB port and a (very) tiny USB cable is included with the kit. Ours took about 3 hours to charge on a standard (Android-type) cell phone charger. Polaroid claims 90 minutes of recording time and that proved roughly correct for us.
When the battery drops to 10% or less (around 3.62V), the camera will start to beep…but you have to be pretty close to hear it. Once voltage drops to 3.55V, the camera will turn off. That's the only way you'll know the state of the battery charge.
Memory
The Cube owner's manual states that the camera requires a microSD card with a minimum of a Class 6 rating but Class 10 is recommended.
Class 10 cards can perform better in action cameras and we prefer the SanDisk Ultra, available here. The memory card is not included in the camera. The Cube supports cards up to 32GB.
Sound
The camera records in stereo, as far as we can tell, at 16 mHz sample rate and approximately 100 kbps bit rate. There is no other information about sound recording in the owner's manual.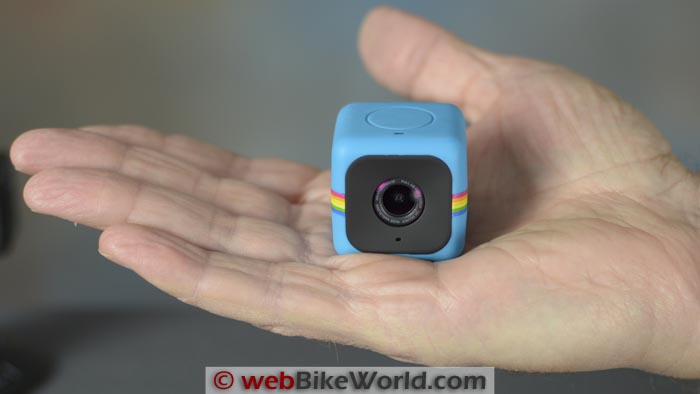 In the Box
The Polaroid Cube kit comes with the camera, a tiny USB cable, an equally tiny owner's manual (here's the .pdf) in 5 languages (we erroneously said 4 in the video) and a warranty booklet. The waterproof housing, tripod mount and other accessories are available at extra cost.
At the time of this review, the optional accessories include a handlebar mount, the waterproof housing, tripod mount and a helmet mount, all using the rather flimsy plastic snap-on system described above.
Polaroid Cube Mounting Options
We pre-ordered our Cube when it was first announced, long before they were generally available. At that time, only the waterproof housing with mount ($40.00 at the time) and the tripod mount ($10.00) were listed as options.
Since then, the Cube has become available in regular retail channels and a few more mounts have been developed.
But, we think the basic design for the Cube mounts is flawed. The mounts use a plastic snap-on system that just isn't robust or sturdy enough for solid mounting.
As you can see in our video below, the waterproof housing mount has a lot of play and the tripod mount is worse. The Cube snaps into the tripod mount and depends only on the flexibility of the plastic to hold it in place.
The Cube has a lightweight magnet on the bottom — apparently they couldn't make it too strong or it would affect the microSD card and innards. The magnet isn't really strong enough to securely hold the camera and there aren't many steel parts on a motorcycle anyway, so it's sort of a moot point.
Bottom line? Get a good roll of 3M Re-sealable No-Residue Duct Tape, because you'll need it.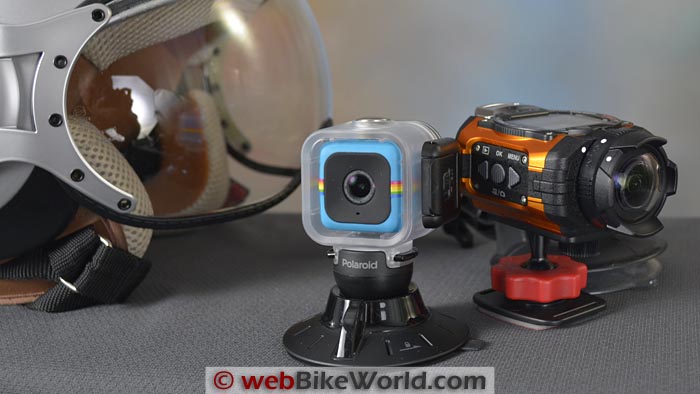 Using the Cube
Other than flipping the switch between 720p and 1080p, there are no settings or switches or anything else involved in using the Cube and that's the beauty of it. Technophobes or anyone who desires a simple user experience will love this thing.
To turn it on, press and hold the large button on top.
The Cube beeps 3 times (the volume can be set in the simple configuration file noted above) and the green LED comes on. To take a photo, press once. It beeps, flashes red and that's it; you have to trust that the photo has been taken.
To shoot video, press twice. The Cube beeps again and the LED flashes red. Press once to stop the recording and that's all you need to know. There's nothing else. When you connect the Cube via a USB cable, the files can be accessed and downloaded. Or, you can fish out the microSD card and put it in an adapter and access the files that way.
Polaroid Cube Video Quality
To be honest, we didn't have high expectations of the video that would come out of this box that looks like a kid's toy.
Other tiny action cams we've reviewed previously, such as the AEE MD80 (review), were novelties or curiosities more than serious video cameras. But, time marches on and video camera technology has advanced quite a bit and that benefits everyone.
So we couldn't wait to download the video from the Cube after making a couple of runs on our favorite webBikeWorld action camera review road. To our great surprise, the video quality is excellent — better, in fact, than some of the other action cameras we've reviewed costing much, much more.
The Cube's video is nearly perfectly exposed and has natural colors. It's sharp enough and fairly smooth, although nothing like the Ricoh WG-M1, the GoPro Hero Black Edition or the ReplayXD Prime X (review coming soon).
Note that those cameras have a much higher bit rate and, all things considered, a higher bit rate will usually mean smoother and/or higher quality video.
The video from the Cube looks better "raw", out of the camera, than it does after a YouTube compression torture session, because there just aren't enough bits to keep it smooth.
But for basic watching and posting to Vimeo or YouTube, the video coming out the Cube is perfectly fine. Even the white cloudy sky didn't get as blown out as we expected.
Here are a couple of screen shots from two different videos taken with the Cube at 1080p: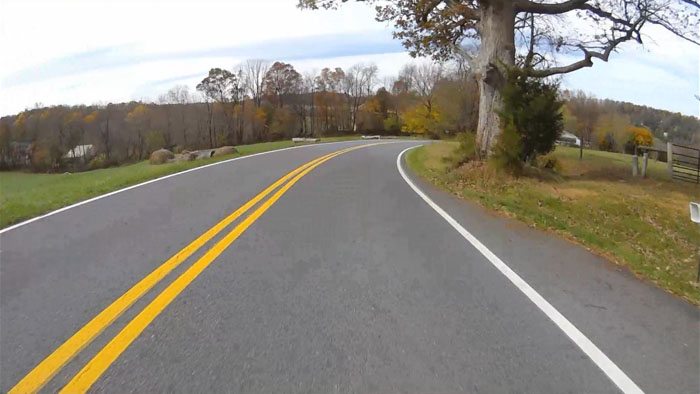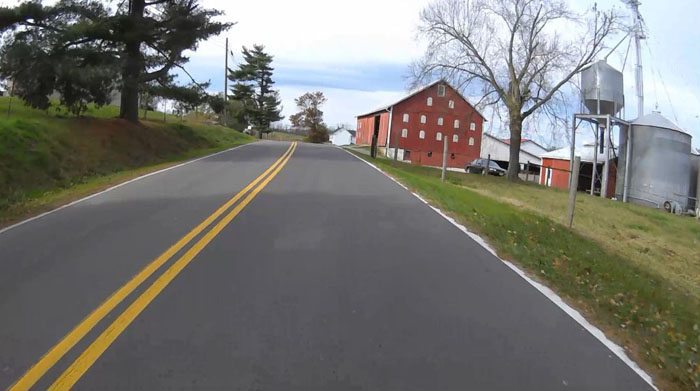 Video Quality and Compression Notes
Note that the video compression in YouTube, Vimeo and others usually severely degrade the original out-of-the-camera video quality, especially when the video has a lot of motion, as it does from a motorcycle video camera. That the Cube starts out with a much lower bitrate than other cameras exacerbates the problem.
For example, here are average bitrates taken from the 5 different action cameras in this review series. These are from a right-click and "Properties" (Windows):

Action camera average bitrates compared. The Cube has about 1/3 the average bitrate of the Ricoh WG-M1.
Note that the Cube has about 1/3 the bit rate of the Ricoh WG-M1 and Replay XD Prime X and this is readily noticeable when you view the raw video out of the camera.
The video from the Replay XD Prime X is buttery smooth and the extra bits make somewhat of a difference after a YouTube or Vimeo upload because there's more meat for the compressor to work with.
Here are two raw examples of about 10 seconds each, taken directly from the Cube, wrapped in a .zip file. First is a 1080p sample (.zip) and next is a 720p sample (.zip). There really isn't much noticeable difference in the two.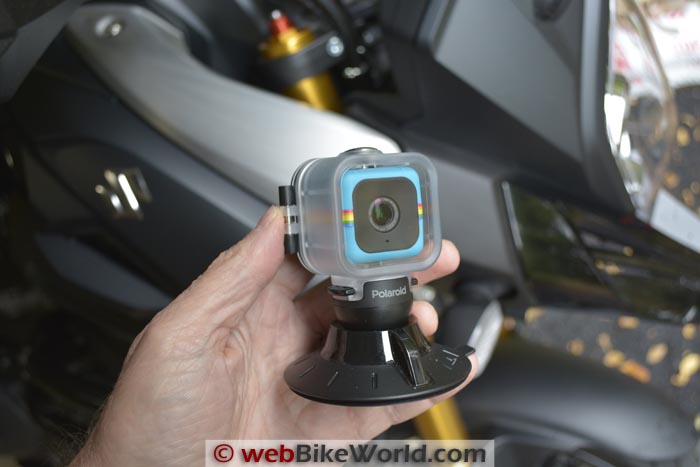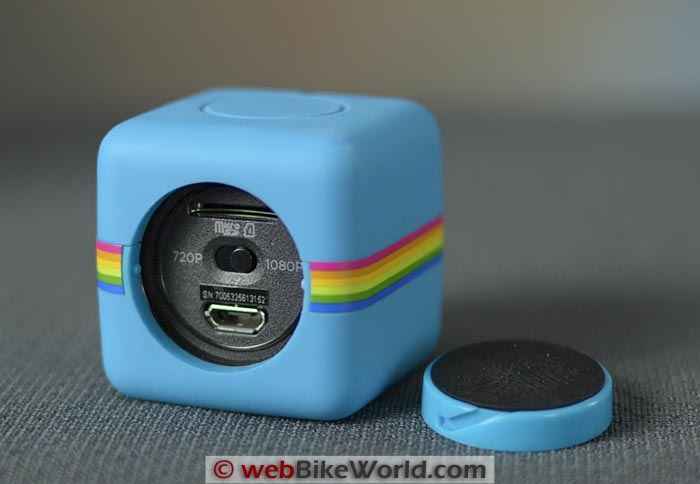 Inside the Cube, top to bottom: microSD card slot; 720p/1080p switch; USB port.
Wrap-up
There's not much more to say about the Cube, other than it's fun and easy to use. We're still noodling over how best to mount it, so if anyone has an idea, feel free to shoot it over.
Here's a two-part video, first we show you the Cube and then there are a couple of on-road video samples (with the sound volume lowered by about 90%).
w

BW

 Video: Polaroid Cube Overview and On-Road Examples
NOTE: YouTube and Vimeo compression significantly degrades the quality of the video from the original and it does not like fast moving video like motorcycle riding. Select the highest quality available under the "gear" icon in the YouTube video for best viewing.
Conclusion
The Polaroid Cube is certainly a unique action camera design. It takes excellent quality video — relatively speaking, of course. It's very easy to use but it's somewhat ironic that its small size and unique form factor actually work against it when it comes to mounting.
Or rather, the mounts developed by Polaroid for the Cube just don't work very well for motorcycle use, in our opinion. If there were a small, low-profile helmet mount that held the Cube firmly in place, that might do the trick.
Unfortunately, in the meantime duct tape is the crude solution.
The price is also an issue; by time you add the waterproof housing, you're up to $125.00 or so. At that point, you may be better off with something like the tube-shaped Polaroid XS100 for $129.99 or the WiFi version for $50.00 more.
It has a wider selection of recording resolution options; it includes image stabilization; it's waterproof and it has a built-in tripod mount. We'll probably review that one of these days also just to compare.
In fact, knowing all of that about the Polaroid XS100, it seems like the Cube should cost about $50.00 or so. Maybe once the novelty wears off, the price will be discounted. In the meantime, if you own a Cube and have figured out a good way to use it on a helmet or motorcycle, please let us know!
More webBikeWorld: 
▪ Video Action Camera Reviews
▪ Intercom and Radio Reviews
w

BW

 Review: Polaroid Cube Action Camera
Colors: Black, Blue or White.
Review Date: November 2014
Note:
 For informational use only. All material and photographs are Copyright © webWorld International, LLC since 2000. All rights reserved. See the webBikeWorld® 
Site Info page
. Product specifications, features and details may change or differ from our descriptions. Always check before purchasing. Read the
Terms and Conditions
!
Owner Comments and Feedback
---
From "D.H." (August 2015): "Since I bought a Polaroid Cube lately, I found your review of the thingy — after I bought it.
Anyway, you were unsatisfied with the mounting, so I thought I send you my "solution".
As an architect I luckily own a (cheap) 3D printer for architectural models, which helped me to make a mount that can just be slipped onto the mirror without tape or glue — unfortunately only on Yamaha FZ8 models, but it worked very fine for me.
Speeds up to 120 km/h are definitely no problem, it sticks perfectly in its place. By the way, the little metal plate you see in the pictures was part of the original packaging…. Greetings from Vienna."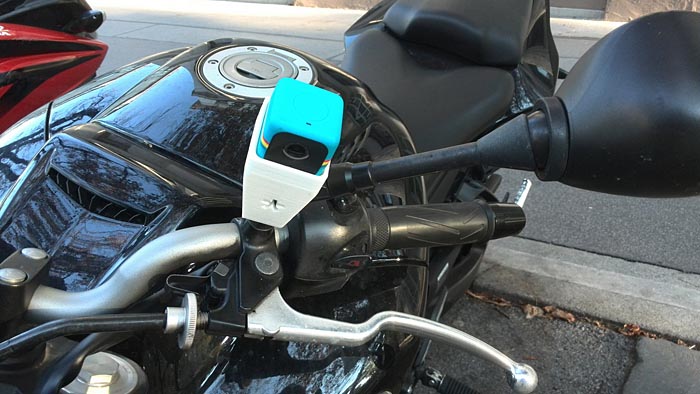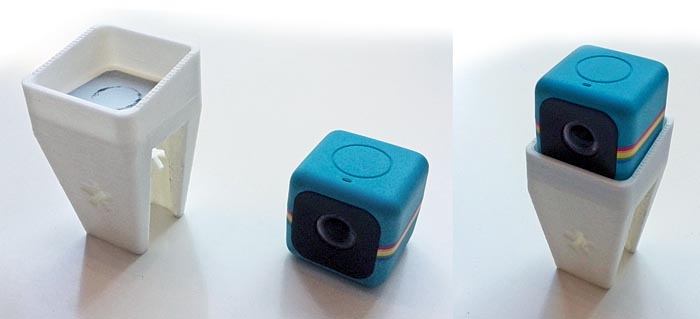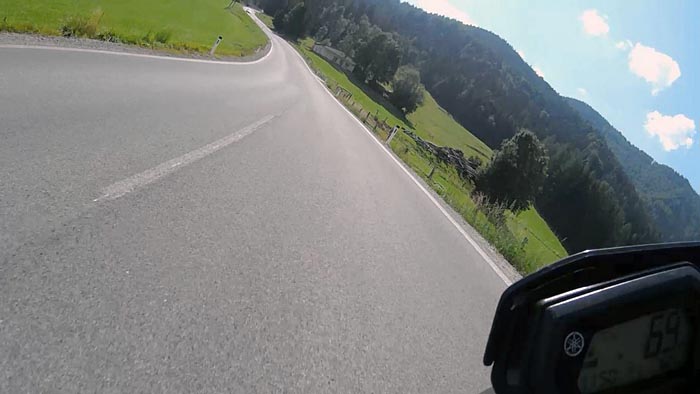 ---
From "T.D." (May 2015): "In your review of the Polaroid Cube you write that: "The camera can not be used when it is charging, despite the owner's manual claim that it can."
However this is incorrect. I own 4 of these cameras, which I use in a lab to do long-duration recording.
I can record continuously while the cameras are charging, with the only limit being the capacity of the memory card (I can record 8-9 hours on a 32GB card, far longer than the duration of a single battery charge).
You may have been confused because the cameras won't record when connected *to a computer* via USB, but if they are just plugged into a USB wall charger (or to a powered USB hub with no computer attached) they will charge and record just fine.
The other possible explanation for this is the confusing way the LED light works. When plugged in and fully charged, the status LED is green, whether or not the camera is actually powered on.
You may have to power it on (by holding down the button for several seconds) before it will allow you to record video. There's no way to know if it's on or off without trying to take a picture.
FWIW, my cameras are all running the v1.17 firmware, so I can't speak to previous versions. You can see your version by looking at the .Setting file in the root directory of the SD card).
Thanks for the otherwise very helpful review!"