Polaris Slingshot technically moves the company into motorcycles.
The company's first road-going three-wheeler has a steering wheel, seatbelt and floor-mounted five-speed transmission like a car, but it is technically and legally considered a motorcycle, so it will be governed by motorcycle licence requirements and helmet laws.
Polaris is best known for snowmobiles, all-terrain vehicles and side-by-side off-roaders, but in recent years has added Victory and Indian motorcycles. However, this is the first time the Minnesota company has produced a motorcycle under the Polaris name.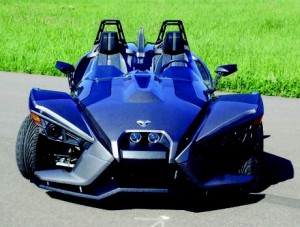 The low-slung, open-cockpit Polaris Slingshot, weighs just 782kg (1725 pounds) and is powered by a 2.4-litre straight-four engine with 129kW (173 horsepower) and 225Nm (166 foot-pounds) of torque. Safety features include ABS, electronic stability control, traction control and three-point seatbelts.
While the Polaris Slingshot has the same wheel configuration as the BRP Can-Am Spyder with two wheels in front, rather than the traditional trike with two wheels on the back, it is a cockpit-style vehicle, rather than a motorcycle you sit on. Polaris calls it a "reverse trike".
Polaris says the Slingshot will sell from September for $19,999 to $23,999 in the US, which probably equates to about $40,000-plus if they sell it in Australia.
No word from Polaris Australia on whether we will get it. When it was first reported on MotorbikeWriter on July 5 spokesman Robert Rosengarten said plans were "unsure". "Looks like a whole lot of fun!" he said.
Polaris is aiming the vehicle at people interested in a motorcycle experience but not ready for two-wheels, plus mature-aged riders concerned about the weight of a big motorcycle.
Polaris Slingshot director Chris Doucet says the vehicle is like a motorcycle. "A three-wheeled vehicle offers an experience that's just like a motorcycle — the open air and the wind in your face. But the three-wheel stance adds an extra level of stability."
The Polaris Slingshot will come with a range of specific accessories and gear, such as helmets, gloves, t-shirts and jackets, and wet weather gear. For more information, visit http://www.polaris.com/en-us/slingshot