Mesh Over Pants for Hot Weather Riding
The Pilot Omni over-pants are available in the Omni Air mesh version described in this review or as a solid textile version.
Both are designed as over-pants, so they can be worn alone or over jeans or other street pants.
The Omni Air mesh over-pants have a thick-feeling mesh textile, with extra abrasion protection over the knees.
Height-adjustable knee protectors are included and large pockets in the hips have foam padding but can be upgraded to CE-rated protectors from Pilot or others.
The pants also come with a removable water-resistant breathable membrane liner.
The waist has a good adjustment range, with generous side belts and elastic waistband on the sides.
A full-length side zipper on the outside of each leg allows easy access to the pants when they're worn over jeans, although fastening the full-length hook-and-loop for the entire length of the leg is a bit clumsy.
The Omni Air and Omni non-mesh pants will zip to a Pilot Direct Air jacket (review) for a nice hot-weather riding outfit.
The fit and sizing on this pair (size large) seems right on the mark, although maybe another inch of leg length would be good, to account for the extra sizing needed when they're worn over a pair of heavy jeans.
Also, the waist tab in front secures with snaps only; a metal hook or something with more security would be better.
Overall, the Pilot Omni mesh over-pants are nicely made, thick enough to (hopefully) protect while still allowing maximum air flow for summer riding. And the price is very reasonable.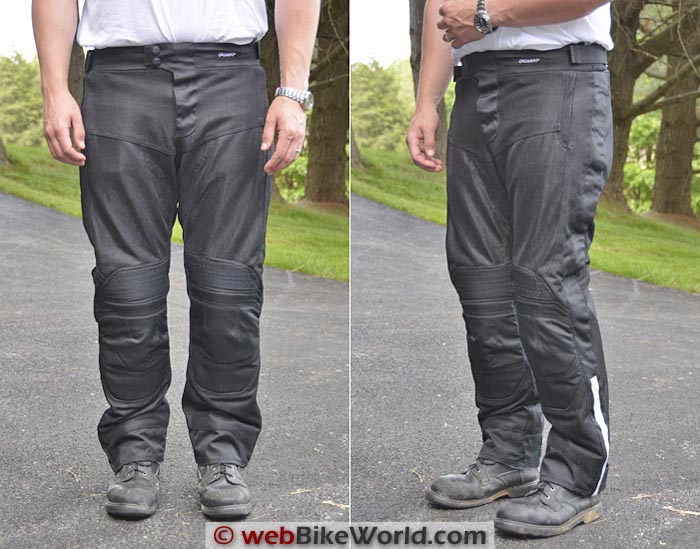 ---
Where to Buy Pilot Omni Pants
Check Reviews & Prices on Amazon
Check Reviews & Prices on Revzilla
Also Shop for: Motorcycle Jackets, Motorcycle Gloves, Motorcycle Boots, Motorcycle Pants
---
Back in the day — which wasn't all that long ago actually — over-pants were one of the most popular motorcycle clothing items going, because they were the only thing that could add some protection to a pair of basic street jeans.
But over-pants seem to have fallen out of style, probably because there are now so many nice regular motorcycle pants and jeans available today that don't look like…motorcycle pants.
The introduction of Kevlar and other types of abrasion-resistant fabrics that are now an integral part of modern motorcycle jeans have probably also helped to reduce the demand for over-pants.
But as long as we're surmising here, I'd also guess that there are still plenty of motorcyclists who would rather wear a regular pair of non-motorcycle retail version of Levi's or basic khakis to work.
But they still would like to have a good pair of over-pants that will give better protection if and when.
That's where the Pilot Omni over-pants come to the rescue. Available in both a solid textile version (the Omni Over Pants) and in the mesh version as the Omni Air Over Pants described in this review.
And by the way, if you think it's hard to find a good pair of regular over-pants today, finding a decent pair of mesh over-pants is even more difficult.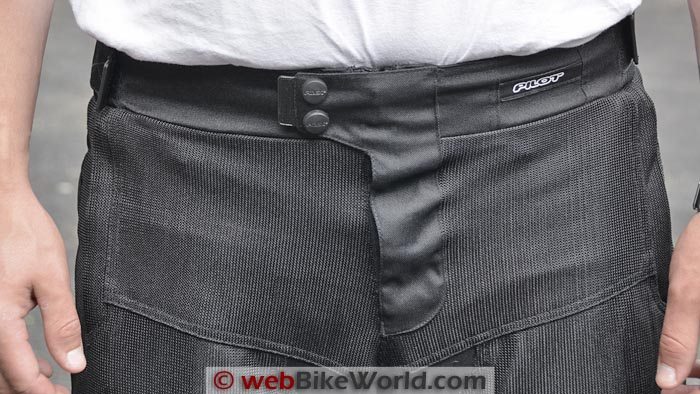 The Pilot Omni Air Over Pants
Just for the record, the Pilot Omni over-pants are designed to be worn over a pair of street pants, but there's no law against wearing them over a pair of shorts or even au natural. To me, that's a bonus, and one of the reasons I'm an over-pants fan.
Like the Pilot Direct Air jacket reviewed recently on webBikeWorld, I'd call the Omni pants a "hybrid" mesh.
They have plenty of that heavy and tightly-woven mesh fabric in the front, sides and elsewhere, but there are also large sections of solid textile 600 denier over the knees.
The seat — from the waist to the thighs — has the "Pilotex" 600 denier textile found in other Pilot clothing and the back of the knees has a finer 1000 denier textile for flexibility.
The pants also have large accordion pleats just above the knees, with elastic embedded as well, which gives a lot of nice flexibility when riding.
The overall feel of the Omni Air pants is one of toughness; it's hard to judge but the pants have a heavier feel that just seems more rugged than the few other mesh products I've seen in this price range.
The mesh isn't the wimpy hang-like-a-window-curtain type either; it's tough stuff that holds its shape, as you can see in the photos.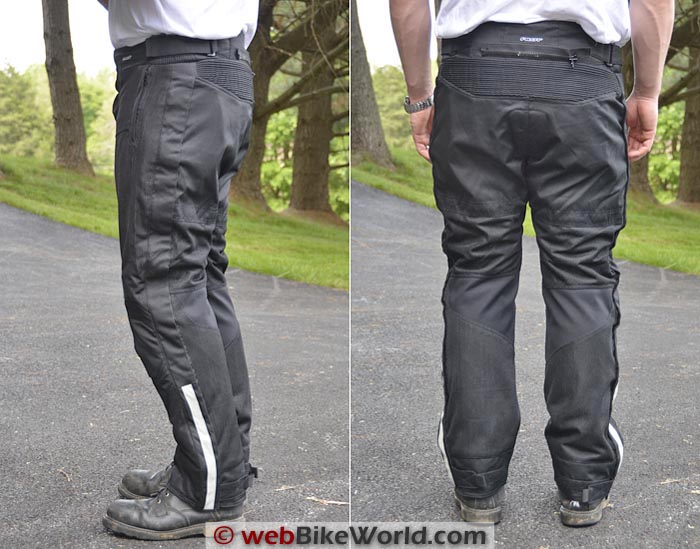 Pilot Omni Air Pants Features
The Pilot Omni Air mesh over-pants are loaded with features, including the 600 denier outer shell fabric that's doubled over the knees and shin area.
The crotch and back of the knees uses a finer weave of the 1000 denier fabric that Pilot calls "FlexDura". It's not really flexible like elastic, just a bit more comfortable for those sensitive areas.
The pants have a removable "Reissa" water-resistant liner that — and here's a bonus — attaches with full-length zippers at the waist and the ankles. I call it a bonus because most/many pants — even really expensive pants — use snaps instead.
So once you have the liner installed and zipped in, it stays there, without that turning-inside-out feeling you get with other types of liner attachment systems when you pull a leg out of the pants.
There are the standard two hand pockets on the outside, closing with YKK zippers and with mesh lining to make sure the air flows through when the water-resistant liner is out.
---
Where to Buy Pilot Omni Pants
Check Reviews & Prices on Amazon
Check Reviews & Prices on Revzilla
Also Shop for: Motorcycle Jackets, Motorcycle Gloves, Motorcycle Boots, Motorcycle Pants
---
Waist and Legs
Another bonus is the elastic panels in the side of the waist, which adds comfort. Large adjustment tabs along the sides also provide more adjustment than most pants, so I'll call that another bonus.
The Omni Air over-pants wouldn't be over-pants without the full-length side zippers.
They're covered by a textile flap that uses an equally full-length hook-and-loop strip, so this does make it a bit clumsy and/or time consuming to get it all straight again if you unzip the pants all the way up.
I usually leave the zipper open only to the knee, which allows me to get my legs inside, as long as I'm not wearing a pair of huge boots.
There's some real 3M Scotchlite striping on the outside of the legs and an adjustment tab at the bottom of the leg cuff also.
Finally, a dual snap system at the waist (along with the YKK zipper gusseted fly) keeps the pants secure.
This brings me to my only gripe, because as you know, we give a knock to any pants that don't have a hook system in addition to snaps or other security. It makes no sense to be wearing protective pants that might unfasten just when you need them the most.
On the plus side, an attachment zipper in the back will work with other Pilot jackets and they give you the second half so you can sew it in to other brands of jackets also.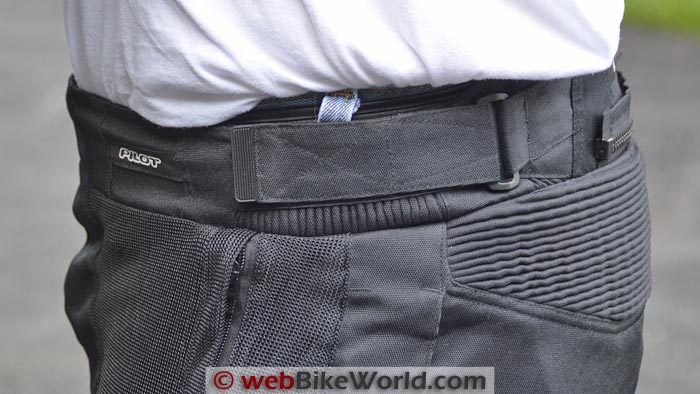 Zippers
All of the zippers — including the Reissa membrane liner zippers — are the YKK brand. The front zipper is a heavy-duty YKK type with the big "Vislon" nylon teeth that we like.
The long leg zippers are YKK and have the smaller spiral-type teeth.
The front hand pockets also use YKK zippers and these have the smaller style nylon teeth, while the fly also uses the heavy-duty type YKK Vislon zipper, another bonus.
Protectors
The pants come with knee protectors and the protector pockets are adjustable one notch, so you can move the protectors up about 20 mm or so.
There are big pockets in the hips with basic foam padding, but these can be upgraded to the Pilot hip pads for a reasonable 30 bucks, or you can fit other brand of accessory protectors because the pocket shape is pretty generic.
Maybe the nice Seesoft hip protectors shown in the webBikeWorld 2013/2014 Rev'it Fall/Winter Preview might fit?
You might want to upgrade the knee protectors also while you're at it, but note that depending on the fit of the Omni Air pants, the protectors might not stay as secure as they would if you were wearing a pair of correctly-fitted non-over-pants.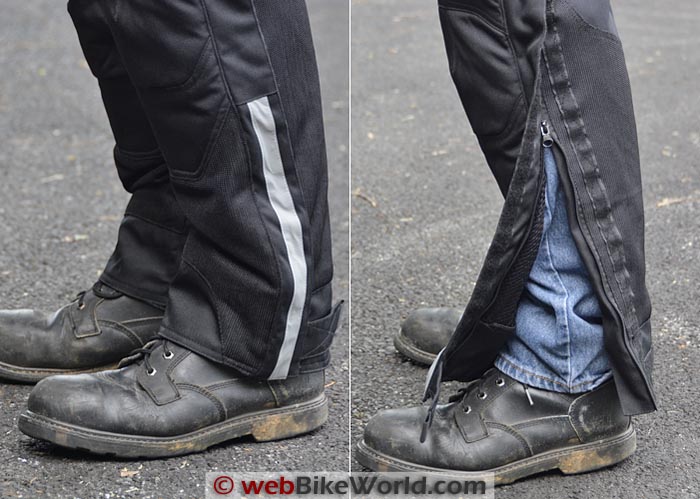 ---
Where to Buy Pilot Omni Pants
Check Reviews & Prices on Amazon
Check Reviews & Prices on Revzilla
Also Shop for: Motorcycle Jackets, Motorcycle Gloves, Motorcycle Boots, Motorcycle Pants
---
Sizing and Fit
This pair of Omni Air over-pants is a size large which, according to the Pilot sizing charts, fits a 34″ to 36″ waist and has a 32″ inseam.
I measure these as exactly that and the pants fit with no problems over a pair of jeans on both me and the model shown in the photos and we have that exact waist range.
I wouldn't mind an extra inch maybe on the inseam though, because if you do wear these as over-pants over a pair of jeans, which are relatively thick, the Omni pants seem just a tad short after you get your legs up in the riding tuck.
Otherwise, the Pilot sizing charts seem right on the money, at least for this size large. I'm not sure if their sizing accounts for the fact that these are over-pants or not.
I think so, because even though the actual measurements of the pants match the listed sizes on the chart, there's enough room to fit over street pants for normally-proportioned riders.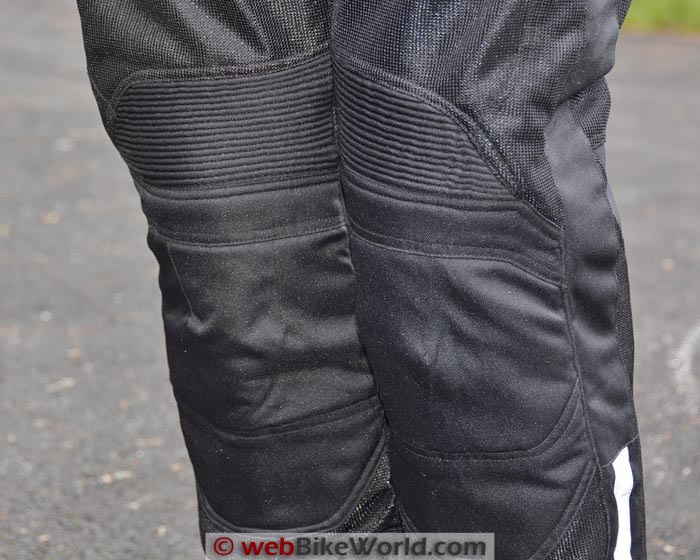 On the Road
No matter how many vents they put in a pair of standard (not over-pants) motorcycle trousers, there never seems to be enough ventilation.
Granted, your legs are usually blocked from a cooling air flow by the engine or bodywork of the motorcycle.
But even if the pants have a big open vent on the thigh, the seated position on a motorcycle just doesn't lend itself to a lot of air flow.
Although maybe about 40% of the Omni Air pants are covered by non-mesh textile, these pants definitely have more ventilation than any non-mesh pants I can think of (if the liner is removed, of course).
Worn over a pair of basic unlined jeans — say something like the Diamond Gusset jeans (review) — I can definitely feel the air coming through, to a point where if the weather starts to turn cool, I'm ready to put the liner back in.
Surely the Omni over-pants will give more abrasion protection than a pair of basic jeans and the addition of the knee protectors and hip protectors will help.
I honestly don't think going down in a pair of street jeans would be any different than wearing nothing at all, and I never ride in jeans only, so the Omni Air over-pants are the way to go in warm weather.
Conclusion
If you like to wear unlined jeans or khakis or other thin street pants to work, then the Pilot Omni Air mesh over-pants would be the thing to have for hot summer days.
They're nicely made and the overall construction and mesh feels substantial and the price is reasonable at $150.00.
In fact, you could buy a Pilot Direct Air jacket (review) and a pair of matching Omni Air over-pants and you'd have a darn good outfit that would work for a majority of a year-long riding season for $300.00.
Part 1: Pilot Direct Air Jacket Review
w

BW

 Review: Pilot Direct Air Pants
Made In: Pakistan
Colors: Black
Sizes: XS-4XL
Review Date: July 2014
Note:
 For informational use only. All material and photographs are Copyright © webWorld International, LLC since 2000. All rights reserved. See the webBikeWorld® 
Site Info page
. Product specifications, features and details may change or differ from our descriptions. Always check before purchasing. Read the
Terms and Conditions
!
---
Where to Buy Pilot Omni Pants
Check Reviews & Prices on Amazon
Check Reviews & Prices on Revzilla
Also Shop for: Motorcycle Jackets, Motorcycle Gloves, Motorcycle Boots, Motorcycle Pants
---
Owner Comments and Feedback
Other WebBikeWorld Pants Posts