Piaggio Australia has issued  its second recall of scooters this month with a notice that the frames of 50 Medley 150 and 150 S ABS scooters could crack.
The official product safety notice on the ACCC website says the frame could flex "under certain conditions and subsequently cause cracking of the frame in a particular area".
"Scooter may become unstable and pose an accident risk to the rider and other road users," the notice says.
Owners with affected vehicles should contact their nearest authorised dealer to arrange for an inspection and/or repair free of charge.
A full list of the Vehicle Identification Numbers of affected scooters is included at the end of this article.
Piaggio dealers can be found here.
Second recall
This is the second recall for Piaggio this month. The other was for an issue of loose brake discs on 683 Fly 150 3V scooters.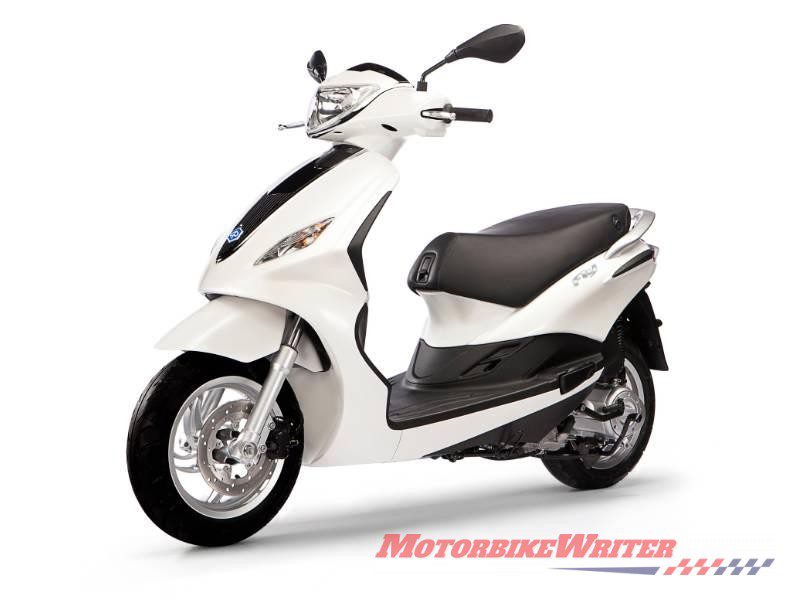 Click here for the full details and VINs of affected Fly scooters.
Even though manufacturers and importers contact owners when a recall is issued, the bike may have been sold privately to a rider unknown to the company.
Therefore, Motorbike Writer publishes all motorcycle recalls as a service to all riders.
In Australia, recall notices are issued by the manufacturer and the Department of Infrastructure through a voluntary industry code under the Australian Competition and Consumer Commission.
While any recall is not good news for the manufacturer, it shows that they are largely diligent in fixing problems.
If you believe there is an endemic problem with your bike that should be recalled, contact the ACCC on 1300 302 502.
To check whether your motorcycle has been recalled, click on these sites:
• USA
• UK
• Canada
VINs of affected Piaggio Medley 150 scooters
RP8MA0220GV102943
RP8MA0220GV102932
RP8MA0220GV102951
RP8MA0220GV102954
RP8MA0220GV102931
RP8MA0220GV102928
RP8MA0220GV102941
RP8MA0220GV102945
RP8MA0220GV102947
RP8MA0220GV103793
RP8MA0220GV103805
RP8MA0220GV102950
RP8MA0220GV103809
RP8MA0220GV102936
RP8MA0220GV102938
RP8MA0220GV102955
RP8MA0220GV102939
RP8MA0220GV102922
RP8MA0220GV102921
RP8MA0220GV102925
RP8MA0220GV102929
RP8MA0220GV102930
RP8MA0220GV102937
RP8MA0220GV102940
RP8MA0220GV102949
RP8MA0220GV103800
RP8MA0220GV103802
RP8MA0220GV103810
RP8MA0220GV102956
RP8MA0220GV102933
RP8MA0220GV102923
RP8MA0220GV102953
RP8MA0220GV102927
RP8MA0220GV103808
RP8MA0220GV102934
RP8MA0220GV102942
RP8MA0220GV102952
RP8MA0220GV103796
RP8MA0220GV103797
RP8MA0220GV103803
RP8MA0220GV103804
RP8MA0220GV103806
RP8MA0220GV102924
RP8MA0220GV102946
RP8MA0220GV103801
RP8MA0220GV102948
RP8MA0220GV102926
RP8MA0220GV102935
RP8MA0220GV102944
RP8MA0220GV103795
RP8MA0220GV103798
RP8MA0220GV103799
RP8MA0220GV103794
RP8MA0220GV103807