Paul Teutul Jr, previously of American Choppers fame before the bust-up with his dad, has produced two bikes for the popular World of Warcraft computer game.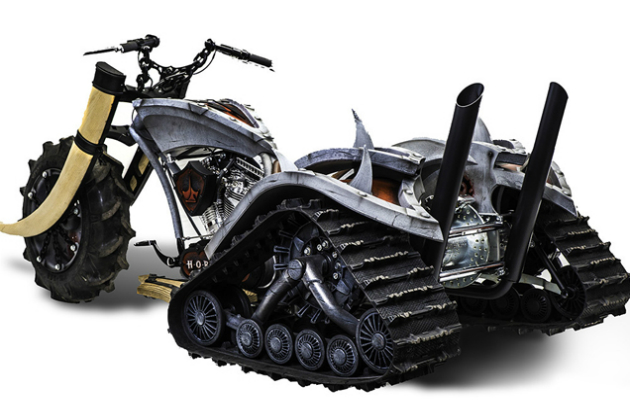 His new show is Azeroth Choppers which has produced the two Warcraft-themed choppers for the TV show.
WoW producers Blizzard Entertainment say they will use only one of the choppers, and it will be up to fans of the show  to vote for which chopper gets the nod.
The chopper style of American Choppers and even the new program is a little passé these days. We recently showed you Paul Teutul Jr's take on a cafe racer which was quite strange and out of touch with today's custom trends.
SEE PAUL TEUTUL JR'S CAFE RACER
However, there is no denying Paul Jr has some wild ideas. These two bikes certainly display his extravagant and eccentric chopper style. The bikes were put together by two teams on the show – Horde and Alliance.
The Horde trike chopper has dangerous-looking spikes on the seat and rear fenders, tank tracks on the rear, chains as handlebars, truck-style near-vertical exhaust pipes and mammoth tusks as forks.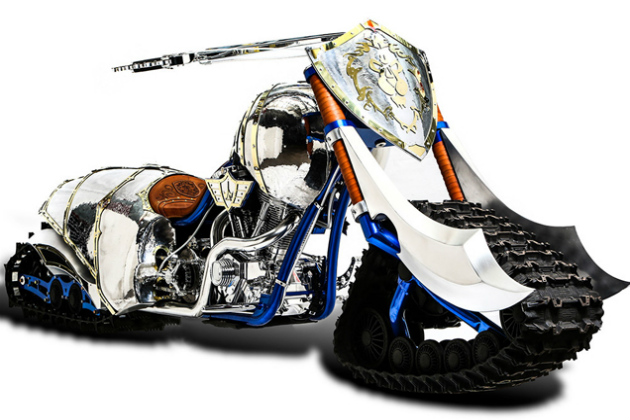 The Alliance bike is sleeker with a shield on the front, tank tracks front and rear and sabre-shaped forks.
Don't even think about how these bikes would perform on the road. They are fantasy show bikes and, as such, both would make excellent inclusions in WoW.