This much-loved, crowd-pleasing, award-winning Can-Am Spyder and trailer wasn't always so much loved. In fact, when John and Rose England first rode it, they hated it and wondered why they'd just forked out so much money.
SEE ALL THE PHOTOS ON MY PINTEREST BOARD
It was Australia Day, 2010, and the Englands had just spent $34,000 on a new car, yet here they were test-riding a blue Can-Am Spyder RT Techno demonstrator costing $34,000 and a black BRP trailer at $7500. "We'd just spent $34,000 on a new car but Rose insisted we take the Spyder for a run," says John. "At first Rose didn't like it and I didn't like it either. I didn't like the way it handled. For someone who has raced a two-wheel bike, riding this for the first time was daunting."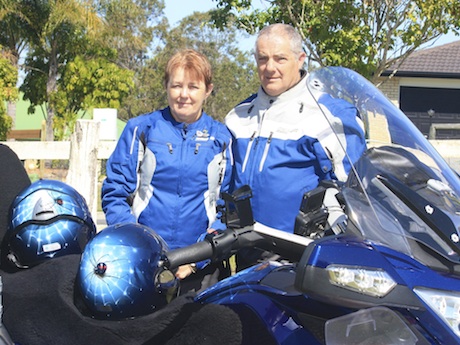 Rose says there were a lot of G forces for the pillion when cornering. "You had to hang on and I got some motion sickness. John nearly lost me on one corner."
 But they still bought it. "I thought, we'd just spent all that money and we don't like it," says Rose.
John and Rose decided that after committing so much money to the rig, they had to take it on a "decent run", so their first trip was a ride to Sydney in one day. That still didn't convince them. "It wasn't until the trip back that we fell in love with it," says John. "Coming back we hit a big storm in the dark and there was two inches of water on the road that was slowing the bike down. They were the worst conditions, yet we felt totally safe and ever since then we've loved it. For us that sealed the deal on the bike. We've ridden Gold Wings and other bikes, and I don't think you can get a better tourer than this."
The Can-Am Spyder came with cruise control, ABS, stability and traction control, a radio, electric windscreen and heated grips for rider and passenger; everything the Englands needed to make their touring safe and comfortable. But John still wasn't totally happy. "I always promised myself that if I ever get money, I would do up a bike the way I wanted," he says. And that's when the rig started to morph into its current incarnation.
John is a successfully self-employed businessman who works long hours, but spends most of his spare time riding and working on his toy. That's nothing new. He's been riding and working on bikes since 1971 when he was 16 years and nine months old and could get a learner's licence to ride his CB100. John raced at Oran Park and Amaroo in C class in the '70s until 1976 when he married Rose.
He might have stopped racing, but he didn't stop riding. "I actually had most bikes at any one time when I was married because I used to buy, fix and sell them; mainly 250s for about $450," he says. "They were affordable two-wheeled transport back when people couldn't afford a second car. At one stage I had 27 bikes and I've owned hundreds over the years. I've always ridden and never not had a bike."
Rose is a keen pillion and feeds John's habit, buying him a Honda CB900 Bol d'Or in 1983 which he still rides. "We once rode 1000km just for a hamburger," he says.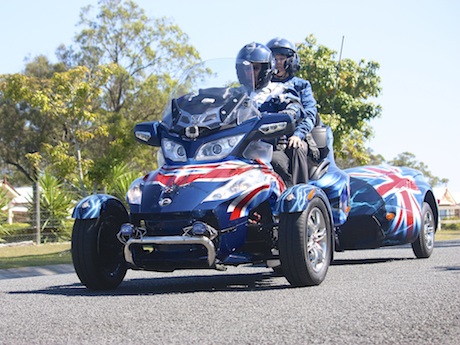 When the England family moved from Sydney to rural south-east Queensland, John started riding trail bikes through the nearby national park until he crashed and smashed his knee. "I had always promised my wife that I would get rid of the trail bike if I crashed and hurt myself," he says. But rather than giving up riding, Rose showed John a picture of a Can-Am Spyder and trailer in an ad she found on the back of one of John's many motorcycle magazines. "Rose doesn't like sitting on the back of a bike for a long period of time but she thought she could handle this."
So that brings us back to that fateful Australia Day in 2010. Since they bought the Can-Am Spyder rig, John has been adding bits and pieces, mostly genuine factory accessories, but also some he has manufactured himself such as drink holders.  However, the first thing to fix was the suspension.
As a former racer, John just had to get the suspension right. "It a doesn't handle too well in standard form. I'm a bit of an aggressive rider and I like to push it in corners," he says. So he replaced the three shocks with Elkas and added a controller for the airbag to adjust the rear shock on the fly. "It handles better if you drop the rear on twisty roads and raise it on the highway," he says. He also added a sway bar and now says it handles well and Rose doesn't have to hang on as tight.
As for the trailer, John says he doesn't even know it's there. "The only time we notice it is there is when you take off. It has a tall first gear and you have to slip the clutch a bit," he says pointing out that the towbar is mounted off the swingarm. It doesn't push or pull the bike around not matter how much weight is in it. It weighs about 80kg and is limited to an 65kg load but we've had more than that in it. And despite being 5.5m long it still fits in a carpark bay."
The second major modification was the paintwork. The roadster was blue, but the trailer only came in black because they are designed to work with the top-of-the-line auto models which only come in black.
So he had the trailer painted blue at $800. But he still wasn't satisified. Having bought the bike on Australia Day and being a bit of an Aussie patriot – despite his surname – John decided to get the bike airbrushed with the Australian Flag as well as some spiders to reflect the model name. "I wanted a 3D effect and was prepared to pay good money for it. I wanted it to step out at me," John says.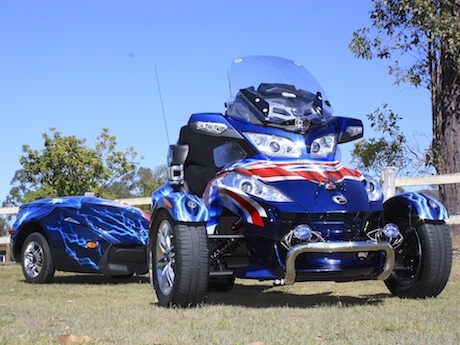 They started with the trailer, a job done by Brisbane's Lucky Caleb at $2000. However, Lucky got sick and couldn't tackle the bike which was a much bigger job, so John searched the web (no pun intended) and found East Coast Airbrushing of the Sunshine Coast. "Matching the two jobs was difficult, but I think it's been successful," John says. "Rod's (airbrusher Rod Tickle) flag is a bit sharper, though."
John never intended to turn his rig into a show bike, but in 2012 he entered it in his riders club's Spyder Royale on the Sunshine Coast and was surprised to win outright best custom Spyder. So he also entered it last year in a local show and won again. Success emboldened him and he entered Queensland's biggest and most prestigious bike show, the Laverda Concours, and not only won best paintjob, but also scored second in the outfit or trailer section.  "I never did it as a show bike, just something to ride around but something that looks good," he says. "It gets stone chips and scratches like any bike you ride. It's a rideable bike that I ride every chance I get. I don't baby it."
The Englands plan to take their Aussie Flag rig for a parade lap of New Zealand next March and will probably display it again at other bike shows in future. Meanwhile, John says there's still some work to do. "I'm only half finished," he says. "I have a dual exhaust system I want to fit, a rider's backrest …"
PAINTWORK
Lucky Caleb
Phone: 0423 390 328
Email: info@luckycaleb.com
Web: www.luckycaleb.com
East Coast Airbrushing
Phone: 0417 846 018
Email: rod@eastcoastairbrushing.com
Web: www.eastcoastairbrushing.com