City parking can be a rip-off for motorcycle riders when they charge the full price for a parking bay that you could share with at least one other motorcycle.
While not all parking areas charge full price, one BMW rider has written to us complaining about a number of hotels in inner-city Sydney that charge car rates at up to $50 a night and are inflexible about rates for motorcycles.
Harry Criticos, 52, a professional academic at University of Newcastle, says he has had to attend conferences in Sydney on several occasions and has had trouble finding cheap parking for his 2014 BMW R 1200 RT.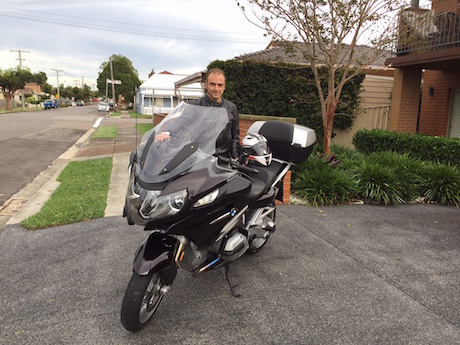 We checked his complaints and found the same story. Their excuse is that the bike takes a car space away from their total and there may not be any other bikes in their parking area to share the space.
Fair enough, but often they won't even find a spare spot against a wall or wherever to park the bike.
Here's what Harry had to say in an email complaint to us:
"Mercure Sydney: I stayed here late last year. I was charged $26 despite not taking up a car space. I was told to park in a box marked with yellow lines located next to the lifts. However, I just managed to squeeze the R1200RT into this 'box' which had a wall on one side and two bollards on the other. I tried to negotiate with reception on the price, but they wouldn't budge. I did not take up a car spot and my bike was located in a high baggage traffic area (next to the lift) which could have potentially damaged the bike. I sent an email to Accor. Still waiting for a reply."
We checked and found that their intransigence remains, but the price has gone up to $29 for Sunday to Thursday and $35 for Friday and Saturday.
"Aspire Hotel Ultimo: I received two different answers from these guys. First I was told I need to pay the full car rate, second time I was told that there are 2 -3 spots available for free, but it depends on the size of the bike as to whether it will fit into those spots. I can only imagine where they're located. If the bike doesn't fit, or the spots are taken, I would be charged $26 for taking a car spot."
We checked and verified his complaint. They say a bike taking up a car space would be charge full price.
"The Langham, Millers Point Sydney: We managed to get this hotel at a very discounted rate last year. While waiting for our car to be brought around from valet parking, I asked the concierge about motorcycle parking. It was $50ish regardless."
We can confirm the flat rate of $50 for valet parking whether car or bike. We're not sure how they valet park unless their staff have bike licences, but they said even if you park it yourself, you pay full price! They suggested we could use the two-hour metered parking in the street.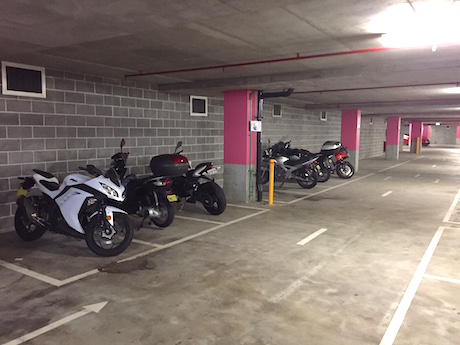 "The Star (Star City casino Sydney): We are staying here in a couple of weeks. I was put through to two people and it took a while to get an answer. After about 10 minutes I was given the following info. Even though I am staying at the hotel, I cannot take advantage of the valet parking, nor can I park it in the valet section myself. Nor can I park the bike in the casino forecourt with all the Lambos, Ferraris and Rollers. I have to park in the casino car park, where there are no dedicated motorcycle spots for $35 per 24hrs. However, It makes it difficult if I want to use the bike within that 24hrs. They seemed to think I would have to pay each time I took the bike out, so it may end up being more."
When we finally found someone who could answer our inquiry, they said the Star hotel set aside areas for motorcycles and it's free!
However, Harry was still charged $35.
"The manager at reception told me that the issue of bike parking came up in a meeting a couple of weeks ago," he says. "The only time a motorcycle or car gets free parking is if you are an Absolute Rewards member. Parking is free depending on membership level, or how often you gamble. Again, the valet parking concierge did not know that there were bike spots in the self-park area. It was going to cost me $45 to self park in the valet parking. Work that one out.
"I was also told that I could go through the gap in the barrier and not pay. When I had a look, an RT with panniers wasn't going to fit. So I had no choice but to pay."
Finally, Harry got some satisfaction, staying at Urban Hotel in St Leonards, North Sydney, on a recent Saturday night. "They told me motorbike parking was free because we could slip into spots that couldn't take a car.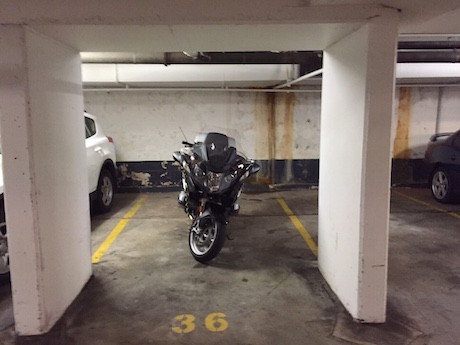 What a shame more hotels and parking stations don't have this attitude. It would bring in more patrons to our cities which are becoming grave yards, mainly because of the difficulty of finding affordable parking spots.
Harry gets the last word: "I look at it this way, the Domain car park in Sydney has motorbike parking at the car park entry. I can park all day for $5-7. So why can't hotels utilise the spots where cars can't fit and turn them into motorbike spots? They'll probably argue that they don't get that many on bikes but even a handful of spots at even a discounted rate would be acceptable. There are a few other motorbike friendly car parks in Sydney where you are charged $5-7 for the day."
Tell us about your experiences with parking stations that charge the full rate for motorcycles.